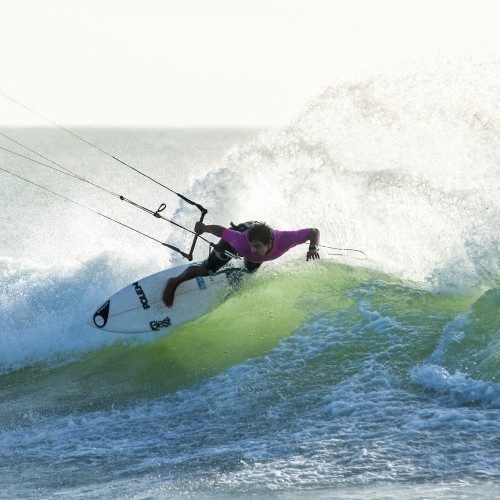 Why Visit?
There are a million reasons to visit Dakhla, Morocco. This place has been in the spotlight over the last couple of years due to hosting the previous VKWC world cup and upcoming WKC, and for a good reason. Forty-five kilometres of the endless lagoon, warm temperatures throughout the year, constant wind, and friendly and welcoming people. Not to mention that it has perfect freestyle flat-water spots as well as some seriously great surf spots. What's not to like about it?
Wind and Weather
Dakhla offers great temperatures all through the year of about 22 to 29C°. When the wind is stronger, you will feel colder, and on the days of no wind, or lighter wind, the temperatures will rise considerably. Please take into account that at night the temperatures take a big dip, so always bring some warm sweaters, long pants, and even a beanie; you will appreciate it!
For the water, we recommend at least a shorty or 3/2 long wetsuit.
The wind blows all through the year, but the strongest months are April to September where it can blow up to about 35 knots. The lowest months are December and January, but you can still have a lot of kiteable days with high temperatures. The wind is generally lighter in the morning and picks up at about 2 pm.
Getting Around
When visiting Dakhla, most people choose to stay at one of the lagoon camps. These are bungalows and tents that are located directly at the kite spot. When you choose this option, you don't have to worry about transport unless of course, you want to head into town to do some exploring. Most of the camps can easily organise a transfer for you to do this, at the price of 10 euros per person. If you choose to stay in the city, then you will need to rent a car that will cost about 30 euros per day. This way you can drive back and forth to the kite spot, and it will take you about 25 minutes each way. If you want to head to one of the more adventurous wave spots or the white dune, you will need a 4x4.
Food and Drink
Most of the camps offer an all-inclusive service, which means all of your meals are included in the price. You can expect a combination of European and traditional Moroccan cuisine. Imagine lots of tagines, fish and chicken, couscous, salads and pasta and you are on the right track.
If you venture into the city, you can try some of the local food. Dakhla is very well known for its incredibly fresh seafood, especially the oysters. Head to the oyster farm on the edge of the lagoon to try the very best fresh oysters collected for you while you wait.
No Wind?
Dakhla is known for its constant wind, an estimated 340 days per year. But even in this desert gem, the wind may fail you at times. All the centres offer surf excursions to various spots, which are worth checking out. Alternatively, take a little fishing trip, SUP excursion to the Dragon Island, or head into the city to check out a bit of the local culture.
Internet
All of the camps offer wifi internet connection, but it's important to realise you are in the middle of the desert, and there will be times where it's tough to get a decent connection. You can always buy a Maroc telecom 3G stick in town which is a good alternative and can help keep you connected.
Accommodation
There are now up to 7 camps scattered across the lagoon for you to choose from. Some are more rustic, offering basic tent accommodation, and others are more upmarket and comfortable offering amazing lagoon view bungalows, with hot water shower and all the same comfort you would expect from a hotel. Being on the lagoon is ideal as you can kite all day until the sun sets directly in front of your room.
There are various hotels and guesthouses in Dakhla city, which is a good option if you want to explore the town, restaurants and have a little more independence. You will need to rent a car though, to get back forth from the spot.
Featured
Seco Island is a paradise for kitesurfing. It is only a tiny island (400 m x 100 m) in the Sulu Sea, 50 km west of Panay. But despite its size, it has great kiting conditions, delicious food, fantastic sunsets and star-filled night skies. Sunsets are amazing too making this the perfect dream spot. Wind and Weather The wind is blowing almost all year.…
Located just one hour from Fort Lauderdale or 30 minutes from Nassau, Cat Island is one of the 700 islands of the Bahamas where you can step out of the plane and disconnect with the world! Far away from mass tourism, this is the perfect place to relax or enjoy epic conditions for kiteboarding, surfing, sailing, scuba diving (and shark…
Montenegro is situated in the south of the Adriatic and is an extraordinary place. It offers an abundance of beauty, beaches, crystal clear lakes, the sea and incredible scenic mountains. In the mornings, you can wake up along the beautiful Adriatic coast, have lunch on the banks of Skadar Lake, and enjoy an evening walk in the Montenegrin mountains. Ulcinj…
Gemma has been based in Dakhla on and off for the last 7 years and splits her time between there and the kiteboarding mecca of Tarifa. She is a passionate kitesurfer who co-runs Dakhla Spirit and Girls waterwear store Gemsita!
Been to Dakhla? What did you think?
Where are the Best Kitesurfing Beaches in Dakhla?
This is the northern tip of the lagoon, where most of the camps are located. The wind blows side shore from the Northeast generally, though once or twice a year it will blow from the south!
Flat water at low tide, slightly choppier at high tide. The tides are noticeably bigger during the full moon, and new moon so can be fun to explore areas of the lagoon that are generally not kiteable.
Wind: Side shore from NE
Shorebreak: No
Waves: No
This is a fantastic flat water spot located slightly further to the left of the camps. It offers butter-flat water at low tide. Truly a freestyle paradise and the perfect place to improve your tricks!
Wind: Off-shore. Only works at lowest tide; otherwise, the water is choppy.
Shorebreak: No
Waves: No
If you fancy getting some wave action in Dakhla it is just a short ride in a car away, there are a lot of great waves nearby, but Oum El Bouir is the most popular spot for the kiters. It is a right-hand point break that offers long perfectly peeling waves and the chance to get barrelled on the bigger days. If you want to come here for the waves be sure to go in the winter when the swells are bigger.
Wind: Cross Shore from the Right
Shorebreak: On the bigger days
Waves: Right-hand point break
When is the Best Time to go Kitesurfing in Dakhla?
The windy months to go kitesurfing in Dakhla are April, May, June, July, August, September
Statistics
Do you know a good kitesurfing school here?
Kitesurfing Articles that Mention Dakhla
Kitesurfing Videos and News in Dakhla