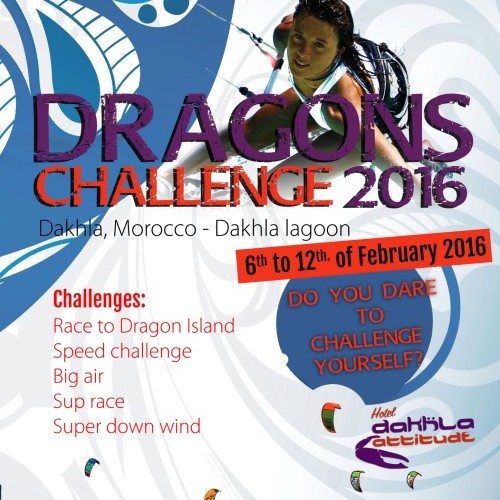 Dragons Challenge 2016 In Dakhla Morocco
Thu 7th Jan, 2016 @ 9:00 am
If you want to add a little challenge and variety to your next kite vacation, check out the second annual Dragons Challenge, slated for February 6- 12, 2016. Dakhla Attitude Hotel is hosting this fun, all-levels competition at their beach club in Dakhla, Morocco. Categories include race, speed, big air, SUP, and super downwinder. The top overall competitor will win a one-week stay at the Dakhla Attitude Hotel. Continue reading the press release below for more information about the Dragons Challenge.
Hotel Dakhla Attitude beach club will host the second Dragons Challenge, a special competition for kitesurfing enthusiasts. Five challenges are waiting for those who dare to challenge themselves, from the 6th to 12th of February, 2016.
The Dragons Challenge consists of 5 competitions:
Race to Dragon Island
Speed challenge
Big air challenge
SUP race and
Super down wind challenge
Required kite level is intermediate to good.
All visitors of Dakhla Attitude resort are welcome to show their passion for kiteboarding and SUP competitions at the second Dragons Challenge, which will be organized in the first week of February 2016.
Special promotions and Dragon's pass
– 50% discount on all rentals
– 50% discount on all ADVANCED and FREESTYLE kite, windsurf and wake courses
-NO station fee
-Free massage and hammam
The DRAGON'S PASS is 20€ and it brings all of the above special deals and all activities for free plus special security on the water.
There will be one challenge per day and the overall winner will get an amazing prize – a free accommodation for a week in Dakhla Attitude hotel, known for its great weather conditions for kitesurfing and windsurfing through all year.
Background information
More and more kiteboarders and kitesurfers are looking for something more than just a place to go kite. Riders at good and intermediate level are looking for challenges.
We decided to organize a non-pro competition for our customers, an event for kite enthusiasts. The Dragons Challenge was first organized in February 2015. It was well accepted so we decided to develop it into a traditional Dakhla Attitude event.
Featured in this Post
Comments