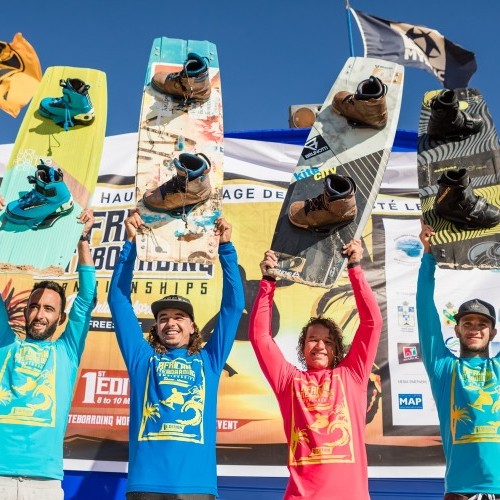 African Kiteboarding Championships
Fri 15th Mar, 2019 @ 12:00 am
The first edition of the African Freestyle Kiteboarding Championships commenced on Friday in Dakhla, Morocco, hosted by Dakhla Attitude.
18 top freestyle athletes signed up for this championship, and for a chance to gain one of the four wildcards that will be awarded for the GKA Kite World Tour event that will take place in Dakhla in October.
The riders competed in two-man heats, with an eight-minute duration, where the riders had to perform their best freestyle tricks.
For the single elimination, as the wind conditions increased to a slightly gustier 25 knots, it all came down to four athletes in the semi-finals. Laarbi Edderkaoui, Jonas Ouahmid, Abdrahim Moutaouakil and Soufiane Hassouni, all strong and experienced freestyle athletes, each hoping to secure their spot in the final.
The single elimination final was between Jonas Ouahmid and Abdrahim Moutaouakil, both riders who have plenty of experience in competition. Jonas opened with a massive double heart attack, showing that he was hungry for the win, with Abdrahim then throwing down a fantastic Slim 5 in response. This final was a classic freestyle showdown, with plenty of power, kites low, lots of styles and excellent execution. It was a very close call as the red flag went up, with Jonas Ouahmid taking the win.
Win a Ride Engine Technical Changing Robe this issue in our FREE subscriber prize draw.
Day Two: Double Eliminations
The double eliminations of the African Championships were completed in stronger and gustier wind conditions.
Yassine Bouceta had a fantastic day, climbing up through the doubles until he came to face with single elimination finalist, Laarbi Edderkaoui. After injuring his knee the day before, Laarbi was ready to get back into action and fight for a spot on the podium.
Yassine was fired up, even after a full day of competition, and he landed an excellent array of tricks, including a clean backside 313. Laarbi landed several good tricks of his own, including a heart attack, but was being cautious on his landings due to his injury. They both fought hard for the spot, but it was Yassine who took the win and advanced to the next heat. Laarbi would have to settle for a 4th place finish at this event.
Yassine's next challenge would be to face Abdou Moutaouakil, who performed exceptionally well, finishing second in the singles. Abdou once again pulled out all the stops, timing each trick carefully to avoid the strong gusts, and landing big tricks such as his powerful back mobe. Abdou managed to advance which once again lead him to face 16-year-old Jonas Ouahmid in the final.
Jonas and Abdou both opted for full power in the freestyle final, going for tricks such as heart attacks and backside 313s despite the difficult and strong wind conditions. It was an extremely close final, but it was young Jonas Ouahmid who managed to take the win with his well executed and powerful tricks.
"It was a hard day of competition today, with strong and gusty wind. The level was high, and Abdou did a great job also. I'm super happy to have won this event, and I'm looking forward to doing more competitions this year on the GKA Kite World Tour." Jonas Ouahmid
Final results – African Championships:
1st – Jonas Ouahmid
2nd – Abdou Moutaouakil
3rd – Yassine Bouceta
4th – Laarbi Edderkaoui
Win a Ride Engine Technical Changing Robe this issue in our FREE subscriber prize draw.
It has been a wonderful event here in Dakhla, Morocco, hosted by Dakhla Attitude. The GKA will be returning to this location in October 2019 for the Freestyle and Kite-Surf World Cup.
Words: Gemma Hamaini / Photos: Svetlana Romantsova
Featured in this Post
United States
56,118
Comments