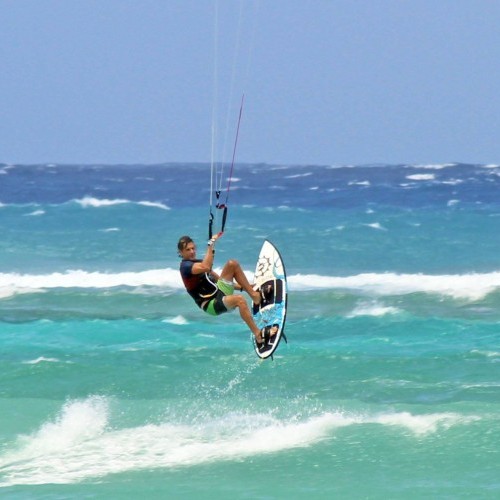 Saipan
Northern Mariana Islands
Why Visit?
Saipan is the second largest island of the Northern Mariana Islands chain, a U.S. territory located 120 miles North of Guam. It has year-round tropical temperatures, good wind from November through April, and a large, flat water lagoon along its western shore.
Wind and Weather
Sitting just north of the equator between the Philippine Sea and the Pacific Ocean, Saipan has year-round tropical temperatures of approximately 85 degrees (Fahrenheit). The windy season begins in November and lasts until April. During these times, the wind can range from 15-25 knots. From May to September, there are still plenty of light wind days for foiling, and occasional tropical storms which produce wind and waves, though it's much less consistent than the regular season.
Getting Around
The island is only about 12.5 miles long by 6.5 miles wide, so nothing is very far away. The major hotels offer bus services to and around downtown Garapan, and there are plenty of car rental places if you want to explore other places on the island. Taxi services are also available. If you are coming to kite, the best place to stay is near Memorial Park in Garapan.
Food and Drink
There is an impressive variety of restaurants around Saipan, including local cuisine, American, Japanese, Thai, Korean, Filipino, Italian and Chinese food. Restaurants prices range from expensive to budget-friendly.
Nightlife
The nightlife is vibrant and includes great venues for live music, dancing, karaoke, sunset happy hours, and dinner shows.
No Wind?
If there is no wind, Saipan is one of the best places on the planet for scuba diving. You can explore underwater caves, see wrecks from World War II, and find a variety of marine life including turtles, rays, sharks, corals, and various reef fish.
If diving isn't your thing, you can enjoy other activities like trekking, biking, fishing, snorkelling, parasailing, banana boating, island hopping, golf, stand up paddle boarding, jet skiing, wakeboarding, and more.
Internet
Saipan has fast internet all over the island, including at most hotels, restaurants and coffee shops. so, you don't need to worry about staying in touch!
Accommodation
There is a range of accommodations that will suit different budgets. The larger hotels include the Hyatt Hotel, Fiesta Resort, Aqua Resort, Pacific Islands Club, Kensington Hotel, Grandvrio Hotel, and Kanoa Hotel. Mid-range hotels include the Century Hotel, Serenti Hotel, Himawari Hotel, and others. There are also a few backpacker hostels and plenty of Air BnB places to stay.
Northern Mariana Islands
United States dollar (USD)
Featured


Frequented by some of the planets top kitesurfers and home to the scintillating Red Bull King of the Air, Blouberg in Cape Town cannot fail to express through action just what an incredible place it is. It is infamous for its strong & reliable wind from December through to February. The shoulder months of November and March are often also…


Coconut Bay is located just minutes from the international airport on a pristine stretch of sandy beach, along the exotic southern coast of St. Lucia. The resort's exclusive watersports complex, Surf Shack, is so well situated that you can be on the beach and getting ready to surf just 45 minutes after landing! The spot itself is suitable for all…


Essaouira provides the ultimate location for your kitesurfing holiday. It's easy to travel to as there are many daily flights from Europe, it's relatively cheap and there are a variety of conditions on your doorstep from a flat water lagoon to world class waves. There is everything on hand without the need of a car. You'll find no shortage of…
Peter Prestley is a certified kiteboard instructor and founder of Kiteboard Saipan
Been to Saipan? What did you think?
Where are the Best Kitesurfing Beaches in Saipan?
Micro Beach is the most popular kiteboarding spot and has a large, shallow flat water lagoon with consistent wind from the Northeast. The water is about waist to chest deep at high tide, and still about knee to waist high on low tides so that you can kite here at any tide. The further you go from shore, you can find larger wind chop and ramps for big air!
Wind: Cross on from the right. The wind is best when it's Northeast at approximately 70 degrees or below.
Waves: No
Shorebreak: No
Managaha Island is a great place to kite when the wind goes 90 degrees east, though it requires a short boat transfer from the main island. Managaha can be very crowded with beachgoers during the daytime, so it's crucial to stay away from the swimming areas and find a safe place to launch away from the other tourists. Once you get off the island, there is a large flat water lagoon to explore.
Wind: Cross-shore from the right. There aren't any rescue services, so It's also essential to be able to stay immediately upwind and keep the island downwind of you.
Waves: No
Shorebreak: No
Tank Beach is another option to explore when the wind turns straight east, though it is an expert area only and is only rideable at peak high tide due to the shallow reef. There is also just a thin area to kite between the reef and the beach, so it is only possible or a few people to kite there at a time.
Wind: Straight on
Waves: Large waves are breaking on the reef, but they aren't surfable due to breaking right on the reef. Inside the reef line, there are smaller reforming waves.
Shorebreak: No
Sugar Dock Beach is along the western shore and is usually not exposed to the East/Northeast tradewinds. From June to September, however, Saipan gets occasional tropical storms which can produce wind and waves from the west. When conditions line up, this is a great place to kite in sand-bottom waves.
Wind: Cross-on from either the right or left
Waves: Yes
Shorebreak: Yes
When the easterly winds swing 50 degrees to the north (or less), Saipan's northwestern shoreline opens up for exploration and downwinders. Tanapag is one of the highlights of this area, offering butter flat water closer to the shore, and a shipwreck called the "Carolina" a short ride to the south. For downwinders, you can either start at Pau Pau Beach or Aqua Resort and end at the Tanapag boat ramp or continue down to Micro Beach.
Wind: on/cross on
Waves: None
Shorebreak: By the wreck
When is the Best Time to go Kitesurfing in Saipan?
The windy months to go kitesurfing in Saipan are January, February, March, April, November, December
Statistics
Kitesurfing Hotels and Accommodation in Saipan
Do you know a good kitesurfing school here? Submit it below.