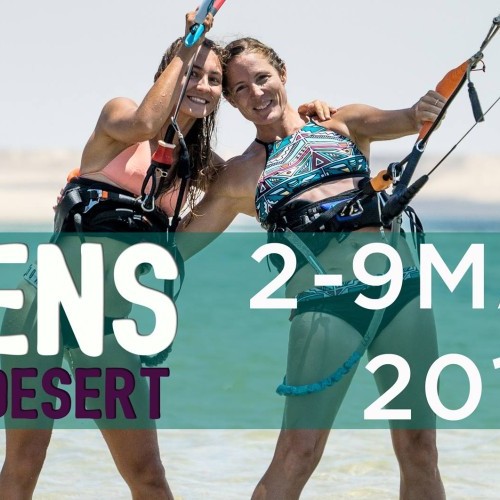 Sirens Of The Desert In Dakhla Attitude, Morocco March 2 – 9, 2018
Wed 17th Jan, 2018 @ 12:00 am
Ladies, here's a spring deal to take advantage of! Visit Hotel Dakhla Attitude for the Sirens of the Desert event March 2nd – 9th, 2018 and be treated to special deals, activities, and camaraderie. Continue reading the announcement below, provided by Dakhla Attitude.
For the fourth year in a row Hotel Dakhla Attitude is hosting the Sirens of the Desert the event to encourage women to take part in the world of water sports.
Special offer during the time of the event:
50% on all kite, windsurf, surf and wake courses for women
50% on all rentals for women
No station fee for women
Beside special deals, the event will consist of activities and special events like:
Kitesurfing: Session in our fantastic main spot and at the unique speed spot (always with assistance and security boat). Wave kitesurfing excursion to Oum Labouir (Atlantic coast of Dakhla).
Kite downwind to the white dune & SUP downwind to the Dragon Island
Morning yoga and stretching sessions
Spa – Free hammam for each participant.
Going Arabic: Henna tattoos, traditional Moroccan makeup sessions & picture sessions with typical Moroccan outfits.
Cable park sessions: Beginner to advanced sessions with coaching and special cable wake night sessions at Dakhla Attitude cable park.
Speed challenge: Free entry for each participant into Dakhla Attitude Speed Challenge.
Excursions: Dragon island, desert excursion, and thermal source of Asnaa
Extra activities: Kayak, slack line, Indo board, wakeboarding and much more…
Extra events: Pink flaming bar party, bone fire, live music.
*One activity per day
Sirens of the desert PASS is 60€ and it includes all of the above special deals and one activity per day.
Visit dakhla-attitude.com or email booking@dakhla-attitude.ma for more information.
Featured in this Post
Comments