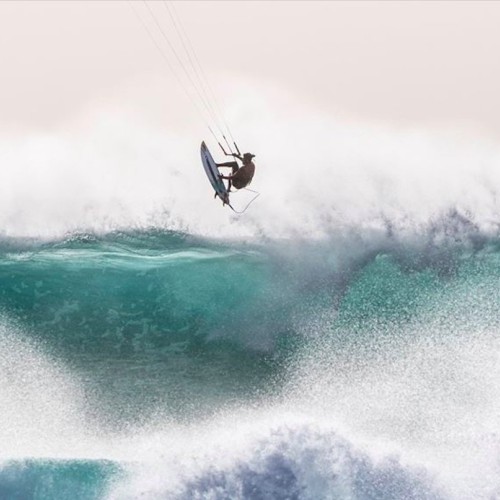 GKA Kite-Surf – Monday Madness!
Tue 26th Feb, 2019 @ 10:00 am
52 competitors, 39 men and 13 women, registered for the GKA Kite-Surf World Cup Cabo Verde yesterday in front of the legendary wave at Ponta Preta. They couldn't have asked for a better opening day to the first event of the GKA Kite World Tour season!
Win a Custom Designed Ozone Twin Tip this issue in our FREE subscriber prize draw.
GKA Kite-Surf World Cup Cabo Verde Kicks-Off with an Epic First Day of Livestream Action
Ponta Preta has been firing almost non-stop throughout February, and the run of epic conditions has carried over into this week with clean sets building up to double overhead and beyond.
Presented with sizeable sets at yesterday morning's registration, the riders were amped, and day one would see them progress deep into round three in the men's single eliminations.
From the hometown heroes like Mitu, Airton and Matchu to local up-and-comers like Titik Lopes and Riccardo Bettencourt, their ability to launch vertical assaults on the lip and navigate the changing faces of Ponta Preta set them apart. The fact that they could do that in large offshore winds is even crazier, but that's what happens when you grow up with a wave like this literally in your backyard.
Here's who set the Kite-Surf World Cup Cabo Verde event alight on day one!
Airton Cozzolino
Defending tour champion Airton put his marker down early with a stunning display in his opening heat. He managed three cover-ups, including one of the best barrels of the day on his first wave, and he was one of the few riders injecting aerial flair into his riding with airs off the lip and a 180 ollie on the wave face on the way out of the barrel. He took one of the highest scores of the day for that one with a 9.27!
Mitu Monteiro
Mitu spearheaded kitesurfing at Ponta Preta back in the early 2000s and watching him ride here is a masterclass in wave riding. On day one he combined seamless flow and precision with fluid power, and in his second heat he was tearing up huge faces top-to-bottom like it was nothing. The fact that he was doing so on an eight-metre when the wind dropped to just 12 knots at one point is testament to why they call him 'the maestro'. He took the second highest score of 9.5 for his final wave of the day, and he's looking good for the crucial rounds coming up in this competition.
Paulino Pereira
Paulino's not a local, but he might as well be according to his friend Matchu. He regularly flies into Sal on a good forecast and has a wealth of experience that saw him rack up a perfect 10 here last year. He followed up on that yesterday with the highest single wave score of the day – a 9.7! If he can match his hard-charging flair with the consistency required to do well in a final, then he's going to be a serious threat as the competition progresses.
Matchu Lopes
Matchu was arguably the best backhand rider out there on day one and to manage backside hacks with so much verticality in almost dead offshore wind is, frankly, mind-bending. Combine that with expertly stalled cover-ups and an intrinsic understanding of the wave, and he's looking like a real contender here in Cabo Verde.
Titik Lopes
Another local rider making an impact was Titik Lopes. He'd made it his mission to give the visiting riders something to think about with powerful, committed turns right in the pocket on some of the day's biggest sets.
He looked like he might go all the way, but was eventually halted by Reece Myerscough who has massively upped his wave riding over the winter. It went right down to the wire though, and had Reece not caught his best wave of the heat in the dying seconds then Titik would have taken the win!
By 18:30, as sunset neared, the wind was starting to falter, and so the decision was made to halt proceedings with just three heats left to run in round three. After seven hours of non-stop competition, the crowd had had their money's worth!
Today the action resumes as the remaining riders in men's round three battle for a place in the single elimination semis. From there, the women will take the stage for round one and, with stellar conditions on the forecast, it should be special!
Tune into the live stream here when it kicks off today. First possible start: 9am (GMT -1)
Words: Matt Pearce / Photos: Ydwer van der Heide
Featured in this Post
Comments