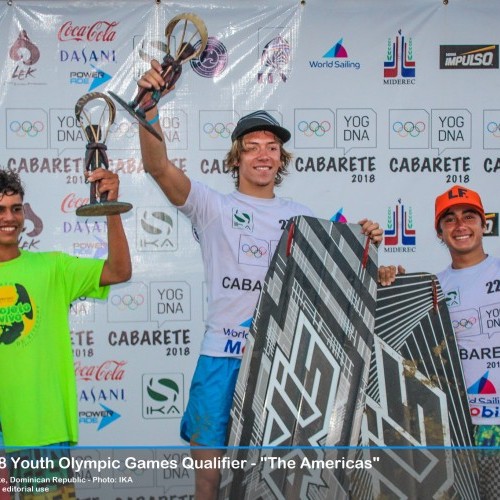 Antigua, Brazil, Dominican Republic and Venezuela Win Youth Olympic Games Qualifiers
Tue 23rd Jan, 2018 @ 12:00 am
Antigua, Brazil, Dominican Republic and Venezuela Win Youth Olympic Games Qualifiers
Four young riders have earned an invitation to the Youth Olympic Games that will take place in Buenos Aires, Argentina later this year. After a week of highs and lows in Cabarete, the final scores have been tallied. Earning the qualifing spots were Geronimo Lutteral of Argentina, Maria Valentina Alvarez Villarroel of Venezuela, Tiger Tyson of Antigua, and Lou Marin of the Dominican Repubic. Continue reading to find out more about the qualifying series, with news from the International Kiteboarding Association.
The first kiteboarding Youth Olympic Games qualification event for "The Americas" came to an end this weekend with what turned out to be an extremely successful and exciting regatta, not only for the young riders from South / Central America and North America / Caribbean but also for the spectators along the shorelines of beautiful Cabarete, Dominican Republic.
The final day of competition was a good one as we saw our young athletes put on a tremendous final showing, with finishes rarely seen so far – not only on the race course, but also on the overall leaderboard. In many divisions it all came down to the wire in the final heat of the 11 slalom / boardercross elimination series completed for each region and gender.
Wind speeds increased to the highest we have seen this whole week, with most riders breaking out their 10 and 11m kites. With the wind being back to the normal side-onshore direction, the obstacles the riders needed to jump over during racing where brought into play again to mix things up a bit, and in the end, 4 young athletes clinched a spot in this year's Summer Youth Olympic Games.
In the South/Central boys division Argentina's Geronimo Lutteral confirmed his strong form demonstrating that the host country will have a serious shot at the Gold Medal as he dominated heat after heat throughout the entire week. The strong wind conditions worked in favor of Brazil's Manoel Soares Dos Santos Neto though on the final day, and the defending 2017 Vice-World Champion moved into second place, qualifying Brazil behind the already qualified Argentinian squad. Martin Errazquin Calderon, also from Argentina, completed the podium.
On the girls side, Venezuela's Maria Valentina Alvarez Villarroel, who at 14 years old was one of the youngest riders competing in these trials, battled it out with Argentina's Ona Romani the entire day, ultimately beating her and taking the event victory as well as the qualifying spot. Ona Romani finished in second place, and her teammate Adela Mendoza taking third.
The North American/Caribbean division proved the most intense as everything came down to the final race of the day. The top three riders went into the heat with only 1.1 points between them, and the so far leading Tiger Tyson from Antigua came to the first mark only in fourth. But with his fellow training partner Cameron Maramenides of the USA getting involved in a tangle (for which he was granted redress) with his teammate Jacob Olivier, he moved into second place after the Dominican Republic's Adeuri Corniel and secured the event win and qualification place for Antigua by just 0.1 points. Corniel and Maramenides ended up tied for points, with D.R.'s Adeuri Corniel being awarded second place on count back, and it all came down to having won the last race over third place finisher Maramenides.
It was a proud day for the host country of these qualifiers as local girl Lou Marin, after dominating her division all week, won the North American/Carribean division and earning the spot in the Youth Olympic Games. It seems fitting that she, who has kited in the Dominican Republic all her life, will represent this country with such a strong kiteboarding heritage in the very first Olympic Games to include the sport. Her teammate, Paula Herrmann finished second overall, and Faviola Collazo-Velez of Puerto Rico finished in 3rd.
All qualification places are being sent to World Sailing now for confirmation with the respective National Olympic Committees.
With Antigua, Dominican Republic and Venezuela we see countries qualifying this time which are usually not on the list of those winning a direct ticket to the Games and it is great to see that in kiteboarding also the smaller and developing countries can have a realistic chance to make it to the world stage besides big names like Brazil and Argentina.
Cabarete supplied us with fantastic conditions throughout the whole week so these certainly will not be the last event we see here. The young athletes put in a lot of hard work this week and it showed. The first four countries (in addition to host Argentina) have qualified, and those who didn't quite come out on top will have one more shot to qualify for the 2018 Youth Olympics at the 2018 TT:R Youth Slalom Worlds in Hainan, China, from May 3rd to 8th (tbc), where not only the best four of each gender can qualify, but places may also be awarded to second ranked countries in the continental qualifications if an already qualified country finished in the top 4 of the Worlds .
For now, congratulations to the very first Youth Olympic Kiteboarders, Geronimo Lutteral, Maria Valentina Alvarez Villarroel, Tiger Tyson, and Lou Marin. It was a pleasure to watch you all compete.
OVERALL STANDINGS AFTER 11 ELIMINATIONS
North America / Caribbean BOYS
1. *Tiger Tyson (ANT) -12.9 pts
2. Adeuri Corniel (DOM) – 13 pts
3. Cameron Maramenides (USA) – 13 pts

North America / Caribbean GIRLS
1. *Lou Marin (DOM) – 13 pts
2. Paula Herrmann (DOM) 26 pts
3. Faviola Collazo-Velez (PUR) – 27 pts

South / Central America BOYS
1. Geronimo Lutteral (ARG) – 7.5 pts
2. *Manoel Soares Dos Santos Neto (BRA) – 12.5 pts
3. Martin Errazquin Caldern (ARG) – 15.5 pts

South / Central America GIRLS
1. *Maria Valentina Alvarez Villarroel (VEN) – 8 pts
2. Ona Romani (ARG) – 9 pts
3. Adela Mendoza (ARG) – 15 pts

*: Country qualified to the Youth Olympic Games at this competition
YOG Qualification Events
North and South America: Cabarette, DOM, 15-20 January 2018
Europe and Africa: Dakhla, MAR, 20-25 February 2018
Asia and Oceania: Pranburi, THA, 13-18 March 2018
2018 TT:R Youth Slalom World Championships: Boao, CHN, 03-08 MAy 2018 (TBC)
Full rankings and live elimination ladders with scoring: twintipracing.com.
International Kiteboarding Association
Featured in this Post
Comments