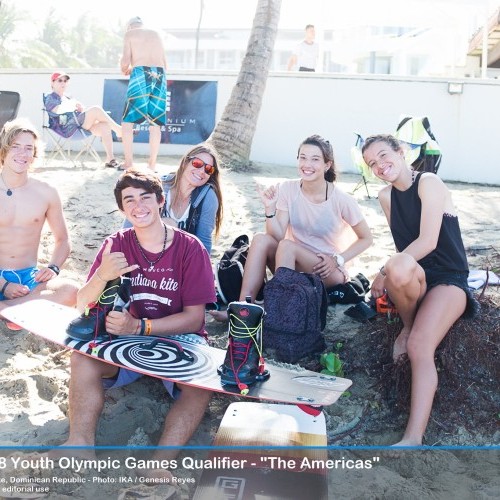 Argentina Dominates Youth Olympic Games Qualifiers
Sat 20th Jan, 2018 @ 6:00 pm
Youth Olympic Games hopefuls from North America, Central America, South America and the Carribean have been competing in Cabarete to earn invites to the Youth Olympic Games. With one more day of racing for the Americas qualifier, the racers who are on top are trying to hang on while the racers in the middle of the pack try to climb the ranks. Continue reading the full report, provided by the International Kiteboarding Association, following.
Strong onshore winds brought a slight chill to the air in Cabarete for this fourth day of Junior Olympic trials, but the races continued! Competition started a bit earlier than previous days, with a shift in wind direction to a more onshore angle. Wind speeds started out similar to yesterday, but as competitors moved through the 8th round of eliminations, the wind kicked up a notch. We saw most of our riders switching from the 17m kites they've been on all week to 15m. With solid 20 knots today, vs yesterday's 15, riders were able to demonstrate more of the speed and skill that brought them to these Olympic trials. It was exciting to watch!
In the South/Central American Boys division, Argentina's Geronimo Lutteral continued to hold the top spot. If he continues his performance tomorrow he will most definitely be representing his home country of Argentina in Buenos Aires. His teammate Martin Errazquin-Caldern has a good hold on second, followed by Manoel Soares Dos Santos Neto from Brasil in third.
The Argentinian girls' team also has shown themselves to be a formidable force in this week's trials. In the South/Central American Girls division, Ona Romani of Argentina still sits comfortably in first place, followed by her teammate Adela Mendoza. Maria Valentina Alvarez Villarroel (Venezuela) may be in third but is very close behind and clearly eyeing second place. If these rankings continue this Saturday then Ona Romani will likely join her teammate Geronimo, and will represent Argentina on their home beaches of Buenos Aires for the Youth Olympic games.
In the North American/Carribean boys division, Antiguas Tiger Tyson held the top spot, followed closely by his good friend Cameron Maramenides of the U.S. Teammate Jacob Oliver has swapped places with the Dominican Republic's Adeuri Corneil but the two are still neck and neck. Even with just one more day of competition left there is a good chance of changes in rank as this continues to be a very dynamic leaderboard.
In the North American/Carribean girls division, Cabarete local Lou Marin has yet to falter, maintaining the top spot she has held from her very first heat. Marin only continues to widen the gap between first and second, virtually guaranteeing herself a spot in this summer's Youth Olympic Games. In second place, her teammate Paula Herrmann, with less than a year of kiting experience, has emerged as a natural talent and one to watch. Puerto Rico's Faviola Collazo-Valez placed closely behind in third, looking out for any opportunity to overtake Hermann for second place.
Tomorrow is the final day of these Olympic Trials. The weather forecast looks good, so we'll likely see another full day of racing and possibly more jumps in the leaderboards. Our competitors will have one more opportunity to put themselves in for Buenos Aires.
We've seen some great racing all week long from our Youth Olympic Games hopefuls. Tomorrow will be when everything comes together for a handful of these competitors. They will not only join the ranks of the elite few who call themselves Olympic athletes, but they will get to be the very first kiteboarders to have this privilege. We count ourselves lucky to be here to witness this once in a lifetime experience and we invite everyone to come down to the beach, cheer these athletes on, and be a part of the last day of Youth Olympic Trials tomorrow.
This has been a true kiteboarder's dream so far here in Cabarete, Dominican Republic. Once our visiting athletes finish up they will have the opportunity to get a taste of the area and all it has to offer. This hidden gem, its people, its food, the natural landscape, and its crystal clear waters will no doubt call them back here again many times.
OVERALL STANDINGS AFTER 7 ELIMINATIONS (8 for NA/Caribbean Boys)
North America / Caribbean BOYS
1. Tiger Tyson (ANT) – 8 pts
2. Cameron Maramenides (USA) – 9 pts
3. Adeuri Corniel (DOM) – 11 pts

North America / Caribbean GIRLS
1. Lou Marin (DOM) – 5 pts
2. Paula Herrmann (DOM) 9 pts
3. Faviola Collazo-Velez (PUR) – 12 pts

South / Central America BOYS
1. Geronimo Lutteral (ARG) – 5 pts
2. Martin Errazquin Caldern (ARG) – 11 pts
3. Manoel Soares Dos Santos Neto (BRA) – 15 pts

South / Central America GIRLS
1. Ona Romani (ARG) – 6 pts
2. Adela Mendoza (ARG) – 10 pts
3. Maria Valentina Alvarez Villarroel (VEN) – 11 pts
YOG Qualification Events
North and South America: Cabarette, DOM, 15-20 January 2018
Europe and Africa: Dakhla, MAR, 20-25 February 2018
Asia and Oceania: Pranburi, THA, 13-18 March 2018
2018 TT:R Youth Slalom World Championships: Boao, CHN, 03-08 MAy 2018 (TBC)
Full rankings and live elimination ladders with scoring: twintipracing.com.
International Kiteboarding Association
Featured in this Post
Comments