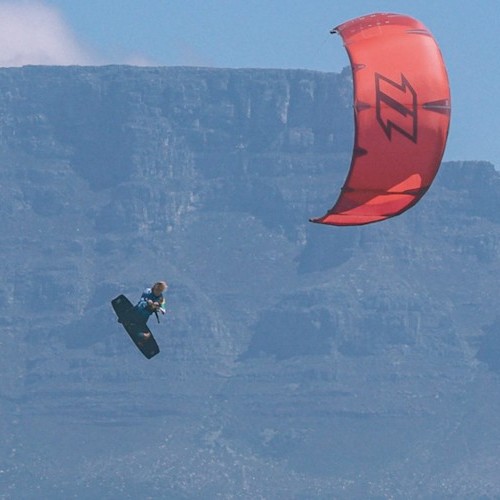 Crowning The first-ever Big Air Kite League Champion – Recap
Wed 2nd Feb, 2022 @ 9:00 am
The Cape Doctor delivered at last, and the final instalment of our 5-stop tour took place in Cape Town, South Africa, with 33 riders from across the world coming together. History was in the making as we concluded kitesurfing's first-ever international big air tour. BAKL has positioned itself right at the coalface of this new discipline and given a platform 'for the riders', fostering new talents with the opportunity to compete on the global scene and pushing the limits of the sport.
Thanks to our epic team of organisers and sponsors, the Big Air Tour has firmly cemented a new, more accessible league that's live-streamed worldwide with commentators Adrian Kerr, Colin Colin Carroll and Lewis Crathern. As a hefty tablecloth already covered Table Mountain first thing, we wasted no time kicking off the competition, starting with the women's heats.
Women's Heat
Heat 1 saw a last-minute entry from Hannah Whiteley (UK), who had only just flown into Cape Town, allowing her to compete in her first BAKL event. Despite her late arrival, Hannah is very experienced in these conditions and a strong rider accustomed to competing on the main stage. Hannah joined Silvia Rossini (IT), a big air rider from way back and also mother to Andrea Principi, as well as Dolphin Beach regular Jasmine Cho (USA). Silvia delivered smooth, boosted Italian style and was fabulous to watch, but it wasn't enough as Hannah took the win, earning her a place in the final.
Next, Nora Klement (DE) landed some solid one footer kite loops and took the lead by a 5.09 advantage, followed by 25-year-old Leilani Rosenthal (FR/USA), going huge with seemingly no fear. Local Su Kay (SA) is arguably the most technically minded female in the industry, having kited over 19 years but getting knocked out despite going massive on her custom-built kites.
Heat 3 is the closest scoring, and the heat is turned up with Francesca Maini (UK) jumping over 14m earning a 9.4 score to win. Italian Alice Ruggiu (IT) claims second and moves to Round 2, and Alessa Sophia (DE) is unfortunately knocked out. The dingle elimination Round 2 gathers impressive support on the beach. Silvia demonstrates confident sent jumps, and Alice has a strong lead from the start despite a kite change costing time. Leilani's crew at the shoreline were spurring her on, but it wasn't enough to beat Alice, who went through to the final with a 2.83 lead.
A global audience was able to tune in and follow the action via our cutting edge live stream that included live drone footage, live-action replays and even jump heights, wind statistics and scoring as they happened.
Pro Division Heat
The pro division heats kick off with Rounds 1- 3, where 12 unseeded riders battled it out for a chance to enter Round 4 against the pre-seeded riders, who earned these coveted spots through tour rankings or top video entries. By 1 pm, the wind had picked up enough for some riders to already be on their smaller 7m kites.
What was truly impressive to see was such an influx of new talent, many still very young but proving to be by no means less capable.
Stand out riders included Jett Bradshaw (SA), who demonstrated total commitment, solid moves with smooth landings and great height despite being the only rider using short 16m lines. Additionally, Mostafa Abbas (EG) gave a solid performance despite the conditions being very different to his home spot in Egypt, and Milan Lukic (NL) for landing some of the most perfect moves we'd seen so far. Finally, Rodin Strengers (NL) was seriously going massive, and local Luca Ceruti bagged the best score of the first rounds with a contra boogie loop board off, dominating Heat 7. Heat 4 was, in fact, the closest heat of the day in terms of points, with Julian Huynh taking the lead by a 0.47 advantage.
However, Julian was knocked out of the competition through injury in his second heat (Heat 11), where the event was put on pause.
"Massive thanks to every single person that sent me a message… and to the safety during the event – they absolutely killed it."
Enter the pre-seeded riders for Rounds 4 and 5!
Immediately we started seeing crazy unexpected results as Antonin Rangin (FR), known for taking part in KOTA 5 times, came in third, overtaken by Evan Klijn (NL) and Luca Ceruti (SA) …and then came the Italians… 17-year-old Andrea Principi (IT) and his 16-year-old good friend Lorenzo Casati (IT) are the ones to watch with Lorenzo having previously beaten big air veteran Nick Jacobsen in the Cold Hawaii Games eventually taking second place on that podium.
This almost faultless duo immediately took the game to an explosive new level. Janek Grzegorzewski (PL) goes straight through to the semi-finals as expected with his game plan to "keep doing one thing well and tweak it. For example, flicking the board or maybe adding another rotation. Pretty much everything will be front rolls, and comfortable board offs, but I only need to win two heats, and I'll be the tour winner".
Defending Cape Town BAKL champion, KOTA athlete and RedBull MegaLoop Challenge winner Ross-Dillon Player (SA) goes for the less usual competition tactic:
"I came in second in heat 12 on purpose as my game plan as if I had got first then I would come up against the best riders in the competition in the next heat and would have needed to win that heat to get through to the finals. Whereas if I came second I go through to a heat with riders that are easier to beat. It just means one extra heat for me, but I'll hopefully then be warmed up for the final"
Unfortunately, his strategy doesn't pay off, and despite going huge, Ross is knocked out in the quarter-finals by Andrea Principi with a 6.39 point lead. However, solid riding and the highest score of the day with an astonishing 9.88 was what Andrea pulled off to win.
Semi-Finals
Having beaten Stig Hoefnagel (NL), who recently bagged an impressive 3rd place at KOTA, Jason van der Spuy (SA) goes up against Evan Klijn (NL) and the notorious Dutch big air monster Giel Vlugt (KOTA semi-finalist and currently ranking 3rd for the tour).
However, the wind dips, and it's not in Giel's favour, so despite throwing down, Evan beats him by a crazy 0.04 margin and is joined in the final by Lorenzo Casati. Finally, heat 22 of the semis saw one of the most agonisingly close and technical heats between Janek, Cohan van Dijk (NL) and Andrea. With little between the scores, the judges kept us on edge, carefully deliberating the close results while we waited around 30 minutes to hear who the 3rd rider would be in the final.
Thanks to our sponsors, Core, Ride Engine and Lieuwe, we had the camera footage and tools to comb over the heats to be able to dissect the performance of the athletes. Finally, the judging panel decided, and a huge shock awaited us as Janek, tipped as the favourite to win, was knocked out, relinquishing his expected place on the podium.
Women's Final
Having waited since the morning, the women had the tough job of getting back into their competitive mindset along with challenging conditions as the wind significantly dropped, and the light faded. Nora Klement already showed Cape Town that she could give her all at the Queen is Born event back in 2019, but Hannah was the favourite to win:
"I'm totally vibing. It feels super nice to be competing with the other girls and I'm surprised at the level as I haven't heard of many of them before and they're throwing massive loops and loving it. I'm already happy just to be in the final and I've not tried a boogie loop for 4 years but competing gives you that extra motivation and a lull in the wind is perfect for it" – Hannah Whitely
Hannah, unfortunately, didn't land her boogie loops and came in 3rd, but despite the wind beginning to drop, Francesca Maini was pulling 10m kite loops scoring the highest moves to steal the win and top the podium.
Pro Final
The pro final takes place as the last rays of sun backlight an incredible lineup without the riders most people tipped to win!
Despite the wind dropping, it picked up enough that all three athletes could show their technical experience and find the right conditions to pull out the stops. Having found the right gust and kicker, Lorenzo started the battle going huge, boosting 16m and throwing a flawless kite loop board-off with his smooth, signature back roll on the way down. After that, it's neck and neck as Evan Klijn battles Lorenzo Casati getting some great height with smooth landings and the biggest loop, matched by Lorenzo's board off rotations. Unfortunately, Cohan van Dijk wasn't getting the same height. However, he found time to demonstrate how much of a sportsman he is by bringing Evan his board back in the last 2 mins. Evan went on to take second place, with Cohan in 3rd and unstoppable Lorenzo took the crown.
The Big Air Tour 2021 Winners Consistency, commitment and dedication were required to go the distance to hold on to a podium spot throughout the tour. Despite not being in the final of the Cape Town event, Janek Grzegorzewski produced consistent results at the highest level and went on to be crowned the first 2021 tour winner, with Lorenzo Casati in second place Andrea Principi in third.
"I mean it's actually harder to win a tour than an individual event, because mate, you can have 1 weekend when everything goes your way, but to win a tour, you have to be the most consistent, dedicated and committed rider for the period of 1 year. And I think that's always gonna be the difference and make it harder to win a tour." – Adrian Kerr, Kitesurf365 Podcast
What we saw throughout the competition has to be some of the most insane riding and the greatest big air kitesurfers putting on a world-class show. Stay tuned for news on upcoming events as momentum grows stronger, and the Big Air Tour is most definitely to be continued! Thanks to our sponsors, Core, Lieuwe and Ride Engine, as well as Surfr for backing the tour throughout, and Dolphin Beach and Trecastelli for their local support.
Extra special mention to Heatscoring.com for the awesome live scoring that enabled the global kitesurfing community to watch and engage with us from afar. We couldn't have done it without key people working hard behind the scene, including organiser Cedric Vandenschrik and Race director Olaf Van Tol, as well as many others. We'd like to extend huge thanks to everyone that played a part in making this event and tour a success.
Podium
Pro Division
1st – Lorenzo Casati
2nd – Evan Klijn
3rd – Cohan van Dijk
Women
1st – Francesca Maini
2nd – Nora Klement
3rd – Hannah Whiteley
BAKL 2021 Overall Tour Champions
1st – Janek Grzegorzewski
2nd – Lorenzo Casati
3rd – Andrea Principi
Surfr prize money for highest jumps: First place was Milan Lukic (NL) for 19.58m, followed by Julian Zens (SA) with 19.55m in second place, and 3rd place went to Julian Meijvogel (NL) with 19.41m.
We're excited to build upon our success of the first world The Big Air Tour and push the limits in 2022. Stay tuned for news on upcoming events. For more information on BAKL, please click here.
Final Big Air Tour Stop of 2021 – Dolphin Beach, Cape Town, 26 January 2022
Words by Caroline Morris
Featured in this Post
Comments