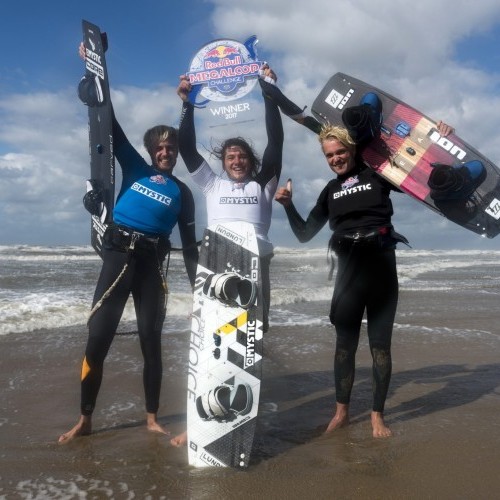 Confirmed Riders Line-up – Red Bull Megaloop 2019
Fri 7th Jun, 2019 @ 3:00 pm
Set that reminder! After 2 years of waiting, tomorrow finally the perfect storm hits the Netherlands. 35-40 knots of wind is expected and these are the confirmed 16 riders who will battle it out in Red Bull Megaloop 2019!
Win a Lieuwe Shotgun Paradise Series Board this issue in our FREE subscriber prize draw.
16 riders were selected and on standby as of from April 1st this year. Yesterday, they all received the call and travelled to the Netherlands as fast as they could. Ruben Lenten (injured) and Jesse Richman couldn't make it and will be replaced by Oswald Smith and Liam Whaley.
Tomorrow, the first possible start is planned at 10.00 AM (CET). Come to 'The Spot' in Zandvoort or follow the live stream!
The 2019 Line-up
1. Joshua Emanuel (RSA)
2. Steven Akkersdijk (NL)
3. Lasse Walker (NL)
4. Kevin de Smidt (NL)
5. Jerrie van de Kop (NL)
6. Louk Timmer (NL)
7. Nick Jacobsen (DK)
8. Kevin Langeree (NL)
9. Liam Whaley (ESP)
10. Ross-Dillon Player (RSA)
11. Gijs Wassenaar (NL)
12. Ryan de Witte (NL)
13. Antoine Clerc (FRA)
14. Janek Grzegorzewski (POL)
15. Ben van den Burg (NL)
16. Oswald Smith (RSA)
Stay tuned and follow all the action, right here!
Featured in this Post
Comments