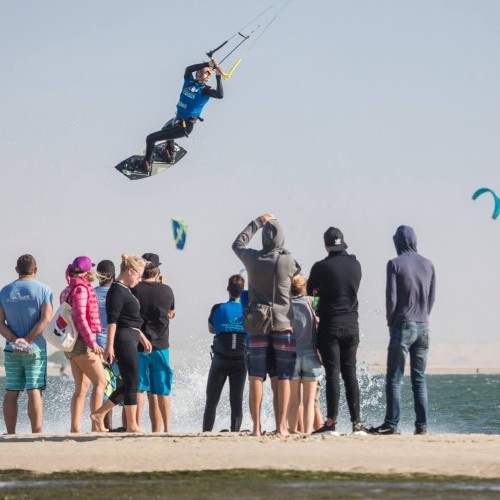 World Kiteboarding Championships, Dakhla – Qualifier Championship – Day One
Sun 4th Nov, 2018 @ 12:00 am
The Qualifier Championship kicked off today in Dakhla, Morocco, with optimal kite conditions at this world famous stop. The registration took place at 9 am at Dakhla Spirit, with 27 men and 7 women from over 12 different nationalities competing.
Rounds 1 and 2 were completed for the Men and Round 1 for the Women.
Men's Qualifier Round 1
Heat 1 saw two Moroccan riders, Abdrahim Moutatoukil and Jonas Ouahmid, competing against Aron Roslee from South Africa, and Elite competitor Gianmaria Coccoluto from Italy. Coccoluto's experience put him in a comfortable first place, landing each of his 7 trick attempts. Jonas Ouahmid followed through to the next round together with Abdrahim Moutatoukil.
Heat 2 went to young French athlete Edgar Ulrich, who landed several good tricks including a nice 317 scoring 7.73. He passes through followed by Kalu de Sousa from Brazil. Elite rider Nicolas Delmas also passes through, and Yassine Bouceta landed in 4th.
Heat 3 was a great one for French rider Louka Pitot, who rode very consistently and gained a solid lead. Ivanildo Fernades from Brasil cruised through to the next round behind him, despite crashing three trick attempts. Elite rider Paul Serin struggled slightly during the heat, but still placed 3rd and will have another opportunity in Round 2.
As the tide gradually went out, the wind continued to increase. Heat 4 saw Arthur Guillebert, an Elite rider from France, clear his way through with ease, performing tricks such as a clean Front Blind Mobe. Young athlete and fellow Frenchman Oscar Perrineau rode a great heat landing a good Double Heart Attack. Domantas Jusionis from Lithuania placed 3rd, and all riders will pass through to Round 2.
Russian athlete Sergey Borisov showed his talent and motivation for Heat 5 where he rode solidly landing a good Back Mobe 5 and Heart Attack. He passed through to the next round together with Julian Krikken and local rider Soufiane Hassouni. Oussama Bouchabchoub started the heat well but struggled to get high enough scores towards the end.
Heat 6 contained strong riding from the athletes, with Jerome Cloetens from Spain performing well, clearly comfortable with the Dakhla conditions. Despite three crashed trick attempts, he still maintained a solid lead. Romain Giuliano from France landed a nice Backside 315, and passed through in 2nd place, followed by local rider Larbi Edderkaoui.
Heat 7 went to Anthar Racca from Mexico, who pulled off a nice Backside 317. French team rider Lucas Ferreira and Cohen van Dijk follow him through to Round 2.
Heat 8 was a struggle for Augustas Dudenas from Lithuania who landed his first 313 but then struggled for the remainder of the heat. Youssef Keribech, a local rider placed just above him, and Elite rider Valentin Garat came in 1st, with all three athletes passing to the next round.
Men's Qualifier Round 2
Round 2 for the Men was continued directly from Round 1, to take advantage of the great conditions.
Nicolas Delmas improved on his earlier performance for Heat 9. He stomped some solid tricks such as a 7.03 Backside 315. Romain Giuliano landed an even better one, scoring slightly higher, and both athletes advanced to Round 3.
Ivanildo Ferdandes sadly injured himself and was unable to compete in Heat 10. Lucas Ferreira advanced together with Domantas Jusionis to Round 3.
Heat 11 was a battle between three Moroccan local riders and one Brazilian. Kalu de Sousa blasted his way through, landing clean and powered tricks including a Slim 5 and Backside 315. Soufiane Hassouni and Jonas Ouahmid were neck and neck right until the end. Jonas narrowly missed out on advancing, as Soufiane placed a fraction of a point above him, and gained the desired spot in Round 3.
The final Men's heat of the day was Heat 12. Paul Serin is an experienced Elite rider, and he proved this with his riding in Heat 12. Cohen Van Dijk fought his way through despite a slow start, and both riders advance to Round 3.
Women's Round 1
Rita Arnaus is no stranger to Dakhla, having visited the spot several times of the last year. It was clear that she was comfortable with the conditions, as she landed each attempt comfortably, and took the lead for Heat 1. Danish Champion Therese Taabbel followed her in 2nd place, landing a nice S-bend to Blind. Osaia Reding from France struggled at the start of her heat but made up for it with her last attempts, placing her in 3rd, followed by Russian rider Kristina Belogorskaya.
Heat 2 saw a fantastic performance from Italian athlete Francesca Bagnoli. She landed a strong array of tricks that included a Slim Chance, Backside 313 and a Heart Attack. She advanced in 1st place, followed by Dutch rider Pippa van Iersel. Pippa started the heat very well with two high scoring tricks but then failed to maintain the rhythm and crashed her last trick attempts. She finished the heat in 2nd place followed by Claudia Leon from Spain who also struggled to land the tricks she was aiming for.
The day concluded at 7 pm as the sun was setting. The competition will resume at 10 am tomorrow morning.
The live-stream will be running as from the 6th of November, for the Elite Championship. Meanwhile, be sure to follow the World Kiteboarding Championships on Facebook and Instagram!
Featured in this Post
Comments