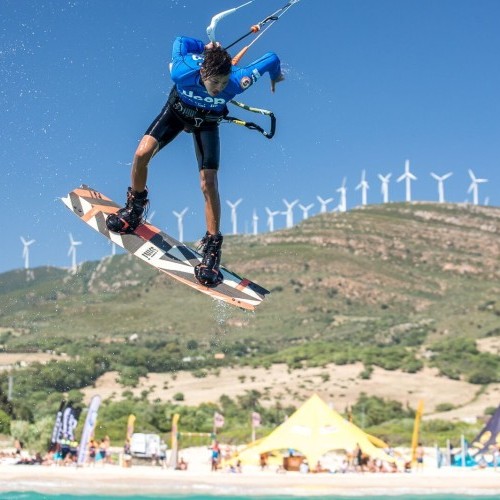 The Jeep Tarifa Pro 2018 Kick Off!
Thu 28th Jun, 2018 @ 12:30 pm
STRIKE ONE
The GKA Kiteboarding 'Air Games' World Tour saw its first-ever rounds of the competition run in the toughest conditions for both the judges and the riders – lighter winds!
Win a Custom Designed Ozone Twin Tip this issue in our FREE subscriber prize draw.

However, the tour is off, running and already evolving…
The light Poniente wind was boosted by an afternoon thermal giving the Kiteboarding Air Games World Tour riders a chance to show what they could do in around 18 knots. Of course, this is at the lower end of the wish for wind speed for this tour for big tricks, BUT we're looking for the most all round and complete twin-tip riders and what would a world tour be without a test!
Highlights of today came from Jesse Richman with his super clean kite loop double half-cabs and Carlos Mario's kite loop 7s, which were undoubtedly the best tricks of the day.
Liam Whaley and David Tonijuan had impressively close attempts at kite loop front blind mobes, meanwhile Posito Martinez showed prowess in every category – at the moment the 'amplitude' factor is his as he commands the skies. Finally, if it came down to a board-off contest, then Reno Romeu, Tom Hebert, and Marius Hoppe were top of the class.
Day one of the Air Games have thrown up a multitude of talking points, but… this is only day one! If it were easy, everyone would be doing it. The journey continues tomorrow… with both the GKA Kite-Surf and Kiteboarding Air Games World Tours hopefully in action for both men and women!
To stay updated on the latest news on the Jeep Tarifa 2018, please click here.
Featured in this Post
Comments