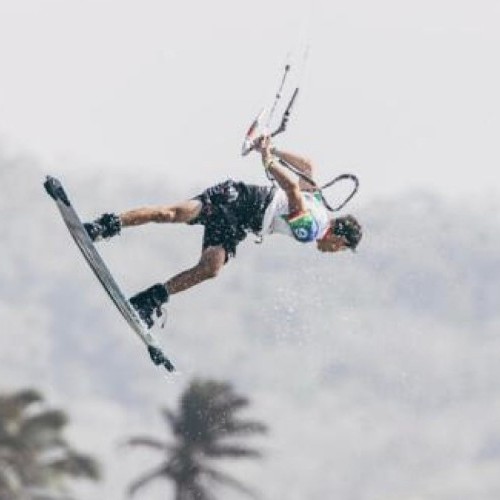 GKA Freestyle World Cup 2022 – Salinas Del Rey Colombia
Features / Mon 7th Mar, 2022 @ 10:32 am
For the season's first stop, the GKA Freestyle World tour headed to Salinas Del Rey – Colombia. As one would expect, it was nothing short of pure action-packed talent. We got to see old and new faces smash through the event, The GKA media crew have all the updates for us!
GKA Freestyle World Cup Colombia Day 1
Win a Custom Designed Ozone Twin Tip this issue in our FREE subscriber prize draw.
The day started with moody skies as the wind built. Riders started showing up at the Salinas del Rey event site–the 2022 GKA Kite World Cup's first stop at 9 am for registration. It was a mellow morning as superstars such as Mikaili Sol (BRA), Bruna Kajiya (BRA), Jeremy Burlando (ESP), and Carlos Mario (BRA) started filling in to confirm their event participation.
Welcoming ceremonies kicked off at 11:00 am with a display of fantastic and colourful Colombia dancing. The GKA Freestyle World Cup competition is the first to be hosted here, and the local government came out in full force to support it. Spectators flooded the event site, eager for the action to start.
With an uneven number of competitors in the competition bracket, head judge Alvaro Onieva made the call to use today's wind to run the seeding rounds. As a result, round one (seeding rounds) only had two heats, and competitors were automatically reseeded into Round 3, giving us a fresh start and setting us up for a full day of competition tomorrow.
The wind kept building throughout the morning, with strong gusts coming through when the rider's meeting concluded at 13:00. Riders began warming up with the current world champion Arthur Guillebert (FRA) throwing huge tricks while the entire beach cheered.
With 22 men and six women representing over ten countries, Colombia's energy is high. 2022 is set up to be the first full year of tour events since the pandemic with over, riders are eager to make their debut.
"I'm excited to visit new locations and compete in a full, real tour." – Claudia Leon (ESP)
Colombian rider and rising rider Juan Rodriquez (COL) is most especially excited for Salinas del Rey to host the first event of the season.
"It's been my dream to have a stop in Colombia. I'm stoked." – Juan Rodriquez
Round One Results
Following the freestyle format that the GKA introduced at the end of 2019, each rider gets 7 trick attempts, with 4 tricks counting towards an overall score. Each trick is scored out of 10 points, with judges looking for amplitude, execution, technical ability and style.
The first men's heat saw two Colombian locals battling it out in the strong wind. Both men utilized the strong gusts to go bigger and power themselves across the competition area. Local supporters came out in droves to support local shredders, Duvan Macias (COL) and Andre Quintero (COL). With three failed back mobe attempts, Duvan Macias could not keep it together. Ultimately, Andres Quintero came out on top. Yet, you could see the heart in each of these riders as they threw everything they had into this heat.
In the second heat, Nelson Gomez (COL) competed against Renzo David (COL). Nelson Gomez dominated with his power and style, landing a backside 315, frontside 315 and a hitenberger mobe 5 to take home the win.
GKA Freestyle World Cup Colombia Day Two
Win a Custom Designed Ozone Twin Tip this issue in our FREE subscriber prize draw.
Day Two of the 2022 GKA Freestyle World Cup Colombia started with clear, sunny skies and building wind. As the riders began to gather for the skipper's meeting at 9:00 am, you could feel the excitement building.
"It's a sunny day, the wind is nice and we're starting with the women. I'm excited." said veteran and legendary competitor Bruna Kajiya.
Heats progressed quickly throughout the day as the wind continued to build. Conditions were choppy and began to get challenging with gusty wind flowing over the beach. It was a full day of kiteboarding as we ran Women's Round One and Men's Round Three.
Day Two Heat Results
Women's Highlights
Although the women's field at this event is smaller than others, the talent level is off the charts. 4x world champion Mikaili Sol is already gunning for another world title, Rita Arnaus is feeling strong and has been training on her new gear, and Bruna is as steady of a competitor as ever. It's been awesome to see the level of progression of the women steadily climb. We'll see if anyone can touch Sol as she pushes the amplitude and technicality of the women higher and higher.
In women's heat one, Rita Arnaus won it at the last second over Saumi Cavallo and Bruna Kajiya with a cleanly executed slim chance. However, conditions were a bit choppy, and all three riders struggled to land consistently.
Women's heat two was a stacked heat, with Spanish rider Claudia Leon landing a clean backside 313 and a slim chance. Estefania Rosa answered back with a front side 313 and a Hinterberger mobe. Although they stand out of the session was most certainly Mikaili Sol, who showed how consistently she's been training with a massive slim chance 5 scoring an 8.03. She also landed a Hinterberger mobe 5, scoring 8.77.
Men's Highlights
The men's heats were full of power and style with many stand-outs. We managed to finish the entire Round Three of the men today. Heats of three riders competed with the top rider moving directly into Round Five and the lowest two riders moving into Round Four.
Stand-out riders from today's heats were Maxime Chabloz, who started off the competition in Men's Round Three, Heat One, with a massive frontside 319. Maxime also competes in skiing on the Freeride World Tour, and his consistency in competition shone today.
In men's heat two, Adeuri Corniel made his first competition debut post-knee surgery in 2021. Despite coming back from injury, he landed a clean Frontside 319 and a Slim Chance 720. He seemed to play it safe to make it through the first round and still threw down some big tricks. His competitor and another good Dominican rider, Luis Cruz, was sending it, throwing mega tricks with super height and pop. Luis Alberto Cruz went massive off of the kickers on the outside but couldn't stick his landings. Making his way through round three, Adeuri, aka the black panther, dominated with good power and clean style.
Today, one of the biggest upsets was 2019 World Champion Valentin Rodriguez, who lost by less than 2 points to fellow Colombian Juan Rodriguez. Valentin struggled a bit with the conditions, crashing a few too many times. However, both riders demonstrated power and height. Juan was steady and managed to keep it together to advance straight into Round Five.
The wind held steady all day as we worked our way through the elimination ladders. Posito Martinez did a massive front blind mobe off a wave kicker in men's heat six, showing technicality and precision execution. He stole the show, got a huge reaction from the crowd and will be moving straight into Round Five.
Our two youngest competitors, Finn Flugel and Pierfrancesco Rizzello, just 11 and 12 years old, showed up with heart and power. Trying backside 313's, back mobes and riding with power. It's exciting to watch the next generation of riders make their way onto the competition stage.
Further stand-out performances included Gianmaria Coccoluto, who showed that he's been training extremely hard and that hard work paid off today. He managed to score the highest total score of the heats, landing a MASSIVE frontside 319, crowmobe 5 and a slim 7 with a grab. He showed a lot of variety and power. All this after crashing his first two tricks.
Finally, defending World Champion Arthur Guillebert rode in the day's final heat against Daniel Pereira. He showed up with power and amplitude, stomping tricks with clean landings. He started the heat slowly but then built up and landed a backside 317 and a frontside 319 to beat out Pereira.
This competition will set the stage for the entire rest of the year, and each of the tour's strongest competitors wants to prove themselves on this world stage. This event alone will create a lot of momentum for the remainder of the year!
GKA Freestyle World Cup Colombia Day Three
Win a Custom Designed Ozone Twin Tip this issue in our FREE subscriber prize draw.
It was another beautiful day in Colombia! Clear skies dawned bright and early, and once again, a strong breeze flowed over the competition area. With a full day of heat on tap, the 2022 GKA Kite World Cup commenced quickly. Unfortunately, it was the windiest start to a day so far, and tensions started to build as the competition began to get serious.
Despite the chance to be eliminated, the energy on the beach was absolutely off the charts, with riders cheering one another on.
"Everyone is supporting one another." – said current vice World Champion Jeremy Burlando.
With an action-packed day ahead of them, the riders showed up with power and stoke and prepared to put on an amazing show.
Day Three Heat Results
The competition started with the semi-final heat for the women. Ladies were powered on 7's, 8's and 9's. Claudia Leon battled against Estefania Rosa, Suami Cavallo and Bruna Kajiya. Claudia and Estefania began to strong, with powered 315s. Bruna answered back with a 315 of her own, followed by a huge slim chance, scoring a solid 8.5 points. She then threw a perfectly executed back mobe to secure a solid first place into the women's final. After a few failed attempts, Claudia landed an excellent slim chance, scoring 7.17. While Bruna established herself in the lead, Claudia and Estefania battled for the second spot to move into the final, almost going trick for trick. Estefania landed a hinterberger mobe scoring a massive 5.93 to edge out Claudia, who couldn't quite hold it together on her landings.
The original plan was to run the Women's Final, yet the progressively increasing winds dictated a change in the heat order. Race director Rui Meira pushed the Women's Final to tomorrow, and Men's Round Five proceeded.
Men's Highlights
Men's Round Four heats progressed throughout the morning, with four riders in each heat. Stand-outs from Round Four were a mega unhooked double backroll kiteloop from local rider Duvan Macías. Also, at just twelve years old, one of our youngest competitors, Finn Flugel, made it into the quarter-final round, just beating out Carlito Martinez by 1.4 points.
After the first round of eliminations, Men's Round Five took to the water, with 16 competitors battling it out to advance to the semi-final rounds. The wind continued to build throughout the day, and by the time the afternoon hit, a solid 25-28 knots were blowing. Every rider was going huge! Again, the wind was strong, with men on 9 meters, sending it to the moon!
In Round Five, Heat One, the crowd went bonkers for Maxime Chabloz's seatbelt mobe 5. The judges rewarded his stylish execution with a 7.33. He ended this heat with a total score of 30.43. Luis Cruz landed a textbook Slim Chance 9 that was insanely huge–the biggest trick of the day said GKA judge Sam Medysky. Carlos Mario just managed to beat Cruz out with a massive 319 and Hinterberger Frontside 720 for a total heat score of 28.73 over Cruz's 28.10,
The heats became more and more stacked as we progressed through the competition ladder. Manoel Soares landed a Heart Attack 720 for the competition's highest score for a whopping 9.27! Local Colombian rider Juan Rodriguez threw down a solid heat, demonstrating to everyone that home-court advantage is real. Jeremy Burlando couldn't quite keep it together and didn't land any of his biggest tricks. Manoel Soares and Juan Rodriguez advanced to the semi-finals!
Landings were difficult in the choppy water and the gusty wind made for some interesting situations as Men's Heat Three took to the water. Nelson Gomez, a local Colombian rider who was going big and giving it all of his heart, crashed on a double heart attack and had to be carried off the water. Unfortunately, directly after that, Adeuri Corniel came down hard off a massive, and the impact hurt his knee. With two riders down, Guilherme Costa and Posito Martinez automatically advanced.
The day's final heat was Gianmaria Coccoluto versus 12-year old Finn Flugel, former World Champion Valentin Rodriguez and current World Champion Arthur Guillebert. Finn Flugel landed some solid tricks, and the judges were all super impressed with his young talent. Valentin Rodriguez landed a huge, clean 319 to wow the judges and score a 9.0. Coccoluto answered back with a perfectly executed 319 for a 9.3! I was upset with Arthur Guillebert being eliminated by Coccoluto and Rodriquez.
The winners are Announced! GKA Freestyle World Cup Colombia Day Four
Win a Custom Designed Ozone Twin Tip this issue in our FREE subscriber prize draw.
The quiet tension started to build as competitors began to feel the effects of three full days in the wind and sun. Here's where the mental training of the athletes really began to come into play. You could feel the nervousness of some riders while others remained calm, cool and collected such as Carlos Mario (BRA).
"I'm calm, I'm ready," said the Brazilian powerhouse.
Once again, the day began with the wind blowing and the judges were fired up to watch all of the action. Riders displayed a mix of quiet confidence (Coccoluto), and extreme focus (Chabloz) with the general attitude being–it's time to go big or go home!
"There are no jokes in the finals. It's time to go full send." – Rita Arnaus (ESP)
Day Four Heat Results
We started the day with the Men's Semi-Final Rounds. The music was pumping and the competition area was stacked with the world's best freestyle kiteboarders. In Heat One, Gianmaria Coccoluto (ITA) competed against Manoel Soares (BRA), Maxime Chabloz (CHE) and Posito Martinez (DOM)–a mega-talented heat to say the least!
Coccoluto displayed tons of speed as he launched himself into the air, landing a grabbed slim chance 7, scoring 8.7–the highest score of the heat! Chabloz started off with a Seatbelt mobe 5 to display style and perfect execution for a high scoring 7.9, followed up with a gigantic 3.19.
Martinez went huge but couldn't quite stick the landings he needed to advance. Maxime also bobbled a few landings and unfortunately did not score high enough to move on. The story of the heat was Manoel Soares, who doesn't currently have a kite sponsor but nonetheless demonstrated perfect execution, smooth style and most importantly consistency! His first trick, a huge 319 on the inside, scored an 8.07! He followed that up with a backside 317, scoring 8.43, and a huge, clean slim chance 9. "My only competition is myself." -Manoel Soares said before the heat.
Heat two kicked off with Carlos Mario (BRA) battling against Juan Rodriguez (COL), Guilherme Costa (BRA), and Valentin Rodriguez (COL). The heat started out at the top of the ladder with Costa, who landed a beautiful slim 7. Valentin was battling a stretched bicep from the day before and wasn't quite able to keep it together on his landings. Mario and Rodriguez went back and forth as heat leaders. Carlos Mario rode with his usual power and amplitude, landing a 317, and double Heart Attack and his highest-scoring trick, a Hinterberger 7, scoring a 7.57. Crowd favourite and Colombian rider Juan Rodriguez landed a beautiful double Hinterberger mobe 5, a clean 317 and finally a Slim Chance 7 for a total heat score of 29.70. Both Mario and Rodriguez moved on to the finals.
Women's Final
As the level got higher and higher, precise execution really mattered. The judges are always looking for a maximum extension on the raley-based tricks, proper inversion on the roll-based tricks and on-axis rotations. Competitors must also display smooth pop, amplitude, clean landings, good kite control and a full display of power to score the points necessary to win.
Next, we moved into the Women's Finals with Bruna Kajiya (BRA) taking on Rita Arnaus (ESP), Mikaili Sol (BRA) and Estefania Rosa (BRA). Conditions were strong and the women were powered on 6-9meter kites. The heat started with Estefania Rosa landing a solid 313 and Hinterberger mobe. It was a close heat with Rita Arnaus landing a super clean Slim Chance scoring a 7.37 and backing it up with an S-bend to blind with an air pass. Veteran Bruna Kajiya laid down a solid heat with a Slim Chance followed up with a textbook Back Mobe and finally a Hinterberger mobe with her kite super low. She was the heat leader until Mikaili Sol managed to land her go-tricks including a colossal Slim Chance 5, 315 and Hinterberger Mobe 5–setting herself apart from the rest of the field with her huge air, technicality and style.
Men's Final
The Men's Final was full of off the charts action! The crowd was fired up and the beach was packed. Gianmaria Coccoluto (ITA) v. Manoel Soares (BRA) v. Carlos Mario (BRA) v. Juan Rodriguez (COL). It was a nail biter all the way to the end.
Colombian Juan Rodriguez was feeding off the crowd and laid down an incredible heat that demonstrated fluid riding, mixing power and style to claim 3rd position. In his final trick attempt of the heat, he needed an 8.8 to overtake Carlos Mario. He landed a super technical and clean backside 317 but didn't quite get the score and ended in 3rd place. Carlos Mario looks like he's back in top form and hungry for another title, riding without fear and throwing absolutely massive backside 317 scoring 7.9 to secure himself second place.
Gianmaria Coccoluto went huge! He landed a super technical 319 scoring an 8.37 and a slim chance 7 scoring a 9.20–the highest score of the heat Unfortunately, he couldn't land a fourth trick and therefore ended in 4th place despite an otherwise killer performance.
This was Manoel Soares' first GKA final and he showed up to play Soares had smooth, clean landings and showed incredible kite control as he sent it to the moon, landing a powerful Slim Chance 7, 319, backside 317 and heart attack 5 for a total heat score of 30.14 and securing himself the win!
The Winners
Women
1. Mikaili Sol
2. Bruna Kajiya
3. Rita Arnaus
4. Estefania Rosa
Men
1. Manoel 'Piçarrinha' Soares
2. Carlos Mario
3. Juan Rodriguez
4. Gianmaria Coccoluto
Report by: Sensi Graves
Photos by: Lukas K Stiller
For more information on the GKA, please click here.
Mon 7th Mar, 2022 @ 10:32 am
Italian/Egyptian Jen Tyler grew up on the sandy beaches of the Red Sea and has been on the IKSURFMAG & Tonic Mag team since 2017.
Featured in this Post
Comments