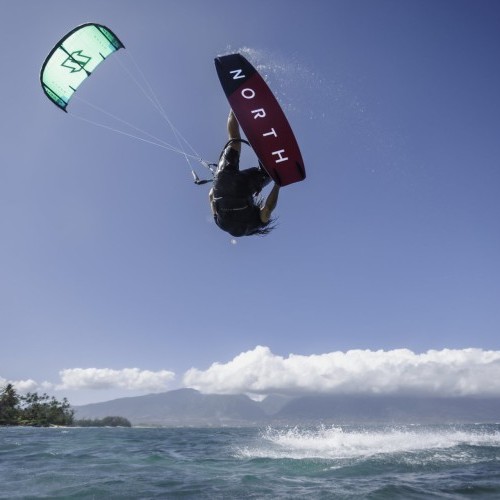 NORTH 2022 Freeride Product Overview
Features / Tue 15th Mar, 2022 @ 12:00 am
North Kiteboarding just launched their new season Freeride collection and we've got the full scoop right here on IKSURFMAG!
At North, we are magnetically drawn to – and set free by – the elements. Air. Water. Earth. Fire. Mother Nature will not be contained, and nor should you. We've designed our 2022 Freeride Collection to help you find your centre of gravity. Lighter, more playful, and even easier to ride – this is North Freeride. New materials, angles, and measurements reflect our core philosophy of ERI (Engineered, Refined, Intuitive). We've tweaked and refined wherever we can to keep improving performance.
The New Reach
Performance Freeride Kite – Your desert island kite just got lighter
"Since its release two years ago, the Reach has been a phenomenal kite, incredibly well-received by the market. We believe it's the best all-round kite ever made. Our customers are constantly raving about the performance, so we didn't think we could make it better. But we have." – Brand Director Mike Raper.
The 2022 Reach has a crisper, livelier feel: we've introduced a new lighter Dacron exoskeleton in every size and revised the arc design for a snappier response, more direct steering and more dynamic recovery. The new design remains light and responsive but flies more smoothly and cleanly through a wider range of attack angles. It boosts, loops, surfs, and foils – and performs on all levels, from novice to seasoned pro.
Win a Commander Twin Tip by Eleveight, CORE's all-new Link harness, or an ultra-light board bag from Prolimit this issue in our FREE subscriber prize draw.
For more information, please click here.
New Prime
Freeride TwinTip – Your ticket to ride
Don't underestimate the performance of the Prime. Affordable with outstanding performance, we'd say it's the single best all-round freeride board on the market. A test-winner, the Prime carves beautifully, and you won't outgrow it quickly. The new high visibility colour is ideal for riders to retrieve their board easily. A chop-killer, the Prime's rounded outline and narrow tips allow you to edge and track upwind with ease. The single concave at the bottom provides a controlled, even flex, stiffer between the feet with forgiving tips for a splash-free ride and softer landings. Previously we increased the stance width with each board size, but for 2022 we've improved the design, giving all the bigger boards the same stance width as the 138.
For more information, please click here.
ASTRA Freeride / Big Air TwinTip
Light rider
"The Astra surprised us," says Mike. "I think we underestimated the demand for a board that appeals to so many lighter-weight riders."
The Astra Hybrid Basalt crosses over between Performance Freeride and Big Air. It has the same DNA as the Atmos but a slightly more forgiving flex and narrower stance.
For more information, please click here.
TRACE Freeride / Lightwind TwinTip
First out, last in
Since its launch in September 2021, the Trace is proving to be a winner for Freeride and Freestyle in lightwind conditions. Available in two different sizes to cover a range of rider weights. The Trace is the ideal board to pair with the 13,15, or 17m Lightwind-Optimized Reach sizes – as Marc Jacobs says: "using the Trace is like adding 5knots of wind to your session".
For more information, please click here
FLEX TwinTip Bindings
Strap in for the ride of your life
Precisely engineered with finer GripFlex underfoot and a steeper toe bar for more hold during high rotation tricks. For 2022 we refined the Flex Bindings to provide an even more secure comfort-fit with increased lateral support. The blue accents on the Flex bindings ties in graphically with the ABS rails on our new Freeride and Freestyle TwinTips, bringing a strong visual cohesiveness to the range.
For more information, please click here.
NAVIGATOR Control System
Think less feel more
The award-winning Navigator Control System has undergone over 20 small refinements for 2022, continuing the simplest, cleanest, less-is-more philosophy we constantly strive for at North. The Navigator has a unique Toolless InterLoop System: with just one bar and a choice of five loops you can switch disciplines in moments – no tools required. For 2022 we've introduced a new Standard Freestyle Loop with finger, so you have the option of using the loop for both Freeride and unhooked riding. For Freestyle junkies we offer an extra-long loop with no security finger. Both the Freestyle Loops (sold separately to the Navigator) come complete with a Freestyle Leash Ring, allowing you to hook back in quickly without the leash getting in the way.
For more information, please click here
Across the range…

We've upgraded the HyperFlow Inflation valve geometry across all our kites, which makes gripping the valve lid and base much easier in colder conditions – especially when your fingers are numb or you're wearing gloves. The HyperFlow system is suitable for any pump with a standard bayonet hose connection.

New Premium 300D Go Green Kite Bags – meeting EU standards for recycled fabrics. The industry-leading recycled material bag also features corrosion-proof heavy-duty plastic zippers with custom zipper pull tabs. There's room for your pump on one side of the bag and your control system in the mesh pocket on the other side.
Find out more right here!
Italian/Egyptian Jen Tyler grew up on the sandy beaches of the Red Sea and has been on the IKSURFMAG & Tonic Mag team since 2017.
Featured in this Post
New Zealand
18,087
12,673
Comments