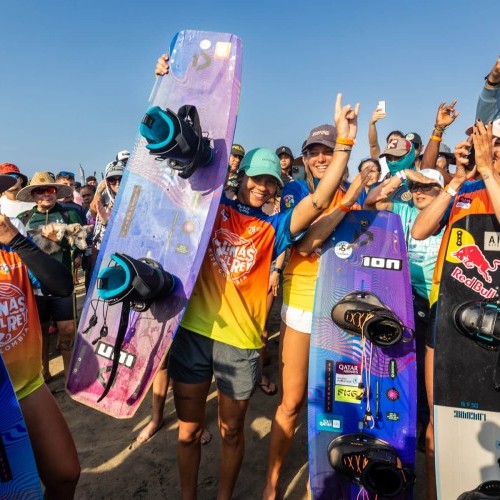 GKA Kite World Tour | Salinas del Rey, Colombia
Sun 5th Mar, 2023 @ 9:00 am
Win a Commander Twin Tip by Eleveight, CORE's all-new Link harness, or an ultra-light board bag from Prolimit this issue in our FREE subscriber prize draw.
Event Champions are Crowned – An electric crowd and pumping music set the stage for the women's and men's final heats as the GKA wrapped up in Salinas del Rey, Colombia!
Women's Semi-Final Heats
After two days of rest, the women were feeling good going into the semi-final and final heats. We kicked off with women's heat one featuring: Therese Taabbel (DEN) vs Claudia Leon (ESP) vs Bruna Kajiya (BRA), and Alexandra Torres (ESP). The women were on 11-meter kites, and the wind delivered a perfect, steady breeze over the coastline. Therese opened it up with an easy 313, scoring 4.30; Claudia answered with a clean 315, putting her in the lead with 5.53 points on the board. Bruna opened up with a beautiful Slim Chance followed by a super stylish and inverted Front Roll to Blind, scoring a huge 7.43 points to put her in the lead.
The wind was solid and really allowed the women to display their full range of tricks. Taabbel landed a solid Slim Chance to put her first, scoring 6.17. Unfortunately, she didn't manage to land her last few trick attempts and was eliminated from the competition. On the other hand, Leon landed a Slim Chance scoring 5.97 and a massive Hinterberger 3 to clinch her progression into the finals. The tour veteran, Kajiya, was the first to land a toeside manoeuvre with a Crow Mobe. She maintained a solid lead throughout the heat, landing every single trick she threw. Unfortunately, Torres crashed multiple attempts, putting her well behind the other competitors and resulting in her elimination.
One of the coolest things about the women's heats is how much they support one another. They want to see one another do well, and the support was on full display as we moved into the second round of the semi-finals.
"I know I can count on Therese, and she can count on me. We all encourage one another." Nathalie said.
Nathalie Lambrecht (SWE) squared off against 2022 World Champion Mikaili Sol (USA), Estefania Rosa (BRA) and Matilda Roux (FRA) in the mid-day heat. Sol landed a Slim Chance 5 right out of the gate, demonstrating height and technicality, scoring a 6.6 and then a huge 315 scoring a 6.67 to put her squarely in the lead. Estefania landed a smooth Hinterberger 3 and showcased good variety with a combination trick. After missing her first two tricks, Nathalie displayed her powerful riding with a Slim Chance that scored a whooping 6.2 and, after that, a 313 that got her back in the groove. Nathalie showed the skill set of a true competition rider because she started poorly but then showed a ton of consistency and kept her head in the game for the last couple of tricks. She came from behind with a massive Hinterberger 3 and a boosted Crowmobe.
Men's Semi-Final Heats
The day really got into a rhythm as we advanced into the Men's semi-final rounds. Lighter winds in the morning made for smoother waters on the inside which meant the athletes' take-offs could be super powerful. In the first semi-final heat of men, Luis Alberto Cruz (DOM) took on Manoel Soares (BRA), Arthur Guillebert (FRA) and Carlos Mario (BRA). Every heat of the day was so stacked! Luis Alberto Cruz continued his kicker dominance, putting down a huge Frontside 319, scoring 8.0. The crowd went absolutely wild for Cruz's use of the kickers, and he scored 7.3 for a Slim Chance 7 on the outside!
Carlos Mario landed a Crowmobe 5 off a kicker and, right behind it, threw down a combination Slim Chance to Double Hinterberger 5, securing his first-place position. Manoel Soares put down a huge 317. In a huge upset, Soares and Mario overtook Cruz, who, in the end, didn't perform tricks in both categories and therefore was eliminated. After a few crashes, the Frenchman, Guillebert, landed a huge Slim Chance right into a perfect Backmobe to get a variety of points on the board and score 6.27, but unfortunately, it was not enough to make it through to the finals.
In the final semi-final heat of the day, Maxime Chabloz (CHE) faced off against Louka Pitot (FRA), Gianmaria Coccoluto (ITA), and Finn Flugel (GER). Flugel opened up with a mega 317 followed by a Hinterberger 7, scoring a massive 8.17, proving that he is not messing around! Pitot did a Dum Dum followed up with a Heart Attack to a grabbed switch Backmobe. Maxime started the heat by landing his signature double grab Backmobe 5, scoring a huge 7.27. The smooth operator Coccoluto scored 7.37 for his Backside 317. His first combo with a Crowmobe 5 to a Pete Rose 5, scoring 6.67. Maxime scored an 8.73 for an enormous Slim Chance 7 with a nose grab to secure his spot alongside Coccoluto in the finals.
As the combination tricks became more numerous, it was the riders that were able to time the chop and spot clean landings that put huge points on the board.
Women's Final
Over 500 people filled the beach as we moved into the finals! The women left nothing on the table.
"This is the first time I've made it to the finals twice in a row," said Leon, who was super stoked high going into the heat. Coming off an absolutely dominant semi-finals heat, the 3x World Champ Bruna Kajiya butt-checked on one of her required tricks in the finals, resulting in a fourth-place finish. Certainly not what the current world tour leader was hoping for.
It was a tight race for second place as Leon and Lembrecht traded off tricks throughout the heat. Nathalie Lambrecht laid down one of the most textbook 315s we've seen from women. She had the chance to go all the way to the top with a massive Slim Chance 5 attempt but popped the bar on the landing. In the end, it was Claudia Leon who placed second, showcasing a large variety of tricks from the heelside category and some cool combos–riding with lots of speed. She landed a big Slim Chance right out of the gate scoring a 6.27, and was super consistent, laying down four high scores early on.
Leading the entire heat was Mikaili Sol, who opened it up with a huge Slim Chance 5 with a melon grab. She stood out from the crowd with the height on all her tricks. She really made the most out of the kickers, going higher than the rest, showing that she's an experienced rider that knows how to take advantage of the conditions. She ended the heat with a tremendous heat score of 23.90.
Men's Final
The men's final was an absolute showstopper. Soares opened it up with a huge frontside 900 earning him huge cheers from the beach and scoring an 8.03. Coccoluto answered right back with an unbelievably powered backside 317 scoring 8.50 and setting the bar for the height and technicality required to be in the finals here in Colombia. The excitement didn't stop there as Mario stomped a Hinterberger mobe 9, scoring THE only 9.0 of the day!
The scores kept stacking, with Maxime landing his signature double-grabbed Mobe, following it up with a Crowmobe 5. Carlos Mario landed a backside 317 to propel him into first place. But soon enough, Coccoluto went huge on a Crowmobe 5, stomping the landing and earning back the first position. As each rider laid down massive trick after massive trick, the pressure to perform kept mounting, and Chabloz did not fail to rise to the challenge. He landed a huge back mobe 7 at the buzzer, scoring an 8.23, and managed to outperform Soares and Coccoluto to take second place. But it was Mario who landed a Nose Grab Slim Chance 7 for his last trick of the day and secured his first-place position! The judges rewarded stylish grabs, height, clean landings, and low kite positions.
What an absolutely epic event with next-level riding and the most impressive display of athleticism in all of kiteboarding!
Final Results
Women
Mikaili Sol (USA)
Claudia Leon (ESP)
Nathalie Lambrecht (SWE)
Bruna Kajiya (BRA)
Men
Carlos Mario (BRA)
Maxime Chabloz (CHE)
Gianmaria Coccoluto (ITA)
Manuel Soares (BRA)
Head over to the GKA Website to find out more!
Published 4th March 2023 by Sensi Graves

Photos by Andre Magarao
Featured in this Post
Comments