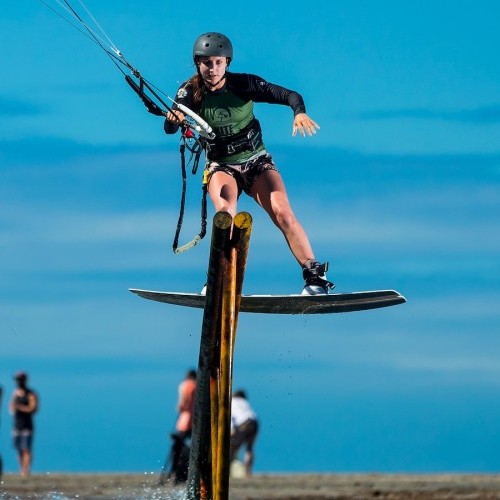 The 2019 KPL Champions are Crowned!
Wed 25th Sep, 2019 @ 9:45 pm
The 2019 KPL season comes to a close after an insane week of competition at the Kite Mansion Open! All the riders threw down some amazing tricks led by Alex Maes dropping the highest-scoring Rail Line and Christophe Tack stomping a Heel Front 9 of the kicker! However, one high trick score would not be enough as consistency would win the day with Spanish Duotone rider Noè Font coming out on top with clean and technical hits on all the features which included the highest Port Rail Line where he greased a Switch Front 3 Back 5050 – Pretzel Back 1 out followed by a Front Board 450 out.
Ewan Jaspan would once again take 2nd place by less than a point, this time 0.35. He would have the last laugh though, looking down from the Throne as the KPL Champion for the first time! Christophe would take 3rd ahead of Alex by only 0.06, ascending him to the rank of Vice KPL Champion over Noe by just 0.8 tour points.
In the women's division, the battle for the KPL championship was incredibly close. Helena Brochocka showed consistent riding and made her first KPL podium with a 3rd place and also took 3rd Place Overall for 2019.
Annelous Lammerts and Karolina Winkowska came into the event tied with an event win each, so whoever took the win here in Icapui would take the crown. The final started with both landing Toe Back 5s off the first kicker. They are still the only female riders to land double handle passes in KPL competitions.
After the Starboard Rail Line, the difference between them was 0.17; the battle couldn't have been closer. Karolina answered with a Heel Back 3 off the 2nd kicker, and Annelous matched with a Toe Back 3 Tail Grab. Despite the grab, Karolina went a bit bigger and took a 0.1 advantage. It all came down to the last feature, the Port Rail Line. Annelous would remain consistent to take the win by a whole point and claim her second KPL Championship.
Kite Mansion Open Results
Men
1. Noè Font
2. Ewan Jaspan
3. Christophe Tack
4. Alex Maes
5. Artem Garashchenko
Women
1. Annelous Lammerts
2. Karolina Winkowska
3. Helena Brochocka
4. Aleksa Sanchez
Kite Park League Championship Results
Men
1. Ewan Jaspan
2. Christophe Tack
3. Noè Font
4. Ramiro Gallart
5. Alex Maes
Women
1. Annelous Lammerts
2. Karolina Winkowska
3. Helena Brochocka
4. Colleen Carrol
5. Issy von Zastrow
Photos by Andre Magarao
Featured in this Post
Comments