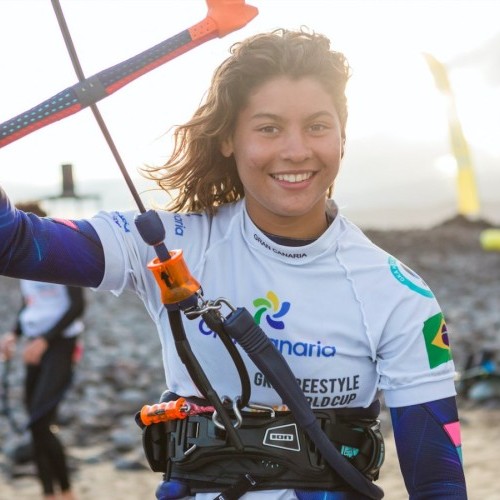 A Brazilian Battle in the Women's Final at GKA Gran Canaria
Sun 16th Jun, 2019 @ 9:30 am
Another delivery at dusk in Gran Canaria as Brazil's Mikaili Sol wins the GKA Gran Canaria Freestyle World Cup!
The waiting game resumed today (Saturday) at Playa de Vargas where, a little after 7 pm, the wind finally kicked in, and the women's semi-finals were on!
The first heat was between Mikaili, Bruna Kajiya and Therese Taabbel and the sequence would continue where the riders left off on Friday, which meant each competitor already had two scores on the board. Mikaili opened with a KGB for 7.97, but Bruna wasn't far behind with a back to blind (6.67), and Therese was consistently scoring in the high fives.
Mikaili then racked up another high score with a 7.93 for a heart attack and then she upped the anti further with a back mobe that scored her 8.07!
That meant that in one heat she'd just landed the three highest scoring tricks of the whole event so far and had secured the biggest combined score too – 31.04. Insane!
Bruna wasn't far behind her though, and at the final count, they were both through to the final.
In the second semis showdown, Rita Arnaus and Pippa van Iersel were leading from early in the heat and were soon locked into a duel for first place. The young Dutch rider van Iersel was consistently landing decently scored tricks, but Rita stuck a slim chance for 7.67 points and, with only one trick attempt left, Pippa couldn't match her.
Hannah Whiteley and Nathalie Lambrecht, the two taller riders, had both been struggling in light conditions early in the heat but Hannah managed a double back to wrapped to pull into third on her last trick.
It wouldn't be enough to make it into the top two though, and Rita won to go through to the finals alongside Pippa in second.
The Final
Bruna drew first blood, opening with two high scores for an s-bend to blind and a back to blind but Mikaili answered back with a slim chance, a back to blind and then a super clean heart attack to pull into the lead.
Bruna wasn't about to take that lying down though, and she stomped a double back to wrapped to regain the lead with a substantial combined score of 28.24.
She still had three trick attempts in hand but was already leading comfortably. Bruna was going to be tough to beat, but a storm was brewing beneath her with Mikaili in second, Rita close behind her in third and Pippa in fourth, but by a slim margin.
Sol then retook the lead with a back mobe which brought her combined score to 29.47 and Bruna now had one trick attempt left and just one chance to answer back.
Her last trick was an s-bend to blind, and she landed it cleanly, but it wasn't enough. Before Mikaili had even done her last trick, she'd already won the heat!
Although the top spot was secured, the battle for third place was still raging at this point, and Rita's early form was looking shaky as she crashed her last two trick attempts.
This gave Pippa her chance, and she stuck an s-bend to blind and a back to blind in rapid succession. All Rita could do was look on as Pippa pulled in to third…by just 0.37 points!
It's a strong finish for Pippa, building on her fourth-place finish from earlier this year in Leucate. The fact that her mother was there to watch her make the podium no doubt added to the stoke!
Women's Final Results
1: Mikaili Sol (BRA)
2: Bruna Kajiya (BRA)
3: Pippa van Iersel (NL)
4: Rita Arnaus (ESP)
Today's highlight video is coming up. Recap on how today's finalists made it to the closing rounds in the highlight video below!
Win a Custom Designed Ozone Twin Tip this issue in our FREE subscriber prize draw.
So that wraps up the women's division at this event, but the men still have scores to settle. Tomorrow's the final day of the event window and the last chance to run the men's semi-finals and finals!
First possible start will be at 08:30.
Check the heat order below.
Head to the GKA Freestyle World Cup Gran Canaria event page to see all the scores from today's heats.
Words: Matt Pearce / Video: Mint Grigas / Photos: Svetlana Romantsova
Featured in this Post
Comments