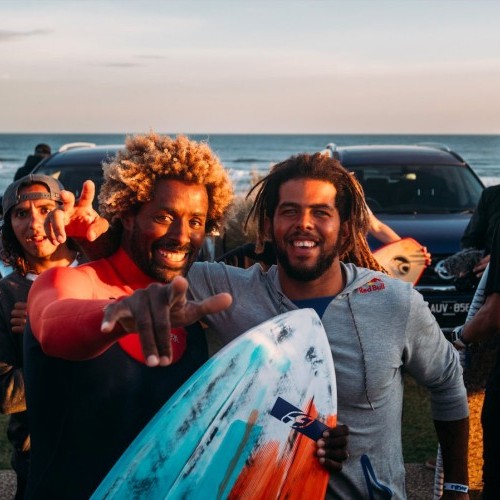 GKA Kite-Surf World Tour Torquay – Day Four
Sat 15th Dec, 2018 @ 7:40 pm
It was another early start this morning as the men rigged up in the dark preparing for a 06:00 AM kick off at Point Danger. The wind was more side shore than yesterday with a slightly improved swell angle as well which made for some decent conditions and the day's first heat – heat 10b featuring Matchu Lopes and Jarrod Snow – was on the water shortly after sunrise.
Win a Custom Designed Ozone Twin Tip this issue in our FREE subscriber prize draw.
Matchu took the heat convincingly with a super clean no-handed wave 360 and fellow Cape Verdean wave seeking savant Mitu Monteiro then came up with a masterful backhand performance to win the following heat against Paulo Aurelio.
Next up wave riding heavyweights Sebastian Ribeiro and local legend James Carew went at it for a place in the quarterfinals. James is one of the tour's standout up-and-comers but Sebastian used to compete on the QS pro surfing tour and his ability in the waves is next level.
He was deftly looping his kite for power and keeping his centre of gravity low, catching the best sections from the start with powered lip hacks and floaty backside tail slides time after time.
Carew answered back with his strong, powered riding style and a barrage of toeside aerials and then finished up by linking a couple of airs on a solid runner out the back as the final minutes ticked down but Sebastian had done the business, and he was through to the semis.
What followed was the best heat of the event up to that point. Aussie ripper Beau Pilgrim, who spends much of his time kiting at the famous Namotu Island in Fiji, took on Airton Cozzolino in the final heat of round three and he opened with a blinding backside top turn on his first wave. Disaster then struck for Beau as his kite ejected onto the safety line and it cost him the valuable time that Airton was able to capitalise on.
Airton struck hard on his front hand with the most powerful top turn of the event so far, obliterating the lip and exploding into the heat after a slow start.
He followed up with a stylish air reverse as Beau continued to flounder relaunching his kite but he was soon back in the game, and on his next ride he managed five turns before the wave ground out on the inside section of the reef.
At this point, it was starting to look very close indeed but Airton's sheer technical skill is undeniable, and a stomped aerial off the lip followed by a smooth wave reverse was enough to give him the edge over Beau as the buzzer sounded. It was close though, with Airton scoring 13.17 and Beau notching up 11.89 making this one of the tightest and highest scoring heats of the event.
In the quarter-finals, the intensity went up a level. Keahi dispatched Jan Marcos Riveras with a barrage of air reverses and effortless tail slides, and then Matchu overcame Pedro Matos to book his place in the semis.
Sebastian Ribeiro then struck a massive blow by beating Airton Cozzolino to secure a route to a semi-final heat against Mitu Monteiro with Keahi preparing to face Matchu.
Airton had allowed himself to get sucked into going for a higher wave count, but he was taking the smaller sets inside the reef while Sebastian was going for fewer waves, but the ones he did take were bigger, and he was able to make more out of them. It was a case of quality over quantity, and it paid off for Sebastian.
Keahi won the first semis heat with a shuvit into a wave 360, the most technical move so far at the KSWT Torquay, and he was through to the super-final.
Who would take him on though? Mitu or Sebastian? Either rider would have been a worthy contestant and Keahi's met them both in finals in the past but Sebastian's near faultless, pure surf style was working well for him. It wasn't easy to pick waves today with sets cropping up seemingly at random, but Sebastian had tuned into the conditions, and he had the pick of the sets. Advantage Ribeiro – it was onto the finals. Or so we hoped.
The wind threw yet another curveball at this point and dropped right off and for several hours Point Danger was shrouded in fog with the wind barely pushing past ten knots.
Then, at 16:00, a sea breeze began to blow in from the north, the sun came out, and things started to look promising. The wind was now blowing cross-off from the left, and the waves were transformed from snarling onshore lumps to clean moulded peelers.
It was an entirely different playing field to what the riders had started on this morning, and Keahi tentatively tacked out to the reef and was soon joined by Matchu and Sebastian and then finally Mitu. The finalists were ready, and the heat sequence began.
The super-final was up first, and Keahi opened on a double-up on the left-hand corner of the reef. Riding on his backhand, he was throwing the cleanest, most stylish backside top turns of the comp driving huge fans of spray with every hit. Sebastian was also riding on his backside and, like Keahi, was showing an excellent tactical understanding of the waves.
Before he committed to the one, you could see him eyeing down the line to see how it might unfold, but he seemed to focus more on smaller sets on the inside while Keahi stayed out the back picking off bombs.
Both Keahi and Sebastian are at the top of their game when it comes to waves, but Keahi had the measure of Sebastian today and even managed to stall his way into the first barrel of the event before the buzzer went.
Next up came the mini-final with Matchu taking on Mitu for third place. These guys have logged so many hours in the water together over the years both freeriding and in competition and they know each other's riding inside out. This was the tighter of the two heats, and Mitu brought a creative edge to his riding, continually alternating between backside and switch frontside and showing just how comfortable he is with both. At one point, he switched from the backside to frontside in between turns on one wave, and he was living up to his nickname – the Maestro!
Matchu wasn't backing off though. He knew that he'd potentially lost his second place ranking to Keahi by failing to make the final and maybe that lessened the pressure for him and allowed him to relax into the heat more fully. He wanted to win, but it looked like he was having fun with it and he even managed a little cover up on one of his bigger waves. But was it enough? As the sun began to set over Point Danger, we had our answer.
Matchu had made up for losing his second place ranking (for now – he may yet find redemption in the doubles) by taking third in the mini-final over Mitu while Keahi had won the super-final ahead of Sebastian – and on his birthday too!
At this point, the women's results from yesterday's single eliminations were also announced in front of the crowd at Point Danger. Jalou had done the job ahead of Carla Herrera Oria in second while Johanna Catharina Edin had taken third with Jen Milton in fourth.
Single Elimination Results
Women
1st Jalou Langeree – NL
2nd Carla Herrera Oria – ESP
3rd Johanna Catharina Edin – SE
4th Jennie Milton – AUS
Men
1st Keahi de Aboitiz – AUS
2nd Sebastian Ribeiro – BRA
3rd Matchu Lopes – ESP
4th Mitu Monteiro – CV
So these are the results so far, but the action's not necessarily over yet. Tomorrow the riders will be back at Point Danger for 08:00 AM as they ready themselves for the double eliminations if conditions allow. As it stands, Keahi and Jalou have the lead but that could all change if their potential pursuers have their way!
We'll keep you updated as the action unfolds…
Featured in this Post
Comments