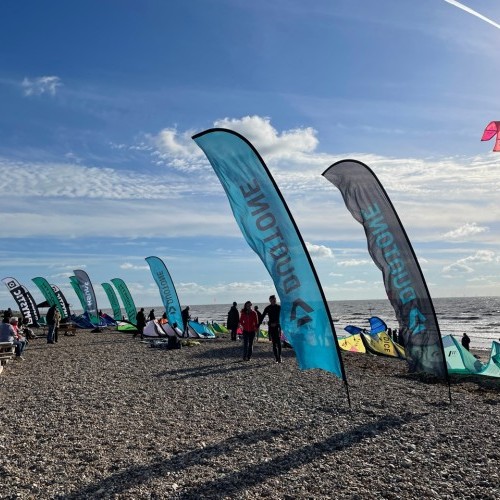 IKSURFMAG Demo Day
Mon 8th Nov, 2021 @ 6:00 pm
Win a Commander Twin Tip by Eleveight, CORE's all-new Link harness, or an ultra-light board bag from Prolimit this issue in our FREE subscriber prize draw.
After this being a plan for the 2021 season for quite some time, we knew a demo day had to happen! Finally, the wind was back on, and the week before, we decided that we had to run a demo weekend before the clocks went back and lost that hour of daylight.
Together with the team at The Beach Littlehampton and LOOP Watersports, we ran our first Test Centre Demo Day on the 23rd and 24th October. The forecast showed a light onshore breeze for Saturday afternoon and Sunday being the better day with the wind in the range of 16-22 knots.
Saturday was a great day. We had the team from North Kiteboarding, Ozone and Axis down, and with a steady light breeze in the afternoon, it was all about foiling. Great to see a handful of riders out on the water showcasing some foiling. The venue where we're based is the All-New 'The Beach @ Littlehampton', and with a place that serves great food, drink and even booze, it goes hand in hand for Demos!
Sunday was a fantastic day. We had North Kiteboarding, Ozone, Axis, Core, Duotone, Slingshot and Ride Engine join us, bringing all the latest kit and tech! As the forecast was better in the morning, all the brands were pitched and ready to go for 9 am! Try the latest North Orbit or try Slingshots new 'Machine', or how about the 2022 Rebel? All this new gear was with us and at the hands of people to try! A real treat was having both Lewis Crathern and Aaron Hadlow join us for the day. Sunday morning was all about riding and getting a real test for how other kit might feel. Demoing equipment is so valuable for riders to "try before they buy, and this is what our Test Centre is all about!
As high tide approached early afternoon, Lewis and Aaron held a Q&A followed by a live on land demo before transitioning onto the water with Lewis microphoned up. Great to have two champions of the sport join us for the launch and show those that don't kiteboard to get into the sport!
The wind in the afternoon dropped a tad day! 12m weather, so still plenty of action taking place and a load of foil testing happening. A big thanks to the brands for bringing all the latest equipment from kites, boards, bars, wings, foils… so epic to see the beach like this.
If you missed our event this time, we'll be running another at the start of the 2022 season in Spring next year! We plan to hold plenty of these and want to see you there. But it's not just demo days. Competitions are on the cards, and our IKSURFMAG test centre for 2022 will see many events take place!
Featured in this Post
Comments