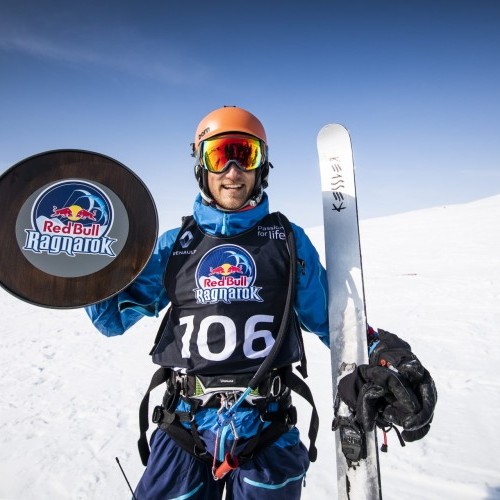 Secure Your Spot at the 2020 Red Bull Ragnarok
Fri 29th Nov, 2019 @ 11:10 am
Red Bull Ragnarok returns in 2020 larger than ever! Snow kiters from more than 30 nations worldwide will once again gather on Hardangervidda in Norway in 2020 to battle against each other and the weather when the 10th edition of Red Bull Ragnarok takes place during March 20th – 22nd, 2020. Tickets sales open Thursday, December 5th at 6 pm CET. For more info about tickets, accommodation and race info, please click here.
Ticket Package #1 – 'Red Bull Ragnarok All-Inclusive' – starting at just 4.499,- NOK – Race ticket
Hotel accommodation three nights Thursday – Sunday
Breakfast Friday-Sunday, packed lunch Friday and Saturday, hotel dinner Friday and banquet dinner Saturday (beverages not included).
Transportation to/from kite area on both race day and off day (new).
Ticket to the official afterparty on Saturday after the banquet at Off-pist in Geilo.
Fee: 4.449,- NOK for a shared room. 5.499- NOK for a single room in a shared apartment.
Option #2: Race ticket only – 1.700,- NOK
Includes start spot in Red Bull Ragnarok 2020 and transport between Ustedalen Hotel & Resort and race area on race day.
As in 2019, Ustedalen Hotel & Resort in Geilo will be the base for all activities outside the race; registration, race meetings, accommodation, meals, transport hub to and from the race venue, banquet and prize-giving ceremony after the competition. To celebrate 10 years of Ragnarok, there will also be an after-ski area in the finish area after the race, before shuttle buses return to Ustedalen Resort.
Win a Lieuwe Shotgun Paradise Series Board this issue in our FREE subscriber prize draw.
An epic adventure for both new and experienced kiters
"Red Bull Ragnarok was a lot harder than I had expected! But my goal was to finish at least one lap, and that I did. Red Bull Ragnarok has been amazing, it is so much fun to meet new people from different backgrounds. I have been embraced and accepted, and I have learned so much during these three days. I just want to continue kiting and prepare for next year." Tiril Sjåstad Christiansen (Freeski)
Red Bull Ragnarok has over the years established itself as the world's largest and most popular snow kite competition, which is reflected both in the number of international participants and global media coverage. Freeskier and X Games winner Tiril Sjåstad Christiansen from Geilo, Norway was one of those who made their Ragnarok debut in 2019, and despite a fierce battle against Mother Nature, it was an experience that made her long for more. Check out her vlog from Red Bull Ragnarok 2019 below!
Win a Lieuwe Shotgun Paradise Series Board this issue in our FREE subscriber prize draw.
For more information on the 2020 Red Bull Ragnarok, please click here.
Featured in this Post
Comments