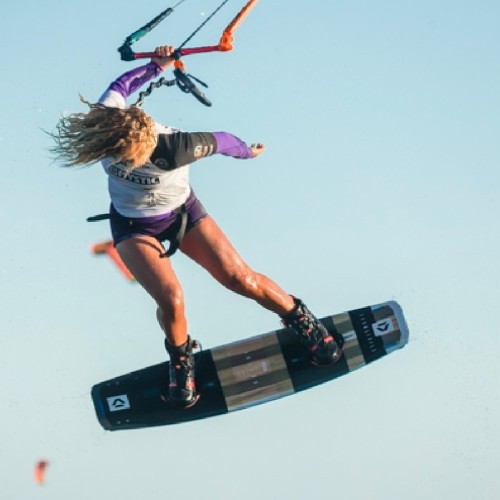 World Kiteboarding Championships, Dakhla – Elite Championship – Day Two
Wed 7th Nov, 2018 @ 7:15 pm
Competition commenced at 12 midday with optimal conditions and a high tide. Round 2 for the Men was completed together with Round 1 for the Women. Check the full recap of what went down today at the World Kiteboarding Championships!
Heat 9
French rider Louka Pitot opened the day with a solid Front Blind Mobe and Double Heart Attack, a nice start for Heat 1. Austrian rider Stefan Spiessberger crashed his first attempt but made up for it landing solid tricks for his remaining attempts including a Front Blind Mobe and a Backside 315. His perseverance was rewarded with a spot in Round 3. Joining him was Louka Pitot who rode a good heat playing it safe and locking down his spot in the next round.
Heat 10
There were difficulties to complete Heat 2 after several stops and starts due to dropping wind conditions. After a short lunch break, the heat was finally resumed at 3.30 pm starting with the 4th attempt. Young rider Maxime Chabloz from Switzerland landed a good array of tricks, riding his 13m kite. His Slim 7 scored him 7.77 points. Anthar Racca from Mexico remained close behind him throughout the heat. It all came down to the final trick attempts when Racca landed a powered Backside 317 but it wasn't quite enough to catch up to Chabloz, however, both riders advanced to the next round.
Heat 11
Alex Pastor was sadly unable to compete in Heat 11, due to an injury to the knee he sustained previously. This left three riders to battle it out for the two spots open in the Round 3. It was close between both French riders Romain Giuliano and Val Garat. It was Garat who succeeded in winning landing a clean KGB5 in his attempts.
Heat 12
Another difficult heat to complete was Heat 12, as the wind continued to go up and down. Jerome Cloetens from Spain/Belgium continued on his strong performance form previous days. He opened with a Good KGB followed by a Front Blind Mobe. Local wildcard Jonas Ouahmid put on an incredible performance, landing a Double Heart Attack and an amazing Backside 315 scoring him 7.53 points. He won the heat and passed through to Round 3. Paul Serin rode solidly landing several well scoring tricks, and it all came down to the last attempt, where Jerome managed to land his Double Hinterberger Mobe and claim the spot in the next round.
Women's Round 1
Heat 1
14-year-old Mikaili Sol from Brazil stormed into her heat, repeating her strong performance from our last event in Akyaka. She landed an outstanding Heart Attack scoring 8.27 points for her first trick attempt and followed it up with a 9.4 KGB, 9.07 Back Mobe and perfect 10 for her incredible Double Heart Attack. It was an outstanding start to the competition for the young shredder. She advances directly to Round 3. Maureen Castelle started well but struggled to land three of her attempts. Young newcomer, Osaia Reding landed several good tricks for her first Elite event, but not quite enough to catch up to her two competitors.
Heat 2
Qualifier Championship winner was up against Spanish rider Claudia Leon for Heat 2. We saw fantastic riding from both women, as Leon landed a 6.37 Slim Chance and a 6.8 S-bend to Blind. It was a strong performance, but not quite enough to top the 8.97 Heart Attack from Bagnoli. Bagnoli advances to Round 3 and Leon gets another chance in Round 2.
Heat 3
Therese Taabbel from Denmark rode an exciting heat for the final heat of the day. She landed a powerful Back to Blind and S-bend to Blind. It was a close call with Rita Arnaus who started with clean Back to Blind scoring her 6.1 points, which she followed up with a Hinterberger Mobe and Slim Chance. Pippa van Iersel from the Netherlands crashed a few trick attempts but made up for it with her massive KGB scoring 8.47 points. It all came down to the last moments, and finally, it was Taabbel who advanced directly to Round 3, followed by Van Iersel and Arnaus. It was an amazing performance from all three women who really pushed each other to go bigger on each trick attempt.
Heat 4
Women's Heat 4 was the final heat of the day, between Paula Novotna from the Czech Republic and Kristina Belogorskaya from Russia. Novotna gave us a taste of her powerful riding landing a good S-bend to Blind and Hinterberger Mobe. Belogorskaya struggled, crashing several of her attempts but did land a nice S-bend to Blind of her own. Paula finished a solid round of tricks and advances to Round 3, whilst Belogorskaya passes to Round 2.
The competition continues tomorrow with Round 3 for the Men, and Round 2 for the Women. Be sure to tune in to the live stream, right here!
Featured in this Post
Comments