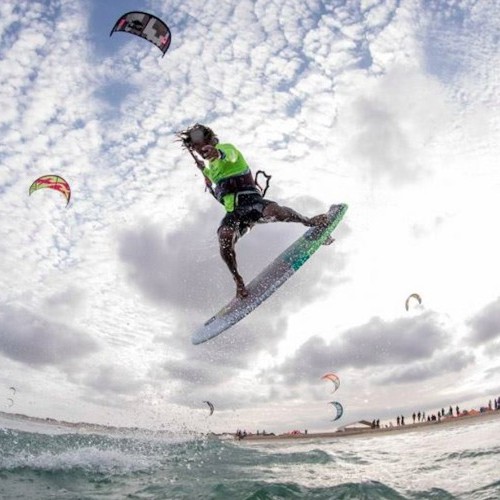 GKA Kiteboarding World Tour | Round One: Leucate
Sat 7th Apr, 2018 @ 3:00 pm
Win a Custom Designed Ozone Twin Tip this issue in our FREE subscriber prize draw.
The fleet of riders signed up to the first ever GKA Kiteboarding World Tour event that will take place at the Mondial du Vent in Leucate, France, from 17 – 22nd April is very exciting.
The Mondial du Vent (stage one of the GKA Kiteboarding World Tour) is a huge annual event, celebrating more than just kiteboarding. click here to see what else you can expect to see on the beach in Leucate!
This new tour calls for dynamic performances and a mix of new school and more classic older school, big air influences, however, the overriding factor is that riders need to go as huge as possible… making for the best show as the competition seeks to find the complete twin-tip rider.
The GKA aims to work with the riders to create a strong tour for the athletes, public, and sport.
A live scoring system will run at this event to add further insight and entertainment for the large Mondial du Vent crowds on the beach!
RIDERS:
The latest news is that Kevin Langeree and Jesse Richman have just signed up alongside two-time freestyle World Champion Carlos Mario from Brazil, who registered last week and will compete in Leucate!
Prior to that, the field was already shaping up strongly, with five-time World Champion and two-time Red Bull King of the Air winner, Aaron Hadlow, signed up and ready to show that he still has the most varied repertoire of freestyle moves in the sport.
Liam Whaley will also compete in France. A freestyle World Champion himself, he is one of today's most technical riders. In his debut year at the contest, it was clear that this young Spaniard also has what it takes to go huge at the King of the Air, claiming a runner-up podium position at his first attempt.
Lewis Crathern (also a four-time UK freestyle champion) will be a familiar name to all big air fans, as will Lasse Walker, Jerrie van der Kop, and Reno Romeu; four riders with a very strong history at the King of the Air, with Lewis claiming third place at this year's event, Jerrie made the podium a few seasons ago and Lasse is also a Red Bull Mega Loop Challenge winner.
The rest of the field who have signed up so far is littered with seasoned athletes with long-established their names in the sport, as well as young rippers who have made an emphatic entrance into competition in the last year to 18 months.
The women's ladder is also packed with talent, including Kite Park League Champion Annelous Lammerts as well as three-time UK Champion, Kite Speed World Champion and highly experienced world tour competitor Hannah Whiteley who find themselves lining up against the likes of rising stars Mikaili Sol and Osaia Reding, it's sure to be a great contest on their side, too.
Here are the men's and women's line-ups
MEN:
Nicolas Delmas, France
Odin van Dijk, Netherlands
Val Garat, France
Lasse Walker, Netherlands
Paul Serin, France
Luis Alberto Cruz, Dominican Republic
Lewis Crathern, UK
Ross Dillon-Player, South Africa
Pauline Valesa, France
Lazare Gournay, France
Set Teixeira, Brazil
Arthur Guillebert, France
Maxime Chabloz, Switzerland
Reno Romeo, Brazil
Julien Krikken, France (Wildcard)
Tom Hebert, New Caledonia
Marius Hoppe, Germany
Nicolas Gambier, France
Aaron Hadlow, UK
Liam Whaley, Spain
Theo de Ramecourt, France
Tamas Deak, Hungary
Antonin Rangin, France
Domantas Jusionis: Lithuania
Augustas Dudenas: Lithuania
Clement Huot, France
Jules Chollet, France
Jerrie van de Kop, Netherlands
Carlos Mario, Brazil
Kevin Langeree, Netherlands
Raiarii Fadier, Brazil
Antoine Fermon, France
Juan Rodriguez, Colombia
Valentin Rodriguez, Colombia
Posito Martinez, Dominican Republic
Jesse Richman, Hawaii
Joselito del Rosario, Dominican Republic
Leon Corniel, Dominican Republic
Eudazio da Silva, Brazil
Edgar Ulrich, France
Aaron Rosslee, South Africa
+2 Wildcards
WOMEN:
Maureen Castelle, France
Pauline Valesa, France
Vera Klabbers, Netherlands
Hannah Whiteley, UK
Mikaili Sol, Brazil
Osaia Reding, Spain
Angely Bouilot, France
Pippa Iersel, Netherlands
Annelous Lammerts, Netherlands
For more information on the GKA World Tour, please click here
Featured in this Post
Comments