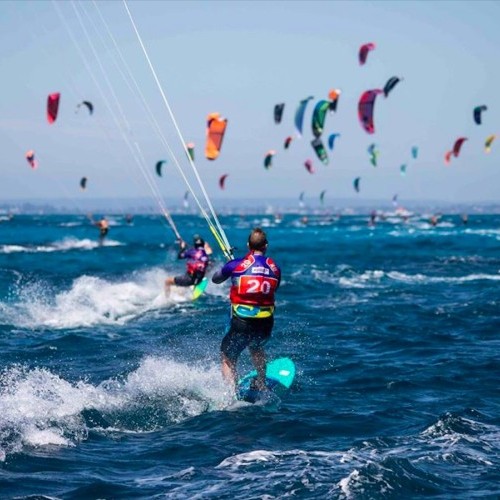 Red Bull Lighthouse to Leighton Race 2019 – Updates
Thu 5th Dec, 2019 @ 12:30 pm
The Red Bull Lighthouse to Leighton race has changed to Sunday (8 December) from Saturday due to more favourable wind and weather conditions forecast. Race commencement is still planned for 2.30 pm.
The 10th annual Red Bull Lighthouse to Leighton kiteboard race will be staged this Sunday. The 19km race from Rottnest Island to Leighton Beach Fremantle will have a record 150 kiteboarders on the water.
150 kiteboarders from Perth, across Australia and around the world, including current and past world champions, will be aiming to beat the record of 18 minutes 49 seconds set in 2018. In favourable weather conditions, the racers will be faster than the Rottnest Express ferry! There's A$7000 in prize money up for grabs, and they'll be racing on hydrofoil boards, slalom boards, twin tips, and surfboards with sails of all colours filling the sky.
Competitors will take off from Phillip Point Rottnest at 2:30 pm (weather and wind permitting). In good conditions, the fastest kiters could arrive at about 2:50 pm. Podium presentations will take place at Leighton Beach at approximately 3:45 pm once all the racers are in.
For more information on Red Bull's Lighthouse to Leighton, please click here or check out their Facebook page.
Get to know Tim Turner, founder and creator of the Red Bull Lighthouse to Leighton race.
Win a Custom Designed Ozone Twin Tip this issue in our FREE subscriber prize draw.
"I've known Tim ever since he first invited me to the race 5 years ago, I've been going back very year either as a racer, or as a reporter. It's honestly one of the best kite races on the planet with clockwork organisation and an incredible experience for the racers too. I ask Tim about the races inception and how he managed to get it off the ground when no one else could. We also talk about the highs and lows and the difficulties involved." – Rou Chater
Featured in this Post
Comments