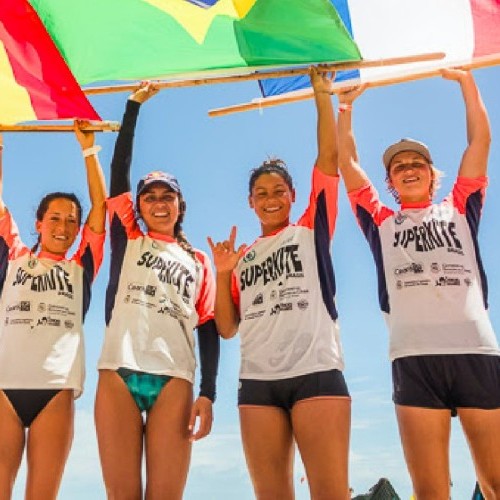 GKA Freestyle Cumbuco – Day 5
Sat 23rd Nov, 2019 @ 11:15 pm
Already assured of the title, regardless of what happened at this final event of the GKA season, two virtually spotless heats from Mikaili Sol on Saturday afternoon ensured that she would take the world championship title from the top step here at the Superkite Brazil.
As we saw yesterday, lighter winds hampered the start of the action once again. The re-run of the second semi-final that was cancelled on Friday was put on hold twice more before the heat was able to run to completion at 10.30.
It was the end of the road for Brazilian Estefania Rosa and Spaniard Claudia Leon as Mikaili Sol and Pippa van Iersel progressed to the final as the top two, where they would meet Bruna Kajiya and Rita Arnaus who were already after that the first semi-final on Friday.
Claudia has had a great season and came close to qualifying on her last trick, landing a heart attack to wrapped; needing a 7.17, she got 6.37! So close.
Estefania has proved herself the second-best women's freestyler in Brazil (behind Bruna) at this event. She reached the final last year, sadly just falling short this time, but showed some great passes on both tacks and her home town would be proud of her. She has a great spirit, does a lot of work in the community here in Cumbuco, and we look forward to seeing her again.
Mikaili was imperious in how she advanced to the final, scoring 9 points for a heart attack on trick six – a ridiculously good trick given the light wind conditions. The Brazilian finished almost a full ten points ahead of Pippa who advanced in second.
The Final
Rita Arnaus (ESP) / Bruna Kajiya (BRA) / Mikaili Sol (BRA) / Pippa van Iersel (NED)
There was another series of delays due to fluctuating wind strengths, but eventually, by 11.40, the green flag went up as the wind had filled into a decent and very contestable 17 – 20 knots.
The final was a tale of two halves from the start with Brazilians Mikaili and Bruna establishing a gap between themselves and the other two from early on. Both riders oozed style and masses of control in their trick execution. No matter your board-sport preference, there's no denying that these two areas clean and classy as you could hope to see. Visually they're fluid and precise.
Mikaili progressively hammered home bigger scores, having to start with a super neat 7.83 points for a slim chance. A KGB for 8.8 points and a merely sublime heart attack frontside 5 saw her scoreboard light up with 9.47, putting her on an unbeatable 34.2 points with two trick attempts still to go.
Bruna's 8 point back-to-blind was slick, landed with the kite in the sweet spot, and she motioned her enjoyment of that trick to the beach as she carved away. Her heart attack for 8.3 points on trick six was a typical example of why she has been a style inspiration for so many female riders, but by then she knew she would not be able to quite catch Mikaili at the top.
Sadly, tragedy struck for her on her seventh and final trick attempt when a surfer had suddenly decided to paddle into the competition zone and was hidden to her behind a small wave as she took off. Bruna bailed halfway through her trick and when she came down sliced her knee on his surfboard. The cut looked deep, and she needed assistance off the water and was taken to hospital. Police arrived on the scene to address the pack of surfers who had repeatedly ignored warnings.
The battle for third place was very close between Rita Arnaus from Spain and Dutch charger Pippa van Iersel. Coming into the final Rita was running hot, having landed 14 back-to-back tricks in her quarter and semi-final heats.
That run came undone with crashes on trick attempts two and three of the final, but she battled back to land a decent heart attack frontside 3 and then her best trick of the final, a slim chance, for 7.07 points.
Pippa's crash on trick one put her on the back foot from the start, but she had worked her way ahead of Rita on trick five after a tidy hinterberger 3 on the inside. She then crashed a heart attack off a kicker out the back on trick six, and her last trick tacked back and forth for almost the entire 90-second time allowance before being forced into an awkward take-off in front of a lumpy wave. Needing to get enough height to clear the wave, she landed an S-bend to blind with a high kite which was enough to nudge her ahead of Rita, but only by 0.15 points.
Superkite Brazil Results:
1 Mikaili Sol (BRA) (Duotone, ION) 34.2
2 Bruna Kajiya (BRA) (North Kiteboarding) 31.33
3 Rita Arnaus (ESP) (Slingshot) 20.6
4 Pippa van Iersel (NED) (Duotone, ION) 19.24
2019 GKA Freestyle Final standings
World Champion: Mikaili Sol (BRA) (Duotone, ION) 8,400
2 Bruna Kajiya (BRA) (North, Mystic) 8,235
3 Pippa van Iersel (Duotone, ION) (NED) 8,103
4 Rita Arnaus (ESP) (Slingshot) 8,070
5 Paula Novotna (CZ) (Duotone, ION) 8,070
6 Claudia Leon (ESP) (Duotone, ION) 8,004
7 Therese Taabbel (DEN) (Cabrinha) 7,872
8 Nathalie Lambrecht (SWE) (Duotone, ION) 7,476
9 Francesca Bagnoli (ITA) (Duotone, ION) 4,068
10 Alexandra Torres (ESP) (Airush) 3,804
Find all results, elimination ladders and livesticker heat notes here on the live page!
Saturday 23rd November 2019
Location: Cumbuco, Brazil
Words: Jim Gaunt
Photos: Svetlana Romantsova
Video: Laci Kobulsky
Featured in this Post
Comments