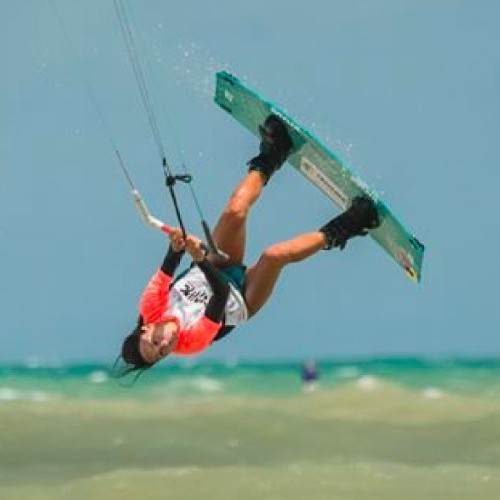 GKA Freestyle Cumbuco – Day 2
Thu 21st Nov, 2019 @ 6:30 pm
Just in case you missed yesterday's action! Day two (Wednesday) at the final GKA Freestyle World Cup event of the season – the Superkite Brazil – saw several hours of action that brought us to the quarter final stages for the men and semis for the women, setting up a titanic battle for Thursday.
Win a Custom Designed Ozone Twin Tip this issue in our FREE subscriber prize draw.
The day ended with a minute's silence on the beach in memory of Carlos Mario's brother who tragically died in a traffic accident last week. Carlos Mario had already withdrawn from this competition with a knee injury, and our thoughts and condolences go out to the four-time World Champion and his family.
The day had started by finishing the remaining two heats of round two before the women got into action. Find all heat ladders and results here.
The biggest performance of the day came from men's championship leader, Adeuri Corniel, in the last heat of round one. 8.7 points for a slim 9 was the second-highest trick score of the event so far (second to his Championship title opponent Valentin who score an 8.77 for a KGB7 on Tuesday and a high heat score of 33.07). Adeuri, however, won his heat by a mile on 31.74 points – but was just over a point behind Valentin's round one heat score.
Luiz Alberto Cruz performed a very stylish and controlled round two heat, while the Brazilian up and comers Guilherme Costa, Erisverton Ribeiro, Rafael de Sousa and Gabriel Galindo impressed everyone again, progressing to round three. It was, however, the more established Cumbuco residents, Alex Neto and Erick Anderson, who did best to win their round two heats.
Considering the volume of good Brazilians in this event, it will be a surprise to not see at least one of them in the final.
Bavarian Xavier Kiebler never expected to win a heat in his first World Cup event. He was super stoked he did in round two though! Can he carry that forward?
Sadly, round two was the end of the road for 11-year-old Davi Ribeiro, but he landed all his tricks in that heat, including a heart attack frontside 5 and a slim 5. Remember the name!
On the women's side, Bruna Kajiya showed why she had been the most influential female freestyler for so long with very well executed and powered tricks. Pippa van Iersel, Rita Arnaus, Paula Novotna and local rider Estefania Rosa (who reached the final here last year and used to do some world cup events), all had good days.
Find all results, elimination ladders and live sticker heat notes here on the live page.
Thursday 21st November 2019
Location: Cumbuco, Brazil
Words: Jim Gaunt
Photos: Svetlana Romantsova
Video: Laci Kobulsky
Featured in this Post
Comments