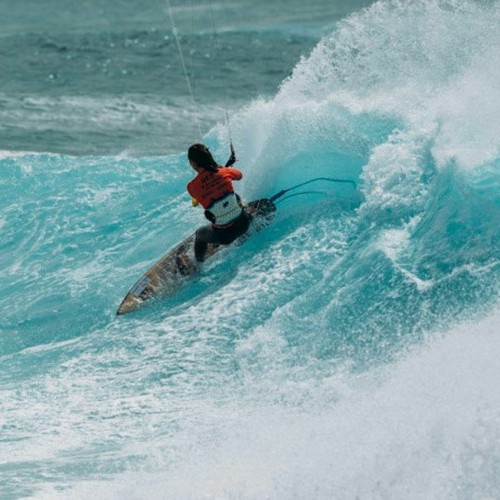 GKA Kite-Surf World Cup Cabo Verde 2019 | FINAL DAY
Fri 1st Mar, 2019 @ 1:00 pm
Mitu and Moona hold tight at the top to prevail at Ponta Preta! After four days of absolutely all-time conditions at Ponta Preta, Mitu Monteiro and Moona Whyte retained their first place positions from the single eliminations and won the doubles on Thursday to become the champions of the GKA Kite-Surf World Cup Cabo Verde!
It was edge-of-the-seat viewing, and an absolute barrel-fest throughout as Airton Cozzolino and Inês Correia launched all-out assaults, fighting their way through four consecutive heats each to make the finals. Here's how it went down.
Win a Commander Twin Tip by Eleveight, CORE's all-new Link harness, or an ultra-light board bag from Prolimit this issue in our FREE subscriber prize draw.
Men's Division
Airton began his relentless march up the double elimination ladder with a victory over Sebastian Ribeiro. He opened with a perfect barrel and took the lead early but, when he went in to change boards, Sebastian began closing gap with seamless surf-style lip smacks. Airton returned to the point though, regained his flow and notched up a 9.23 to move through to the next heat.
Airton then went up against Francesco Cappuzzo who was clinical and smooth on his backhand, but he couldn't match Cozzolino for sheer force and power. Airton was riding away from waves and manoeuvres that you wouldn't have thought possible if you didn't see it with your own eyes and he head-butted his way out of a collapsing barrel at one point!
Then came one of the tightest heats yet as Airton met Matchu Lopes. Matchu struck early with a flowing backhand and switch front hand display and was leading the heat by the halfway point. Airton then threaded his way into a barrel before accelerating out of the pocket, smashing the lip to pieces and then launching into a hands-free 360 air reverse to take the win with a complete display of wave riding prowess that covered all the bases!
Another one down – next up was James Carew. This was a clash of the titans between two absolute powerhouses. James drew first blood with a high scoring wave and was leading the heat by halftime, but Airton evened the scores and then, with 12 seconds left on the clock, he pulled into a barrel and sealed the deal over the young Aussie. On to the final!
By this point, the crowd was at fever pitch. Either way a Cape Verdean son was going to take it, but would it be the original maestro Mitu or Airton the new wave charger?
On his first wave, Mitu seamlessly snapped and stalled his way into a barrel before Airton hit back, air dropping into an absolute bomb. His work rate was immense, storming back up the point after every wave and racking up the rides but Mitu wasn't phased and by halfway Airton needed a 9.21 to take the lead.
That's by no means out of the question for him, but Mitu had the momentum and Airton couldn't rise to his barrel riding barrage. In the closing minutes, Mitu managed yet another long, deep tube ride before launching a huge straight air off the lip to roars of applause from the onlookers.
By the end of the heat, even though they hadn't yet seen the scores, the spectators knew who'd taken it and so too did Airton. Both riders are true champions with the utmost respect for one another and the adoration of the home crowd. They high fived out on the water and rode a wave in together as Cape Verdean flags flew high over Ponta Preta!
Women's Division
The first heat saw Inês and Odile, two European transplants who now call Cape Verde home, going head-to-head. Odile was riding well, but she couldn't match Correia's vertical hacks in the critical sections, and Ines took the heat and moved forward to face Canadian rider, Frances Kelly.
Frances had a true surf, fluid riding style and was tackling some heaving set waves but a lack of experience in offshore conditions like this meant she couldn't stand up to Inês and so Correia's upward charge continued.
She then beat Charlotte Carpentier, who has consistently trucked into the heaviest waves on offer at this event (including some triple overhead monsters on day two) and then went straight into a closely fought heat against Johanna Catharina Edin.
JC's been training hard over the winter in Indo and at home in Tarifa and was linking committed, carving turns, and she had the better wave selection at some points in the heat. However, Correia's surging bottom turns and snaps off the lip were hard to deal with, and she won the heat and was on her way to meet Moona in the final.
This was the match-up many people had foreseen over the last three days and Correia. Also, a former World Champion was gunning for it having lost out to Moona and Jalou Langeree previous year here in Cape Verde.
Inês scored an excellent combo to kick things off and was drifting her board through stylish tail slides as the waves began to jack up with the pushing tide that was causing the swell to rebound off the reef.
By the halfway point, it looked like we might be seeing another Ponta Preta local atop the podium but with six minutes to go Moona took the lead with an 8.47, the highest scoring wave in the women's division at this event. From there she was untouchable with the biggest combo score of the women's competition – 16.04 points! There would be no rerun and no second act. Moona had taken it first time around!
Final Results
Men
1: Mitu Monteiro – CV
2: Airton Cozzolino – CV
3: James Carew – AUS
4: Matchu Lopes – ESP
Women
1: Moona Whyte – USA
2: Inês Correia – PL
3: Johanna Catharina Edin – SE
4: Charlotte Carpentier – FRA
So, with the main event complete, that means Mitu and Moona now lead the overall World Cup rankings after this first event at which we've been beyond fortunate to see Ponta Preta at its most potent!
Words: Matt Pearce / Photos: Ydwer van der Heide and Gabriele Rumbolo
Featured in this Post
Comments