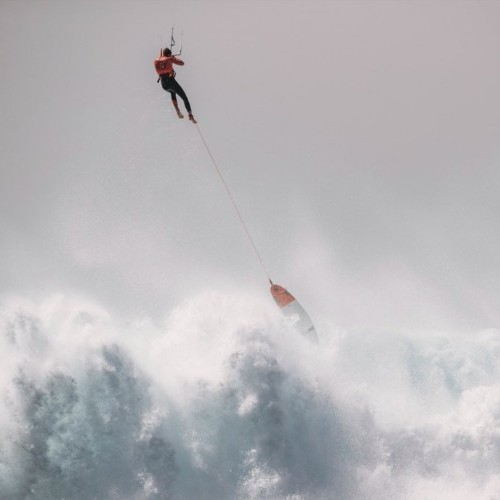 The Single Eliminations Wrap Up in Cabo Verde
Wed 27th Feb, 2019 @ 9:20 am
Moona Whyte and Mitu Monteiro storm the single eliminations on an action-packed day two at the GKA Kite-Surf World Cup Cabo Verde!
Yesterday we saw another non-stop day of heats as both the men and women wrapped up the single eliminations during nine hours of competition.
The run of insane conditions continued with Ponta Preta delivering pumping waves, reaching double overhead and above.
The main stories of the day? Well, Mitu Monteiro scored a perfect 10, Moona Whyte made an epic return to competition, and James 'Storm Boy' Carew underlined how much of a true force of nature he is, by making it to the final against Mitu. That's just some of what went down. Here are a few highlights.
James Carew
James has been a man on fire here at the GKA Cabo Verde. The Australian managed to unseat Airton Cozzolino in the quarterfinals (on Airton's home break no less) in a nail-biting quarterfinal heat. Airton was leading for much of it with solid aerials off the lip and super-powered hacks, but James kept answering back with his strong, surf-influenced style.
In the last minute, James caught a huge bomb and was able to rack upturn after a vertical turn to take the lead with seconds left on the clock. James would go on to face Mitu in the final and, had he not been up against the most experienced Ponta Preta local in existence, he could well have topped the single elimination podium.
Mitu Monteiro
Mitu didn't have the event he might have hoped for last year in Cape Verde, but right now he's looking pretty much untouchable. He opened his account on day two with the highest score of the event up to that point – 9.87 – in his opening heat but in the final he went one better notching up a perfect 10, combining faultless top-to-bottom turns with a barrel (his second of the heat) to take the win against James.
Moona Whyte
Moona missed the latter part of last year's tour due to a back injury, but she's back with a bang here in Cabo Verde. Her ability to seek out the critical sections on the bigger faces was unsurpassable, and she was the only female rider who managed to get covered-up and ride away from it.
She's so relaxed out on the water too, never rattled by what her opponents are doing. She finished day two at the top of the women's division and, at this 100% wave-focused event, she's going to be very hard to beat when the double eliminations continue.
Francesco Cappuzzo
Yesterday Francesco Cappuzzo put in his best performance since joining the tour. He took one of the biggest waves of the day in his heat against Carew and was stacking up solid rides on both his front and backhand. He wasn't going for aerials, and he didn't get barrelled, but his backside hacks were something else and his capacity for getting excellent and vertical off the lip in challenging offshore conditions was seriously impressive.
Matchu Lopes
Matchu was ultra-consistent. He has this wave so well dialled, expertly reading the different sections and methodically seeking out barrels on his backhand. He nearly stuck the best floater of the event so far, and he's looking solid ahead of the double eliminations.
Single Elimination Results – Men
1: Mitu Monteiro – CV
2: James Carew – AUS
3: Matchu Lopes – CV / ESP
4: Francesco Cappuzzo – ITA
Single Elimination Results – Women
1: Moona Whyte – USA
2: Johanna Catharina Edin – SE
3: Charlotte Carpentier – FRA
4: Frances Kelly – CA
After the single elimination finals, it was on to the doubles, and the men made it through the first round before the conditions began to deteriorate, and the heats were halted.
The riders are back into the double elimination today with everything to play for. Tune into the live stream here on the website or here on Facebook.
Look out for the day two highlight video coming soon!
First possible start  for Wednesday: 8:30 am (GMT -1)
Words: Matt Pearce / Photos: Ydwer van der Heide
Featured in this Post
Comments