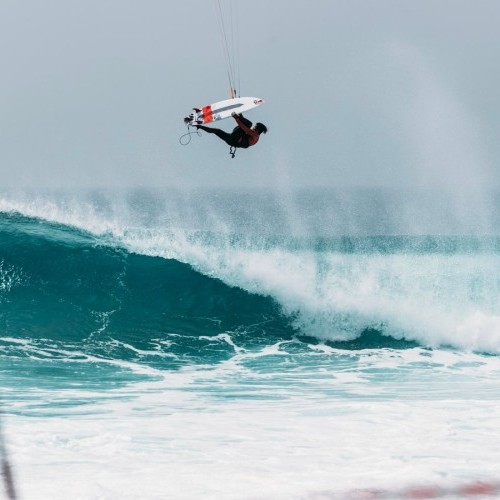 GKA – The Final 12 Riders Emerge On Day Three
Thu 28th Feb, 2019 @ 11:45 am
It's down to the last men and women standing at Ponta Preta! Nine hours is a long time to stay glued to the live stream, so if you didn't catch all of the action here are some of the key performances.
Win a Custom Designed Ozone Twin Tip this issue in our FREE subscriber prize draw.
Thursday's live stream action and the FINALS – first possible start 10.30am (GMT -1)
The relentless pace of competition continued yesterday in Cabo Verde as a field of 52 riders was whittled down to just 12 with six men and six women still in the competition.
The waves were slightly smaller than on previous days but they were still in steady supply with solid conditions across another nine hours of heats in the double eliminations.
Cozzolino On The Comeback
Airton's early exit in the single-eliminations had lit a fire under him and on the evening of day two he was riding alone until sunset, prowling through the Ponta Preta line-up like a caged beast out for revenge. Yesterday he rode like a man possessed. In his first heat he launched huge airs off the lip (no mean feat in offshore conditions) alongside several cover-ups, including the best barrel of the competition so far.
He followed up on that with a perfect ten in his next heat against Djo Silva and then, with two minutes to go, he managed two barrels and an aerial on one wave. He then found a wave with 30 seconds left and tucked ANOTHER barrel to seal the deal. He not only scored the highest single wave of the day, but also the highest combined heat score of event with a 10 and a 9.17!
Mitu is at the top of the table right now having won the singles handily but Airton is absolutely on fire and a final between these two would be something else!
Correia Takes Control
Inês didn't shine like she might have been expected to in the single eliminations and she exited quite early on day two. Given her ability in the surf and her knowledge of this wave (she lives here), many people had been expecting her to at least reach the final but no matter – yesterday she made up for it.
She was on another level in the women's division, expertly selecting her waves and intuitively reading each face. She put in powered top-to-bottom turns and took the highest scoring wave among the women with an 8.17 as well as the highest combo of 14.17. You can bet she'll be eyeing Moona in the top spot!
Myerscough Makes His Mark
Reece Myerscough from Canada has to be the most improved rider in the men's division at the moment. His level has gone through the roof over the winter break and on day three he was riding Ponta Preta with as much power and conviction as the locals. He topped off his storming lip hacks with two olly front-rolls on the wave and he's the only rider to have done so here in Cabo Verde.
Cavin Gets Covered Up
Swiss rider Odile, who lives in Sal, took the first barrel of the event in the women's division, deftly tucking into the pocket as the home crowd went wild.
She nearly managed a second one before getting smashed by the lip (it definitely wasn't down to lack of commitment) but she was still the most consistent rider in her division on day three.
Ribeiro Regains Position
Sebastian Ribeiro from Brazil is a former pro surfer and one of the tour's top wave riders and there aren't many competitors who can beat him in a 100% wave heat. His comparatively early exit against James Carew in the singles hadn't blunted his edge though and he put in a very complete performance yesterday.
He beat Paulino Pereira to earn his spot in the final six and Paulino was absolutely charging too with some deep, slotted barrels. Sebastian just did that bit more though, nearly matching Paulino's time in the 'green room' and combining that with some textbook cutbacks.
He and Airton were the standout riders in the men's division and it stands as a testament to the level of riding on the tour that simply getting barrelled isn't always enough to win a heat or even get more than a mid-ranging score!
Final Riders (Double Eliminations) – Men
1: Mitu Monteiro – CV
2: James Carew – AUS
3: Matchu Lopes – CV / ESP
4: Francesco Cappuzzo – ITA
5: Sebastian Ribeiro – BRA
6: Airton Cozzolino – CV / ITA
Final Riders (Double Eliminations) – Women
1: Moona Whyte – USA
2: Johanna Catharina Edin – SE
3: Charlotte Carpentier – FRA
4: Frances Kelly – CA
5: Ines Correia – PL
6: Odile Cavine – SUI
Words: Matt Pearce / Photos: Ydwer van der Heide
Featured in this Post
Comments