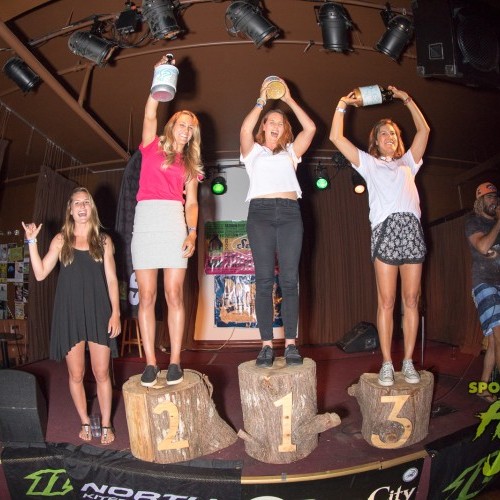 The Spornado Hood Jam Day 7 Update: Awards
Sat 29th Jul, 2017 @ 6:00 pm
For the first time in a week, the Slider Project park in Hood River, OR is quiet. The 2017 Spornado Hood Jam awards have been awarded. Riders and fans gathered at River City in downtown Hood River, OR for the prize giving ceremony on Friday night. Continue reading the press release below, provided by the Kite Park League, to find out who the big winners are. Thank you to the media team of Toby Bromwich and Vincent Bergeron for lending their talents to the event.
The Spornado Hood Jam 2017 has come to a close. The suspense has been mounting for a couple days as everyone has been waiting to see the final scores and to celebrate with the winners.
Brandon Scheid took the cake for the men as many had guessed after watching his heat. He went huge while keeping himself fully composed. To seal the deal, he scored a 7.5 on each kicker with a Backmobe 5 and a Moby Dick 5 to set himself almost 2 full points above second place Ewan Jaspan. Ewan cleanly stomping a Toeside Backside 720 and a nose grab Heelside Backside 540 on the kickers to secure his spot on the podium, one step above his 3rd place finish last year. He has been having a great year so far, making three out of three podiums on the Kite Park League tour.
Noe Font brought a strong slider and kicker game to finals day, earning solid scores across the board. His gap Backside 270 to 50-50 tail press to Frontside 360 out combination on the Cabrinha rail was his top score of the day. With Toeside Backside 540 on the Session kicker, his scores were enough to land him on the podium here in Hood River.
Men's Top 5:
5th: Eric Rienstra
4th: Christophe Tack
3rd: Noe Font
2nd: Ewan Jaspan
1st: Brandon Scheid
On the women's side, it was Karolina Winkowska taking the win. She pulled ahead with solid hits across the board. Colleen Carroll and Sensi Graves tied for second place with exactly the same scores after riding five features. The second place spot goes to Colleen because she had a higher single-feature score.  Sensi also rode very well, landing Heelside Frontside 540's in both directions.
Women's Top 5:
5th: Katie Potter
4th: Annelous Lammerts
3rd: Sensi Graves
2nd: Colleen Carroll
1st: Karolina Winkowska
In the King and Queen of the Kicker contest, Brandon Scheid took first for the men and Lindsay McClure earned the top spot for the women.
Also, as a Hood Jam tradition, a few very special awards were given out:
Golden Hammer – Christophe Tack
Zucchini Award – Alex Maes
Sportsmanship – Isabel von Zastrow
Yellow Crash Helmet – Ramiro Gallart
Kite Caddy – Brett Newcomb
Stoke Awards – James Ropner, Alli Pareti, Katy Gray, Devin Carroll, Gabi Lopes Jorge
Thank you to our title sponsor, Spornado, for all the support and media awards. Karolina Winkowska and Artem Garashchenko won the Mavic drone for the best video, Isabel von Zastrow and Blaine Baker each won a Garmin watch and Annelous Lammerts and Brandon Scheid won hand-held gimbals. The Spornado Hood Jam 2017 was indeed a success, and many riders already have their eyes set on next year's event.
Thanks for tuning in, and see you at the next stop of the KPL for more excitement!
Featured in this Post
Comments