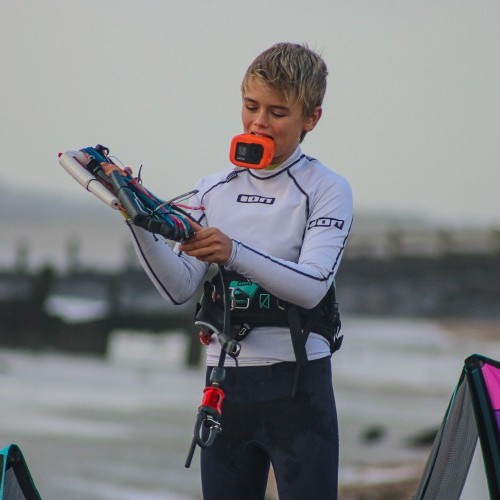 Up & Coming: Max Tullet, 11
Features / Mon 7th Dec, 2020 @ 10:33 am
If you kiteboard around the UK, chances are you've seen or heard of Mad Max! The 11-year-old, Max Tullet is part of the Duotone UK team and has his eyes set on one day competing at Red Bull's King of the Air. He first started kiteboarding when he was 9 years old with a few friends his same age. Kitesurfing was not the first water sport Max has done; He's also been sailing since he was 4 years old, winning numerous events, including the national sailing school regatta. Max also raised over £4000 for charity with a 14-mile solo sail at just 7 years old. But now… Max focuses 100% on kiteboarding. We got a chance to throw some questions at him, and here's what he had to say!
Last year, at only 10 years old, you were the under-15 British Freestyle Champion – what did that feel like?
Yes, it felt great winning the BKSA. We didn't know what to expect for my first competition. But I was used to countdowns, flags and timers and Lewis Crathern helped us with the format too.
Big Air is your thing, what would competing at Red Bull King of the Air mean to you?
Competing in major big air events has been my dream from day 1. So to get into KOTA one day would be amazing.
Which riders do you mainly look up to and who is your main source of inspiration?
I ride with Aaron and Lewis occasionally, they are really fun and helpful! I also watch all of Kevin's VLOGS.
The UK conditions can be unreliable, cold and harsh at times, but you must be used to it by now! With winter creeping in, will you be training in the UK?
Yes, I'll be on the water every weekend. The cold doesn't bother me much but the dark evenings do!
At only 11, you've done so much already! Have you dabbled in any other kiteboarding disciplines?
Yes, I can foil and enjoy that when the wind is lighter. I also use a mountain board occasionally. I practice a bit of freestyle and enjoy it when the conditions are good. I plan on getting better at it but will probably focus on big air.
Winds on, who is the first person you call for a session?
Dad obviously first! Chris Reed who's my dad's friend, he's a good kiter and handy with a camera. And I usually call my friends Jeremias and Charlie on the way to the beach.
What is your favourite big air trick?
Favourite trick is probably inverted kite loop late back roll with a nose grab.
What trick are you having the most difficulty sticking?
I'm currently working on kite loop board offs with the fin and with the board off during the whole loop. Getting closer and have managed a few. But I won't be happy until I can land it every time.
Who are you currently sponsored by? How have your sponsors helped you throughout your kiteboarding career?
I am currently sponsored by Duotone UK and Ion UK. Duotone has a great range of kites and in so many sizes and has kept me up to date with everything I need! They have run grom search events with coaching from Aaron Lewis Tom and Jo Wilson for all the groms. We're looking forward to being able to run another. Ion Action Sports have a dedicated kids range so that's great too. I also get support from Salt N Floks who keep me comfortable off the water.
Tell us a bit about your gear choices. What equipment are you riding and why?
I ride 128 Duotone Jaime, it suits me perfectly and the entity pad comes in 4 different sizes so there's a small for me! I use the small Click Bar with 20m lines. It's a great bar because you never have to untwist the front lines! 20m lines seem a good all-round length for me because I ride slightly smaller kites.
What are your long-term kiteboarding goals?
My goals are to have a career in kiteboarding and get to the big events like KOTA. It would be a bonus to win. It seems that big air is becoming more popular again so hopefully this will help me.
How old were you when you first started kiting? Can you share your earliest memories?
I was 8 when I first flew a proper kite! I used a trapeze harness for sailing and loved the power immediately. Dad promised mum he wouldn't put me on the water with a board but that only lasted a week!!
If you'd never discovered kitesurfing, where do you think you would be, and what do you think you would be doing right now?
If I had never discovered kitesurfing, I would like to think I would be sailing something high performance at a good level.
When you're not kitesurfing, what are you usually doing for fun?
When I'm not kitesurfing I go kickboxing to keep fit. I also chat with mates and play online games. I have a 2-year-old sister who is great fun too. I've just started a new school so I have lots of homework and have to be very disciplined with it so I still have time to get on the water.
If you could spend a season at any kite spot in the world, where would you choose?
I would love to spend a season in Cape Town so I could meet all the pros, watch KOTA and obviously send some big air!
What's next for you? Any exciting plans for the next year?
I'm hoping to get to a few big air events and really hoping to be able to travel as I've never kited abroad. I'm just going to keep practicing and keep pushing as much as I can.
Mon 7th Dec, 2020 @ 10:33 am
Jen Tyler grew up in the chaos of Cairo, Egypt. It was on the beaches of the Red Sea where her love for the ocean, water sports and adventure grew.
Featured in this Post
Comments