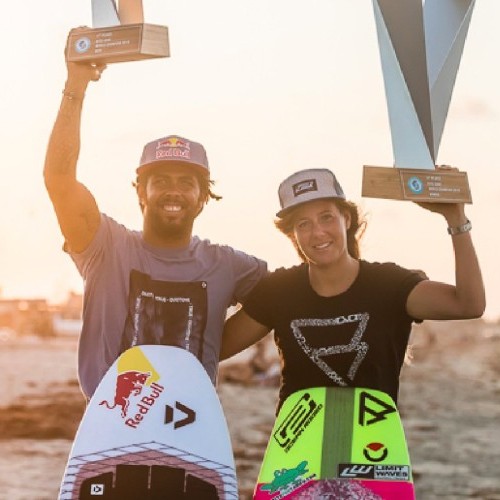 GKA Prea 2019 – Kite-Surf – End of Season
Mon 18th Nov, 2019 @ 3:30 pm
The final event of the GKA Kite-Surf season saw sparks fly on the water as Prea delivered four days of perfect strapless freestyle conditions and sensational action last week for the final GKA Kite-surf World Championships 2019 stop of the year!
Airton Cozzolino earned his hat-trick of GKA World Championship crowns (his fourth career title) from the top step of the 'Ceara Kite Pro' podium, the season's sixth and final Kite-Surf event in Prea.
Win a Duotone Select Twin Tip this issue in our FREE subscriber prize draw.
Like Airton, Carla Herrera-Oria was also assured of her World Championship crown before the Prea event. The Spaniard may have been ousted from the Prea event's pole position by an incredible display of cross-over skill acquisition by Mikaili Sol on home soil, but that takes nothing away from a superb season for Carla.
As one of the pioneering women in strapless freestyle, her dedication paid dividends, and her first world title comes from two event wins and two-second positions in her four counting events.
Win a Duotone Select Twin Tip this issue in our FREE subscriber prize draw.
How They Did It
Featuring six events this year, riders can discard their two worst results from six to give them their overall season points finish.
Airton's final scorecard is therefore impeccable, with four wins, mixing wave and strapless freestyle victories, demonstrating his incredible mastery of all-round surfboard riding.
1st Sylt, Germany
1st Mauritius
1st Dakhla, Morocco
1st Prea, Brazil
(Incidentally, his two discarded results were the 2nd position at Cape Verde (losing to Mitu) and a share of the top points in Tarifa when the contest didn't reach a full conclusion – so this truly was a stellar year for the Cape Verdean star).
Carla's top four results are made up of:
1st Sylt, Germany
1st Tarifa, Spain
2nd Dakhla, Morocco
2nd Prea, Brazil
(The pure wave events of Cape Verde and Mauritius attract a handful of specialist wave riders from around the world, making the competition even harder, but make no mistake, Carla has vastly improved her performance in waves and her steadfast dedication to competition riding will no doubt see her becoming a solid force in that arena too over the coming years.)
Men's Podium
The fight was on between Mitu Monteiro (CV) who was holding the second position and James Carew (AUS) who was chasing close behind, lying third in the 2019 rankings going into the Prea event. The pair met in a hugely significant match up in the Prea single-elimination semi-final that saw James hold his nerve and land a superb series of technical toe-side and powerful kite loop combinations for victory.
He held a two heat advantage over Mitu in the doubles, in which Mitu managed to overcome Pedro Matos before then losing out to Camille Delannoy. Mitu then needed to rely on the French rider beating James in the next heat if he was to hold on to second in the championship. Vive le France – Camille knocked the Australian out. Beers for Camille on Mitu, then!
Men's 2019 GKA Kite-surf Final Rankings:
1 Airton Cozzolino (CV) (Duotone, ION) 10,450
2 Mitu Monteiro (CV) (F-One, Manera) 10,203
3 James Carew (AUS) (Duotone, ION) 10,170
4 Jan Marcos Riveras (DR) (Duotone, ION) 9,725
5 Pedro Matos (BR) (Duotone, ION) 9,725
6 Simon Joosten (BAR) (Duotone, ION) 9,560
7 Reece Myerscough (CAN) (Ocean Rodeo) 9,378
8 Francesco Cappuzzo (ITA) (RRD) 9,312
9 Anderson Reboucas (BR) (Duotone, ION) 8,999
10 Kiko Roig Torres (ESP) (Duotone, ION) 8,867
Women's Podium
As two of the tour's most consistent entrants over the last two seasons, Charlotte Carpentier (FRA) and Johanna-Catarina Edin (SWE) have shown a continued development of ability in both wave and strapless freestyle. It was the French rider, however, who locked down her nearly season long-advantage over the Swede to claim the second place silverware.
Women's 2019 GKA Kite-surf Final Rankings:
1 Carla Herrera-Oria (ESP) (Ocean Rodeo) 8,334 points
2 Charlotte Carpentier (FRA) (Core) 8,070 points
3 Johanna-Catarina-Edin (SWE) (Duotone, ION) 7,938
4 Frances Kelly (CAN) (Ocean Rodeo) 7,740
5 Peri Roberts (AUS) (Naish) 7,707
6 Susanne Schwarztrauber (GER) 7,641
7 Irena Jenni (CZ) 7,476
8 Sonja Bunte (GER) (Duotone, ION) 7,179
9 Capuccine Delannoy (FRA) (F-One, Manera) 5,937
10 Sabine Beukeleers (BEL) 5,838
THANK YOU
Congratulations to our champions but also to all riders who competed at this year's GKA Kite-Surf World Cup events. All have helped contribute to pushing the sport and the growing family-feel that's always evident in this discipline.
Finally, a huge thanks to all the individual event hosts and their hard-working teams, but especially so this month to Rancho do Peixe in Prea, who have once again staged an unforgettable event, both on and off the water!
Next up: The GKA Freestyle final event of the year, follow all the action, right here!
Monday 18th November 2019
Location: Prea, Brazil
Words: Jim Gaunt
Photos: Svetlana Romantsova
Video: Mintautas Grigas
Featured in this Post
Comments