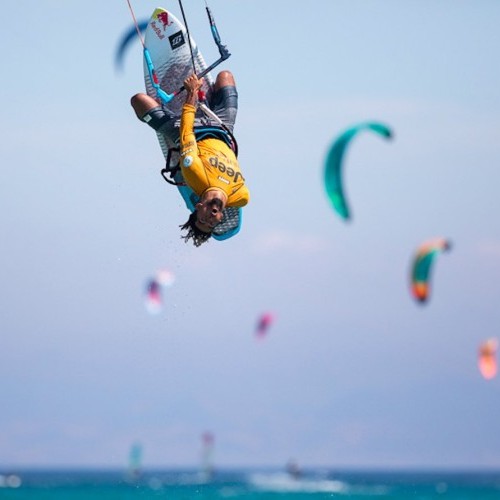 Jeep Tarifa Pro – Day 4 – KSWT Singles Final, Women and Air Games
Sat 30th Jun, 2018 @ 11:30 am
"Here come the kite loops!"
Lewis Crathern enthusiastically screamed down the mic halfway through Kite-Surf World Tour strapless freestyle single elimination final on Friday afternoon as Matchu Lopes and Airton Cozzolino simultaneously switched gears, from spin combinations to power up the heat in the final minutes.
Win a Ride Engine Technical Changing Robe this issue in our FREE subscriber prize draw.
If they weren't already, after three years on tour, the strapless freestyle riders have grown to become natural showmen and the Tarifan crowd really appreciate how the riders respond to their calls.
Quarter finals
Jan Marcos Riveras Vs James Carew
Jan Marcos win! James Carew is such a brute and he manhandles the chunkiest of kite loops, but Jan Marcos found an extra level of quality here.
Camille Delannoy Vs Matchu Lopes
Matchu win! Riding off the back of a first event win of 2018 the last time out in Portugal, Matchu is hard to stop when he hits full flow, which he looked like he was on his way towards in this heat. Relaxed, smooth, smiling, he breezed through to the semis.
Paulino Pereira Vs Mitu Monteiro
Mitu win! But it was close. Mitu sensibly stacked his heat together and said afterward that he likes to do just enough to make it through, not showing too many of his cards early on. A few big ones flew in this heat though, including a backside 3 from Mitu, with unhooked tricks being new to his repertoire for 2018.
Airton Cozzolino Vs Ralph Boelen
Airton win! Airton really hit his stride in this heat… and how can you beat a man who has seemingly steel ankles and is totally unafraid of throwing his board back under his feet when coming in super hot and full steam. If you ever get a chance to see him ride, you'll see that Airton is one of the most natural kitesurfers that the sport has ever seen. He's at one with his machines.
Semi-finals
Jan Marcos Riveras Vs Matchu Lopes
Matchu win! Matchu was peppering the water with a flurry of steez when Jan Marcos Riveras suffered a savage landing on the inside and was forced to withdraw with ligament damage.
Mitu Monteiro V Airton Cozzolino
Airton win! Mitu was at his majestic best and although he saved his best performance of the contest so far for this heat, Airton could sniff four victories on the trot and an undefeated title for Tarifa this afternoon. Bam, bam, bam, he was in the final… but hadn't yet managed to land this boogie loop rodeo which he's been attempting this event. A King of the Air rider himself, beach MC Lewis Crathern was flabbergasted at what he saw being attempted twice! You know it's coming…
The Finals
Airton win! Matchu acknowledged after the final that he was happy with his performance and did everything he hoped for in these lighter winds, but that Airton's two, clean, powerful unhooked handle-passes sealed the deal.
Womens
It has has been a long wait for the strapless freestyle women to get their heats underway. However, with just six girls signed up here in Tarifa as this is a very new discipline for women (and with tour leaders Moona Whyte and Jalou Langeree absent as they're using this event as their discard because they specialise in waves), there's an opportunity on this growing tour for women who love strapless riding to come and join the party!
Local shredder Carla Herrera Oria dominated the heats today and when it comes to straight-up strapless freestyle, her focus is clear, regularly landing stylish back roll transitions and came super close to front rolls and big kite loops! A rapidly rising local breaking onto the international scene.
Air Games
The fervor of the KSWT strapless freestyle finals between Matchu Lopes and Airton Cozzolino was only just subsiding as the Air Games men hit the water to finish the last heat of round 3, in which Maxime Chabloz and Nicolas Delmas made it through a tight wakestyle oriented battle.
Jesse Richman overcame Valentin Rodrigues in the first Q-final before Posito Martinez displayed a perfect balance of board-offs kite loops and passes – the 2016 Big Air World Champion is really adapting to the format brilliantly! Sadly Liam Whaley was injured in the 3rd Q-final during an intense match-up with close rival Carlos Mario…
Just as the Air Games sparked to life, the dropping wind called time on proceedings. We wish Liam well, and also strapless riders Jan Marcos Riveras and Luis Brito who also picked up injuries today.
More to come soon!
For more information on the Jeep Tarifa Pro 2018, please click here.
Featured in this Post
Comments