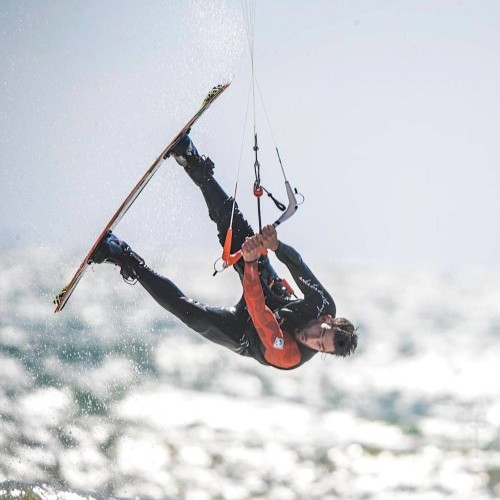 RRD Welcomes Patrick Mc Creanor To The Spanish Kiteboarding Team
Sat 30th Jun, 2018 @ 12:00 pm
Welcome to the RRD international kite team Patrick Mc Creanor!
Where did you grow up?
I grew up and met kiteboarding 10 years ago in Marbella (Spain) where I only had to drive 1 hour to be in the paradise where I'm now based for 5 years Tarifa, combining seasons with Cape Town.
Tell us more about your background in kitesurfing.
Flying toy kites since I was 5 years old was my parents' get away from my high activity and energy, I got my first kiteboarding gear in 2008 without taking any lessons 'don't do this at home' and just 1 year after I was looping the C shapes and started the Kite Or Die team (A small group of enthusiastic riders that pushed the limits of finding new spots and motivating each other).
We soon met Alvaro Onieva and I got sponsored first on Balance then his brand Ride Clash and the team grow up fast around the Coast of Spain. 
Came to Tarifa and participated in the PKRA and Kite Masters 2014, creating all the after parties for the kite competitions and demos got Kite Or Die team to grow global getting onboard many of the main guys in the scene. I have always found natural to get crazy riders together not only in the water but also for a coffee, dinner or even better, party with a healthy balance to enjoy next days conditions.
What is your best result?
I managed to get through the PKRA trails and really enjoyed taking part, I have never been an acrobat and broke 5 bones looping… so my best goal I will call unifying family vibes in the kite and dance community in Tarifa and in just 4 months also in Cape Town in collaboration with Ruben Lenten and the Dirty Habits crew.

What s your favorite gear?
After trying most of the top kites in the industry, the Obsession Mk10 on 4 lines is just what I'm looking for to combine my aggressive and polyvalent style of big air, wakestyle and free ride using the kickers. This kite in combination with the Juice and stylish accessories. I'm very impressed by the improvement this brand has made in the past 3 years.
What is your favorite spot?
Balneario (Tarifa), it has everything my ideal playground should have.. the strongest and steadiest Levante you can find in the Mediterranean on the perfect turquoise flat water and a constant waves to use a kicker both sides.. adding that touch of danger the offshore wind and strong currents create that extra excitement to jump into it full power! My second best place will be Cape Point… it's just so wild and the waves there are the biggest deal I dealt with.

What are your goals for 2018?
Unifying the kite and music community as well as in Tarifa and Cape Town any other cool spot that is up for it. Also creating footage to promote this great family.
How do you see kitesurfing evolve in 10 years?
After competing in Kick Boxing and Go-karts, racing motorbikes, jumping out of plains and riding of the craziest cliffs snowboarding… This sport has everything! 
It's a matter of time that it becomes more accessible for everyone. The improvements that are made year by year in the gear are astonishing. I just hope the monopoly there is with brands behind competitions changes to a non-encouragement of profit like my brand Kite Or Die is about, purely passionate about the best sport the humanity has met.
Anything you want to add?
Keep the Groove up! 'in and out of the water'

To stay updated with the latest news on RRD, please click
here
.
Featured in this Post
Comments