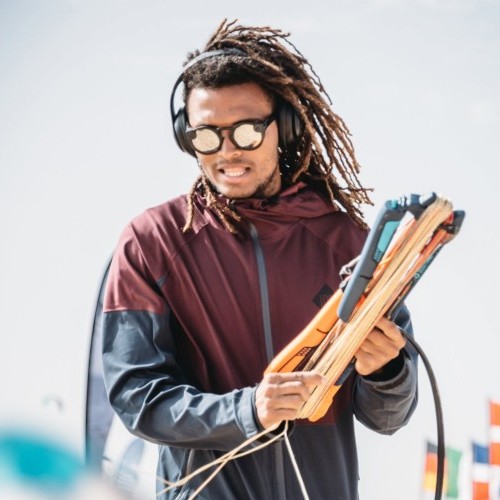 GKA Kite World Cup Cape Verde – Day 2
Tue 3rd Mar, 2020 @ 10:30 am
The second day of the GKA Kite-Surf World Tour got off to a smooth start this morning at Kite Beach. The wind was (slightly) more favourable than yesterday, with around 25 knots blowing cross onshore, the swell was coming in a little bigger too.
Win a Custom Designed Ozone Twin Tip this issue in our FREE subscriber prize draw.
We ran a Pure Wave format with 14-minute heats, and three minute breaks in-between. Men were riding 7-9m2 kites, and women were riding 6-9m2 kites. The sun came out, the crowds were dancing, and the riders were excited to get on the water!
Titik Lopes CV got the day off to a great start by scoring 11.46, the highest complete score for the men's division in the first heat. He took Toni Ciliberto IT out of the competition and moves forward to Round 5, where he will take on Simon Joosten BB.
The second heat of the day was just as exciting with Pedro Matos BR letting his Brazilian surfing experience shine through with some powerful hacks, and by ripping back on the tail of his board. He landed an insanely stylish 360 in the final seconds of his heat scoring a  respectable 11.13. He moves into Round 5 where he will be facing local favourite Djo Silva CV.
Anderson Reboucas BR is another rider who's surfing skills helped him in the trickier conditions of the afternoon. The Brazilian rode intelligently, and with the strategic choice of the wave, he rode, which gave him a complete score of 9.96 and advancing him into Round 5. There has been some surprise early exits from the event. Jan Marcos Riveras DR was knocked out by Nicola Abadjiev BG and his complete score of 9.97. Nicola will now face the youngster Charly Martin RE in Round 5. Camille Delannoy FR was also knocked out in his heat against Pedro Matos.
In the men's division, one round of eight heats was completed.
The women were not so lucky with the conditions this afternoon, the changing tides turned the waves into tricky mush, pushing the women to work hard for their points, and overall scores were low.
This was not the case for Stella Groschupf DE. The young German impressed the crowds and had them cheering when she scored 7.0 the highest single point of the day. The last turn on this wave had GKA beach commentator Jo Ciastula jumping out of his seat and helped Stella win the highest combined score of the day, a solid 12.30. She will face Charlotte Carpentier FR in Round 3 tomorrow. We're excited to watch these two battle it out in Round 3!
Marcella Witt BR won her heat against local rider Dianira Lopes CV. With smooth links between waves, she managed to get some power into her hacks; again it was apparent Marcella's surfing background gave her that little bit extra needed in today's conditions, and a respectable 8.60 complete score. Marcella will now face Ines Correia PT in Heat 1 tomorrow.
Another woman who managed to turn the mushy waves to her favour was Susanne Schwarztrauber DE. She beat Julia Castro SP with a complete score of 8.03. Susanne will now face the powerhouse of day one, Peri Roberts AU. We're sure this will be another great heat to keep an eye out for.
In the women's division, one round of eight heats was completed.
There were fantastic displays of sportsmanship throughout the day, both on and off the water, which we love to see at GKA Kite World Tour events. They may be competitors on the water, but riders are certain friends and look out for each other even during heats.
Luis Brito CV took the time to relaunch his opponent, Arsenio Dias CV's kite mid competition. In David and Goliath Esque reversal, Luis' actions may have cost him his heat, as the other Cape Verdean went on to win with a complete score of 9.00, but there were no hard feelings between the two, and both athletes wore big smiles as they came off the water.
We're looking forward to bringing you more from Cape Verde today, so stay tuned! Follow all the action, LIVE, right here!
Words: Kate Chandler
Images: Ydwer van der Heide
Featured in this Post
Comments