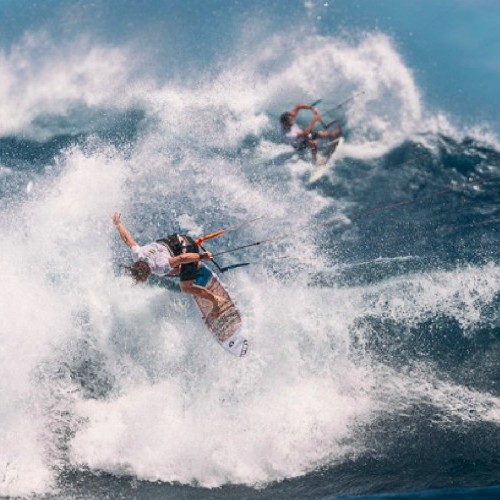 GKA Kite World Cup Mauritius: Day Six
Thu 12th Sep, 2019 @ 10:15 am
It is what it is… and today it was spectacular! The reef builds steeply from the ocean floor here at Bel Ombre and as such sometimes struggles to allow a big swell to steadily pitch. The abrupt nature of this reef's shape can jack up a smaller swell though, and today's reduced ocean pulses made powerful contact with the shallow coral structure to produce superb, clean, mid-to-large waves over the reef.
Conditions continued to deliver all-day, inspiring some outstanding performances – high skills were richly rewarded.
We re-joined the men's single elimination with two heats still to complete in round two, between Kiko Roig Torres and Jeremy Chan, and then Airton Cozzolino versus Graham Carney.
Airton started the day fully charged from the get-go at 09.30am. The head-high to double overhead cross-shore conditions looked to suit him down to the ground. Some people had been commenting that perhaps this wouldn't be his event as there are better pure kite 'surfers' here than him and that sometimes he's a bit too aggressive with his kite when judges are looking for a pure surf style, but all that went out of the window when faced with a reef that demanded respect in order to avoid the eventual big close-outs.
Airton, however, showed no respect and went at his heats like an animal uncaged. Fearless and fast, his pinpoint accuracy and incredible ability to read every section perfectly was foreboding for any competitor. In beating Graham Harney, the double World Champion from Cape Verde found himself lined up against local rider Jeremy Chan, who had famously knocked Cozzolino out at the same round three-stage of this competition in 2016 (giving Matchu Lopes enough of an opportunity to take full advantage, winning that event, and eventually the 2016 Championship by the smallest of margins later in the year).
To say he had been looking forward to revenge was probably an understatement.
James Carew was continuing his no-holds-barred approach on his backside, saying that he felt that the size and form of today's wave suited his radical driving turns and know-no-limits barrel hunting.
Event MC this time (through shoulder injury) Matchu Lopes says, "He's powerful, radical, always positive – he's full-send all the time; success or failure. Whether he's ill or injured, it doesn't matter; he's a powerhouse that takes a huge force to take down." (James picked up an ankle sprain when training earlier in the week, and looked to be limping a bit still on the beach – watching him on the water, you wouldn't know, though).
The Australian came through a tight backside heat against his teammate Pedro Matos. Up next was Oswald Smith who had just ejected Mitu Monteiro, lying second in the Championship. A surprise? Depends on your perspective. South African Smith doesn't do the whole tour and was riding fast and loose, having already reached the quarter-finals of the twin-tip Freestyle earlier in the week and now in his preferred discipline was looking very dangerous, totally at home hacking waves on his front hand, nothing to lose, grabbing a nice cover-up barrel on his way past Mitu.
Semi-Finals 1
Carew V Smith was one of the most thrilling heats of the day, packed with solid rides. 8.9 and 7.73 were James' best two scores out of a haul of 13 wave attempts; the most we'd seen piled into a heat so far.
Ozzie wasn't far behind on ten waves, with a 7.3 high score of his own, but the super-powerful Australian backside confirmed his almost sure destiny of making it to the final, such has been the consistent calibre of his heat performances here so far.
Back on Airton's side of the draw, in his quarter final re-match with Jeremy Chan, there were no close calls.
Having scored a 9.7 on his seventh wave, Airton hooked onto another big swell for wave eight. Dropping in the carved incisively back up, turned sharply at the top, stalled and then hit the gas full bore into a sick barrel, punched through the curtain, but no need to adjust – his weight was perfect – he went straight into another powerful bottom turn, detonated the lip, airdropped back into the wave, made another two turns and kicked out, shaking his hand by his side and looking up to the sky with thanks. He knew how rad that was… did the judges? Yes, they did – 10 POINTS.
Airton went on to overcome Jan Marcos Riveras in the semi-final, who had performed with his usual composed and clinical wave attack but couldn't hang on to Airton's coattails this time.
The Final
Airton Cozzolino (CV) V James Carew (AUS)
The wave size, structure and power were perfectly suited for these two to put everything into their performances. Airton charging frontside / James hacking on his backhand – this would be one to savour.
Right at the start Airton dropped in, and James followed suit on the big wave following directly behind; the two white Duotone's marching down-the-line together. Airton turned first, super-fast, careering out of his bottom turn propelling maximum speed to the lip… one, two, three times he battered the peeling peak, squeezing everything out of every wave. James couldn't match him on that one.
Most waves in the first few minutes were at least head-high while some way beyond.
James knew how much success he'd had chasing barrels (he scored a 9.5 doing so in his first heat of the competition way back on day one). A few minutes into the heat his intentions were clear, fading in once, then twice, he found the pitch he wanted third time on the huge face, held his line, entered a cavernous pit… but didn't come out.
Reflective of Airton's fully armoured approach, on one wave Airton found white water closing in behind and in front of him when the face became seemingly affected by two different swell directions. He eyed the point of impact and dissected both waves straight down the middle – a dagger to the snarling dragon's heart. He's just so compact and powerful; a warrior with unshakable energy and determined to take the iron throne.
Time and again both riders pulled in at the first hint of a throwing lip, but it wasn't yielding fruit. James continued to pick bombs and switched up his approach, gouging gnarly bottom turns and launching himself at the lip, however, couldn't quite make the hefty air drops back down when the throwing wave pitched him forward.
Airton, meanwhile, found more consistency in his big off-the-tops (favourably frontside) successfully landing at pace back into the wave.
Just after halfway through the 20-minute heat, James started to come back, pulling the deficit back to only three points. But, almost inevitably, Airton pulled in to a section and emerged from the whitewater. A head flick to clear his vision he banked straight into another turn, sliding his fins out on the wave's white water coping. He had that look of confidence that we've seen so often.
With eight minutes left neither rider had scored more than a seven-point ride in the final, and the best two-wave score was standing at 14.33 / 11.3 in Airton's favour.
On his eighth trick, James poached a 6.8 score; suddenly it was tighter: 14.33 – 13.83.
Airton managed to lock into a big one just seconds later, it looked good, but he had to do one massive turn around a white section and then it all closed out. No change in scores.
The frontside / backside competition has been pretty even through the entire single-elimination competition, but in the end Airton was able to impress the judges with just a few more moments of flair, showing his comfort in repeatedly letting his tail loose at the top of the wave, something James was limited by a little more on his backhand. Airton also managed to find the waves that held up for longer, nailing five turns on his last wave, rewarded with a 7.93.
There would be one last gasp attempt from the Australian when James had pulled almost level with a 7.4, but alas, it just wasn't enough and visually, in terms of his constantly dynamic approach, Airton deserved the win despite the close scoreline. However, competition is what it is – and here it's the best two waves that count. James, oh, so nearly had him.
Final Score
Airton: 15.16
James: 14.43
Mini-Final
Ozzie grabbed the last podium position in the mini-final against Jan Marcos Riveras. Ozzie's wave attack was tight and continuously in the pocket. Jan Marcos continued to find size out the back, but Ozzie is just so explosive when he comes off the bottom: bam – always huge spray punching right under the lip. He found a few golden moments towards the end and pushed Jan Marcos off the podium.
The South African is undoubtedly the most all-around competitive rider in the sport right now (he also competed in world tour slalom racing in the past, currently competes in the King of the Air and finished runner-up at the MegaLoop Challenge this summer). #skillhogger
Single Elimination Standings
1 Airton Cozzolino (CV)
2 James Carew (AUS)
3 Oswald Smith (RSA)
4 Jan Marcos Riveras (DR)
The action continues today, skippers for the riders is at 09.00 (GMT +4) There are two live event pages for the week: Freestyle or Kite-Surf depending on which discipline is running at the time, where you'll find the live ticker of heat info and the live scores over the coming days.
Location: Bel Ombre, Mauritius at C-Beach Club / Kite Globing
Words: Jim Gaunt
Photos: Svetlana Romantsova and Ydwer van der Heide
Videos: Mintautas Grigas
Featured in this Post
Comments