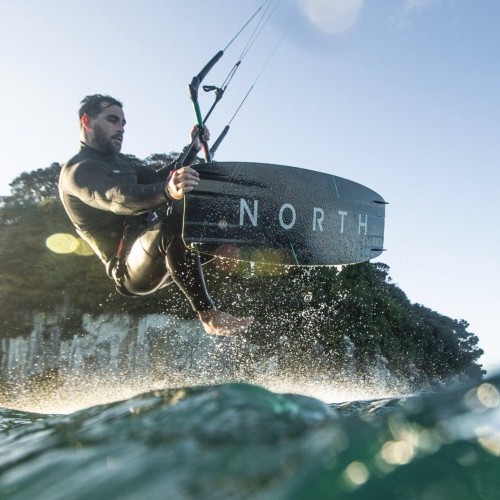 In Focus: North Kiteboarding 2021 Twintips & Surfboards Product Overview
Features / Tue 29th Sep, 2020 @ 4:31 pm
Nothing teaches design like nature. Only when you feel the unpredictable force of the elements take you away can you understand how to design for the perfect ride. That's why the North design process starts and finishes on the water.
This compulsive pull pours itself into our obsessive attention to detail on the designing boards and the development tables. Every day we are inspired – and humbled – by nature's engineering genius and her beautiful, intuitive simplicity.To that, we add cutting-edge technology from the world's best design workrooms and decades of performance expertise.
North Kiteboarding have once again released an impressive board lineup including all our favourites as well as new additions like the 'light-rider specific'; Astra. We've got the whole line up right here, so check this out!
2021 Twintips
Atmos Carbon
Freeride / Big Air
Gravity We Defy You
A dynamic ride with powerful upwind, precise edge control, rapid response and explosive pop. Reach earth's atmosphere with the Atmos Carbon, our premier high-performance freeride board for mega-boosting, looping and controlled landings. The Atmos Carbon has been master-crafted by our skilled engineers, who have carefully positioned the full carbon laminate layup to provide balanced torsional stiffness and flex. The harmony created between outline, rocker and flex make this the ultimate all-terrain board.
Designed to ride overpowered with ease and control, yet still enabling early planing and low-end performance. Winner of the Highest Trick Score by Nick Jacobsen, and the biggest air by Marc Jacobs at the 2020 Red Bull King of the Air.
Features
Premium carbon performance
The refined carbon laminate layup delivers a dynamic and responsive high-performance ride. Thoughtfully selected and arranged combination of woven roving and biaxial carbon fibre fabrics and unidirectional reinforcements provides an extremely fast response when loaded, with greater torsional and longitudinal
Precise responsive edge control
Unrivalled edge control for powerful upwind tracking and Big Air boosts in even the most overpowered conditions. The harmonious equilibrium between rocker, outline and flex creates a board with quick response perfect for lining up that kicker, edging hard and boosting high.
Impact-absorbing single concave to quad channels
The contoured bottom shape absorbs impact by breaking the water surface tension, and ensures stable and predictable landings.
For more details about North Kiteboarding's 2021 Atmos Carbon, please click here.
Atmos Hybrid
Big Air / Freeride
Gravity We Challenge You
Our most popular high-performance freeride board for explosive boosting, looping and stable, predictable landings. The Atmos is a powerful upwind with precise edge control. Strategically placed layers of unidirectional carbon tape in the hybrid construction helps deliver a well-balanced dynamic flex.
Designed to ride overpowered with ease and control, yet still enabling early planing and low-end performance. The harmony between medium rocker, progressive outline and flex make this the ultimate all-terrain board to take you to the next level, in all conditions. Edge harder and release into Earth's atmosphere.
Features
Precise edge control
Powerful upwind tracking, carving and Big Air sends.
Medium rocker with a balanced flex pattern
Allows for early planing and great low-end performance with rapid response & explosive pop.
Single concave centre to quad-channel tips
Absorbs impact by breaking the water surface tension, and ensures stable and predictable landings.
For more details about North Kiteboarding's 2021 Atmos, please click here.
Astra
Big Air / Freeride
Light Rider
We love the saying; dynamite comes in small packages. Playful yet powerful, the Astra is a bold all-terrain addition to our new-school freeride quiver. Lighter weight riders often find it harder to control large, stiff boards designed for heavyweights. With this in mind, we set out to create a board with more responsive flex for lighter weight or smaller build riders – one that would deliver increased control in a range of conditions, greater comfort and softer landings, without sacrificing performance.
Astra's smaller board length, narrower stance and basalt technology construction provides riders of all levels just the right amount of flex for controlled edging, boosts and loops. Its consistent, dependable rail grip gives you extra confidence to push boundaries as you load up for massive jumps. With its super-efficient bottom shape and rocker, the board feels fast through the water and flies upwind. The medium flex is dense enough to deliver clean and powerful pop, yet soft enough to forgive your knees and legs on harder landings. Sending it was never this easy.
Features
Optimised for lighter weight riders
The optimised laminate layup is crafted for lighter weight riders with a responsive flex pattern for explosive pop, softer landings, and comfort in even the most aggressive chop.
Enhanced edge control
Phenomenal rail hold for easy upwind tracking and confidence-boosting, a result of the balanced harmony engineered between outline, rocker and flex.
Narrower stance
More precise foot positioning enables smaller riders to remain in control across every manoeuvre and landing. The Astra has a 20mm narrower stance in all sizes compared to the Atmos.
For more details about North Kiteboarding's 2021 Astra, please click here.
Prime
Freeride
Your Ticket to Ride
Instantly familiar, intuitive and comfortable, the Prime helps you progress faster in your freeride game. A sweet performer in all wind and water conditions, it tracks upwind smoothly and slices splash-free through the chop. Jump and boost in full control, with forgiving landings thanks to the softer flex. Ride in tune with nature, in tune with yourself.
Features
Progressive single concave with pulled-in flexible tips
Pulled-in tips combine with a progressive single concave with flatter mid-section for faster early planing and slicing splash-free through chop.
Durable ABS rail with a smoothed edge
Long-lasting performance rails with user-friendly smoothed edges help protect your skin from accidental scrapes and bruises.
Balanced rocker, outline and flex
For smooth, controlled upwind tracking. The Prime's rounded outline is easy to edge, helping you stay in control and progress faster; while it's forgiving flex means softer landings and gives you confidence for jumps and boosts.
For more details about North Kiteboarding's 2021 Prime, please click here.
2021 Surfboards
Charge
Performance Surf
Down the line
A fast, dedicated surf shape with smooth turning and loads of projection, allowing a powerful vertical attack in down the line waves. Developed for surfing and engineered for kitesurfing, the Charge rides like a high-performance surfboard. Turning hard in the pocket and releasing on-demand, it excels in carving, has fantastic upwind drive for onshore riding, and is versatile enough to pop strapless freestyle tricks with ease. The Carbon Innegra Futurelite system maximises strength without losing flex or responsiveness. The full deck grip with front and rear kicks provide exceptional comfort and control. Commit to the wave and have the confidence to charge.
Features
NEW performance surfboard outline
NEW subtly refined outline for 2021 with reduced hip width for a faster rail to rail response.
Low entry surf rocker
For fast acceleration, speed and drive. With generous width and volume, making it easy to ride with great upwind ability for getting back to the take-off zone. The rocker under the back foot has been slightly re-tuned for 2021 to add drive and speed.
Deep single to the slight-double concave bottom
Cutting through the curves to give a fast driving bottom turn and responsive pivotal top turn with easy release
For more details about North Kiteboarding's 2021 Charge, please click here.
Cross
Freeride / Surf
Leave All Your Identities Behind
A smooth carving, super comfortable all-round freerider that blends the line effortlessly between surf and strapless freestyle. The 2021 Cross has been redesigned to feel more lively and responsive, with effortless acceleration, more drive off the rail and a faster, more reactive bottom shape. Created to play the waves in an ever-changing surf playground, ride real-world onshore conditions, flat water and chop. The Cross delivers instant speed, drive when needed and a comfortable stance. It provides generous volume and width for a fun, forgiving ride with great upwind speed and powerful pop for freestyle tricks.
Featuring grabbable rails on the top deck for easy air-handling and cushy contoured deck pads for enhanced control. It carves, it jumps, it pops. The Cross is your everyday go-to – the ultimate all-rounder, instantly familiar, intuitive and easy to ride.
Features
NEW quad concave bottom shape
Absorbs chop for a smoother ride.
NEW compact surf outline
With trimmed nose shape to reduce length and weight for easy travel. NEW reduced nose and tail width adds control at the top end and creates a better wave-fit for easier, sharper turns
NEW Increased tail curve and smooth progressive rocker
Gives instant speed and drive off the back foot for optimal upwind performance.
For more details about North Kiteboarding's 2021 Cross, please click here.
Comp
Strapless Freestyle Surf
Skate the Surf
Designed to be ridden fast and powered up, our dedicated strapless freestyle board delivers compact performance with explosive pop. Refined in 2021 for increased top-end, added control, grip and response. The Comp is designed to stick with you through manoeuvres and pop on-demand. Compact in size and very grabbable, its directional parallel outline with narrow, sharper rails allows for speed and edge control in a range of conditions, while the smooth progressive rocker design with tail channels assists with hard, fast landings.
The Comp's wide but low-volume tail allows sink and pop for freestyle in flatter water, and the bevelled release rails allow water to shed off the rail and the board to load and release on demand. The contoured double concave deck with toe arch and rear wedge kick maximises traction and control when powered up, allowing you to take to the air without straps. Push your limits with the Comp, your competitive edge.
Features
NEW narrower outline
The compact directional parallel outline is a minimal size with hard, sharp rails to allow for speed and edge control in a range of conditions. The outline has been pulled in slightly at the nose and tail for 2021, adding control and increasing top-end performance, while the lower volume tail allows more sink and pop for freestyle in flatter water.
NEW tail channels
Tail channels for grip, response and cushioned landings with less bounce on touchdown
NEW increased rocker line
The rocker is smoothed into a clean curve nose to tail, helping the board to stick to your feet during strapless trick
For more details about North Kiteboarding's 2021 Comp, please click here.
Go Behind the Scenes | Grenadines MY20 with Nick Jacobsen, Graham Howes and Annabel van Westerop
To view all North Kiteboarding 2021 line up, please click here.
Tue 29th Sep, 2020 @ 4:31 pm
Jen Tyler grew up in the chaos of Cairo, Egypt. It was on the beaches of the Red Sea where her love for the ocean, water sports and adventure grew.
Featured in this Post
Comments