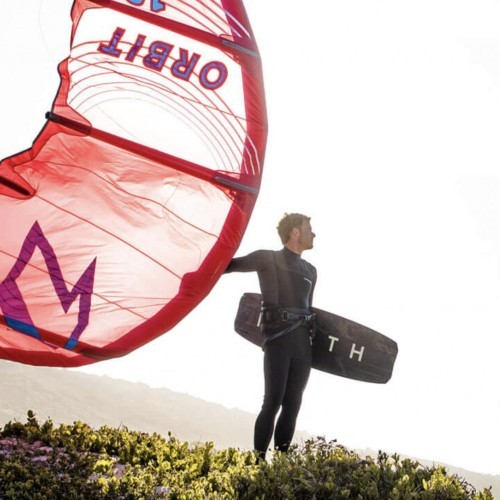 In Focus: North Kiteboarding 2021 Kites Product Overview
Features / Sun 27th Sep, 2020 @ 3:30 pm
Nothing teaches design like nature. Only when you feel the unpredictable force of the elements take you away can you understand how to design for the perfect ride. That's why the North design process starts and finishes on the water. This compulsive pull pours itself into our obsessive attention to detail on the designing boards and the development tables. Every day we are inspired – and humbled – by nature's engineering genius and her beautiful, intuitive simplicity.
To that, we add cutting-edge technology from the world's best design workrooms and decades of performance expertise. North Kiteboarding have once again released an impressive kite lineup including the Orbit, Carve, Reach and Pulse. Find out what's new for 2021, right here! It Calls.
Kites
The Orbit
Big Air / Freeride
King of the Big Air Kites
Committing to overpowered airs and megaloops in gusty conditions demands an unwavering trust in your kite. Our iconic premier 5-strut kite delivers incredible top-end control and allows you to hold down more power than any other kite per square metre. Big jumps. Big hang time. Big wind range. This kite was designed to rocket you upwind fast, with effortless steering, extreme boosting and hangtime guaranteed to take your breath away.
Tested by nature, proven on the podium. The Orbit has your back when the rules of gravity don't apply. For 2021 we've modified the bridle for a more playful feel and further improved the stability while maintaining the kite's high-end performance and kiteloop recovery. We've also strategically replaced the heavy dacron with lighter weight reinforcement material, so the kite feels even lighter and more responsive.
Phenomenal loft and hangtime
The Orbit has a wide, flattened 2-stage arc supported by a reinforced exoskeleton frame, ensuring glide that is guaranteed to take your breath away. The Orbit makes the most use of its projected area, so it has the best hangtime and power delivery for its size.
Predictable in the unpredictable
A high-performance Big Air kite that is stable and consistent in a wide range of conditions, especially in the high end. The Orbit's ability to fly forward and catch you in kiteloops allows you to ride the kite overpowered without it getting away from you. But at the same time, it's like a racehorse – it wants to go.
Anti-gravity boosts and megaloops
Send it to extreme heights. With its dependable catch and kiteloop recovery, the Orbit always has your back.
For more details on North Kiteboarding's 2021 Orbit, please click here.
Carve
Surf / Strapless Freestyle
Instant Drift with a Flick of the Wrist
Powerful, reactive and controllable, the Carve provides instant drift with the flick of your wrist, allowing you to power on and off instantly, stay in the pocket for longer and out of the critical impact zone. Featuring a sensory pivot turn for control, and huge depower range, the Carve gives you the confidence to focus on surfing, in onshore to offshore, and anything in between, while strong surf-freestyle characteristics let you throw down strapless freestyle and perform lofty jumps with ease.
Compared to the rest of our North range, the Carve sits further back in the wind window and enhances down the line drift, perfect for carving and tucking into a barrel. 3 x Kitesurf World Champion Jalou Langeree's kite of choice.
A two-stage arc with direct pivot steering
The Carve's responsive two-stage arc design enables tighter turns without excessive amounts of power. As the arc shape becomes narrower, the kite uses less of its projected area, giving it a smaller turning radius for tighter turns, and less pull or power in turns.
NEW evolved drift
New bridling ensures you're able to maintain the drift when you're sheeted in, the kite is responsive and goes down the line. But when it's offshore, or you're riding overpowered, there's now a lot more reaction from the kite when you sheet out.
NEW, improved top-end performance
Changes to the bridle have improved the top end wind range of the kite. We've traded a little from the bottom end for a considerable amount more top end depower so that you can experience bigger jumps with better hang time in stronger conditions.
For more details on North Kiteboarding's 2021 Carve, please click here.
The Reach
Performance Freeride
Your Desert Island Kite
Travel with less gear, ready for any adventure. The Reach is a lively and playful all-rounder for big jumps, upwind performance and effortless relaunch, with unparalleled versatility and wind range – making it your go-to kite in all conditions. It is naturally playful and easy to ride, with high-performance attributes to guarantee you'll never grow out of it.
Evolved from a calculated fusion of the Orbit, Pulse and Carve, the Reach Performance Freeride is designed to excel at everything, from wave-riding to boosts, loops and freestyle tricks, and is the perfect match for our Sonar Foils. The fuller profile generates power and efficiency, while its lighter weight 3-strut construction delivers quick, responsive steering in even the lightest wind. In the three larger sizes, the Reach is a powerful lightwind kite, designed with a predictable, consistent drive forward for Twintip riding long after everyone else has gone in.
Boosts and loops with a smooth, reliable catch
The Reach has superb loft and hangtime with a compact steering radius, thanks to its medium aspect ratio design with wider wing-tip and well-balanced bridle. During a loop, many kites will pause before they climb back up, but the Reach has a smooth, consistent catch and doesn't hesitate to come back around.
Incredible stability for foil and lightwind
Boasting predictable, consistent power delivery in every condition, the Reach has exceptional performance at the low-end – especially at slower speeds in lighter wind. It's moderate leading edge diameter provides additional buoyancy, helping the kite to release quickly from the water in even the lightest conditions.
Well-balanced tactile surf handling
Quick responsive steering and neutral static balance help you fire up your performance in the surf, without any surprises. The Reach drifts well and doesn't fall over, front-stall or back-stall – making it your go-to kite for foiling and wave-riding.
Massive wind range and upwind drive.
A powerful draft-forward profile, in combination with optimised profile transition panels, gives the Reach a very smooth and efficient profile entry and upwind drive.
For more details on North Kiteboarding's 2021 Reach, please click here.
The Pulse
Freestyle / Wakestyle
Feel the Beat
Our premier bridled hybrid-C kite will set your heart pumping. Specifically designed for powerful turns and fast, responsive steering, the Pulse is the ultimate in performance freestyle, that will also boost and loop with ease. The bridled Hybrid-C design with enhanced impulse slack for handle passes and unhooking makes landing even the most technical tricks instinctive. Made to excel in strong winds, and overcome whatever Mother Nature can throw at you. Direct and responsive, this kite does precisely what you tell it to.
Fast, responsive steering with FlexPulse structure
The moderate-high aspect ratio upright design ensures twist from the steering lines runs deeper into the canopy for a more powered turn.
Bridled Hybrid-C design
The ultimate unhooked performer with balanced line slack for handle passes and unhooking.
Dynamic edge response
The Pulse flies forward quickly when checking a rail edge, for unmatched freestyle progression. The dynamic edge response is achieved by a combination of a higher aspect ratio, smaller leading edge diameter and faster flying aerodynamic profiles.
For more details on North Kiteboarding's 2021 Pulse, please click here.
Control Systems
Navigator Control System
Think less, feel more
Release and reload faster with the intuitive single-action reload Connect Quick Release, and switch effortlessly between disciplines with the Toolless Interloop, our no-tools required modular harness loop replacement system. The Navigator Control System connects you intuitively to your kite, using premium leading technology Dyneema lines for precise performance. For 2021 we've widened the range with a new smaller bar size, and we've refined the ergonomic design even further for greater durability, increased tactile control and comfort. Sensing your kite's position just became second nature.
Premium 100% Dyneema SK99 flying lines
Strong, thinner profile, pre-stretched flying lines mean less parasitic drag and uncompromised direct performance.
Adjustable bar length options with NEW smaller bar size
Fine-tune the turning speed of your kite. The Navigator is available in three sizes 50-55cm (L), 45-50cm (M) and NEW bar size 38-43cm (S) – suited particularly to small freeride kites and freestylers.
NEW omnidirectional grip with offset finger bar
Feel more connected. The Navigator is designed with a comfortable ergonomic grip for a natural grasp and the tactile offset finger bar is slightly oval, so you can feel when the control bar is orientated correctly. The colour-coded grip, leader tubing and line retainer pull tabs give a nod to our sailing heritage, port (red) and starboard (green).
Connect Quick Release with intuitive single-action reload
Fast, safe releases in a wide range of conditions. Our patented Connect Quick Release (QR) raises the bar in kite control system safety.
For more details on North Kiteboarding's 2021 Navigator Control System, please click here.
To view all North Kiteboarding's 2021 line up, please click here.
Sun 27th Sep, 2020 @ 3:30 pm
Jen Tyler grew up in the chaos of Cairo, Egypt. It was on the beaches of the Red Sea where her love for the ocean, water sports and adventure grew.
Featured in this Post
Comments