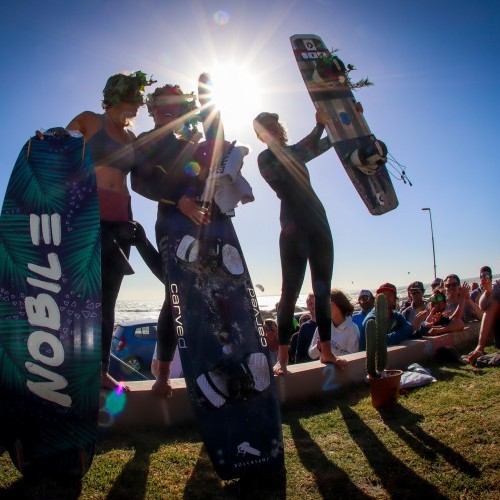 A Queen Is Born And History Is Made In Cape Town!
Features / Thu 24th Jan, 2019 @ 8:00 pm
Sometimes history happens, sometimes you have to go out there and make history happen yourself. That's what went down today in front of the Mystic House in Cape Town. With the Red Bull King Of The Air Event just around the corner and no chance of any girls entering, (despite some impressive entry videos this year), the girls took matters into their own hands.
Kiteboarding is an incredible community, and if you want to make something happen, it's often not too hard to move mountains and mobilise a fleet of willing volunteers. That's exactly what the girls did today, with Angelly Bouillot the driving force behind the need for this to happen, after all, it was her KOTA entry video that blew everyone's minds last year.
Teaming up with Tereza Simonova, Aniek Duyverman and Jasmin Wukitsevits, Angelly and her crew conceptualised the idea behind Queen Is Born. A big air comp for the girls to really show what they can do when the wind is pumping. Helped out by a huge team of volunteers to run the beach, organise the heats, shout out on the mic and do the judging the set up was in place for a great day of competition.
With the forecast looking as good as it has been in a loooong time in Cape Town it seemed that even the gods were smiling on the fairer sex. In my eyes it does seem a little ridiculous that they can't have their own event alongside the KOTA, after all there always used to be a Queen Of The Air in the old days, Susi Mai taking the last crown at Hookipa Beach Park in Maui way back in 2005! Come on, its 2019 for crying out loud, we need to go forwards not backwards!
For whatever reason, when the girls don't get invited, it certainly didn't put them off. As I said earlier, this was history in the making, and I'd be surprised if we don't see this event grow year on year. The girls have long been shredding, and it's outlets like this that encourages the sport forwards and pushes them to further the limits of the kitesurfing.
What we witnessed was a pure display of that. As the crowds gathered the competition got underway just after 2pm with a solid 30knot breeze that was forecast to increase as the afternoon wore on. For those that made the effort to come out and watch they were richly rewarded.
With eight girls entered and a huge swell running with double overhead sets, the playground was theirs for the taking. Riders putting it all on the line included Su Kay and Jenna Venter from South Africa, Nora Klement from Germany, Kate Barclay, Rose Bungener from the UK, Gabby Pioraite from Lithuania, Pippa van Iersel from the Netherlands and Angelly Bouillot from France.
You couldn't ask for a more international who's who of big air if you tried, and the talent was clearly on display. Angelly stamped her authority on the event early on, but massive loops from Rose Bungener and Pippa van Iersal meant she wouldn't get the run of the comp.
A crash in the first heat left her watching while Pippa racked up the points, meaning the bookies favourite would have to battle her way through the second round while Pippa advanced to round three. Gabby was next up taking on Rose and kudos to Rose, she sent a huge loop out the back only to seemingly freeze up on landing coming in sideways at warp speed and catching the biggest toe edge I have ever seen.
The resulting full double cartwheel looks hideous from the beach, and I honestly thought she might have seriously injured herself. It might just have been the worst crash I have seen in a while. Thankfully Rose was back up and riding in a second or two and unbelievably was totally fine from her crash.
Su Kay then took out Kate in the next heat with convincing style as she racked up some stylish jumps while Kate struggled with a crash and ended up out of the comp zone. In the final heat of the first round, Nora beat Jenna in a close run affair.
In the next few heats, Angelly looked like a woman on a mission as she threw down some frankly insane kite loops with the massive crowd on the beach and at the Mystic House going wild. Pippa and Gabby also looked strong, and Su Kay put up a good fight against Angelly in the final heat of Round Three. With the final all set Angelly, Pippa and Gabby would go head to head for the bragging rights.
I'd been looking forward to this moment all afternoon, and it didn't disappoint. All the girls were on fire and Pippa, and Gabby stepped up their riding in an effort to take out Angelly. Huge kite loops, frankly ridiculous jumps and loads of big moves went down in a final that won't be forgotten for a while.
Angelly even busted out the one footed kite loop, how she didn't break an ankle on landing I don't know. Gabby boosted one the biggest jumps of the event and floated for ages. If she had a WOO on I'd wager she'd take the big air title for today if not the year so far for the ladies. Pippa was throwing some sick back loop kite loops, and in the end, it was down to the judges to decide.
Steven Akkersdijk, Antonin Rangin, Aurélien Pétreau and Joshua Emmanuel had done an incredible job all afternoon calling all the right shots, but this one was close to call. Obviously, Angelly had taken the win, but the race for second place was a close one. In the end, Pippa took second with her huge loops, and Gabby took the final spot on the podium.
What an event, what an afternoon, history was made, hats off to everyone who pulled it off and let's see girls kiteboarding where it should be, front and centre. This was arguably some of the most impressive big wind riding we've seen, and it should be shared far and wide as an inspiration to others. Angelly licked the stamp, wrote "to the moon" for an address and sent it today, as did all the girls in the event, it was incredible to watch, and everyone pushed the limits out there!
Thanks to all the people who made it happen and everyone who donated prizes and volunteered their time.
All Words and Photos: Rou Chater
Here's one Angelly made earlier, easily the most impressive female big air rider out there!
Win a Ride Engine Technical Changing Robe this issue in our FREE subscriber prize draw.
Rou has been kiting since the sports inception and has been working as an editor and tester for magazines since 2004. He started IKSURFMAG with his brother in 2006 and has tested hundreds of different kites and travelled all over the world to kitesurf. He's a walking encyclopedia of all things kite and is just as passionate about the sport today as he was when he first started!
Featured in this Post
Comments