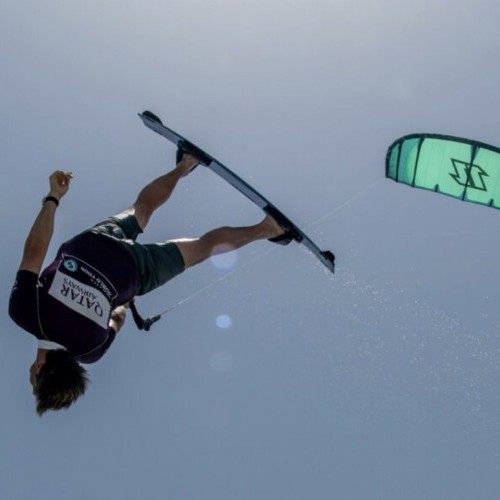 BIG NEWS! Qatar Airways Announced as Title Sponsor of the GKA Kite World Tour
Tue 31st May, 2022 @ 3:45 pm
IT'S OFFICIAL! Qatar Airways and GKA Kite World Tour just announced a long-term partnership that will make them the official airline partner of the World Tour through 2024.
Qatar Airways is expanding its sports sponsorship portfolio by becoming the Title Partner and Official Airline of the GKA Kite World Tour for a three-year period in order to bring communities together through sport. In celebrating one of the fastest growing and most exciting new sports, the partnership combines the skies and seas. Among Qatar Airways' global destinations, the GKA Kite World Tour visits Brazil, Germany, the Maldives, Morocco, and Spain.
For more information on the Qatar Airways GKA World Tour schedule, please click here!
World-Class Beach Resort to Open Soon in Doha!
As part of this new and exciting partnership, a new world-class kite beach resort is scheduled to open in Fuwairit in the near future. Located in northeastern Qatar, the natural gem is a well-known and ideal beach getaway.
"It's an incredible kite spot, with clean wind and an amazing sandbar delivering perfect flat water at high tide. As the tide goes out there are lagoons upwind and even some mangroves to kite through. The plans for the resort are immense and it will definitely put Qatar firmly on the kitesurfing map. The support from Qatar Airways and Visit Qatar will bring much needed funding to the GKA to really put kitesurfing competition where it should be on the world stage.'" – Rou Chater says.
2022 – New Beginnings
Qatar Airways will visit Tarifa, Spain, this June for the Qatar Airways Big Air World Championships to kick off the new partnership. The 16-day event is the first of its kind in kitesports – and will include the Qatar Airways GKA Awards ceremony and the Visit Qatar Kite Expo.
The GKA's mission is to make kitesurfing and other kite sports accessible to everyone while bringing world-class competition to every corner of the globe. It includes organizing world championship events in freestyle, kitesurf, hydrofoil freestyle, and big air. The number of active kiters worldwide is currently three million, and it is growing rapidly as more and more people discover the thrill of kiting!
Head over to the GKA website for the full press release!
About Qatar Tourism

Qatar Tourism is the official government body responsible for the development and promotion of tourism in Qatar, facilitating the sector's exponential growth. Qatar is a destination where people of the world come together to experience unique offerings in arts, culture, sports, and adventure, catering to family and business visitors, rooted in Service Excellence. Qatar Tourism seeks to boost the entire tourism value chain, grow local and international visitor demand, attract inward investment, and drive a multiplier effect across the domestic economy. The Qatar Tourism Strategy 2030 sets an ambitious target to attract over six million international visitors a year by 2030, making Qatar the fastest growing destination in the Middle East.
Featured in this Post
Comments