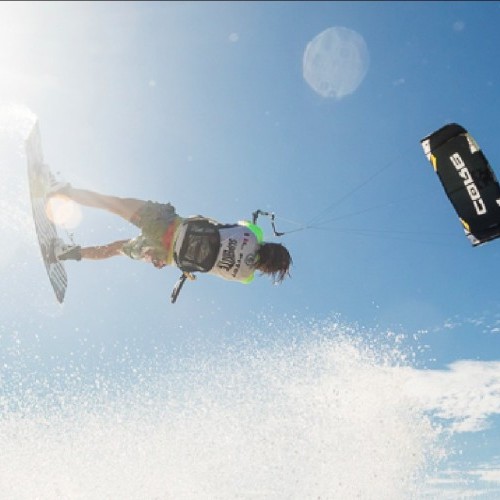 GKA Freestyle – Superkite – Cumbuco – Day 1
Wed 20th Nov, 2019 @ 1:15 pm
The final event of the GKA Freestyle season is underway, and the chase for the men's championship is on!
Win a Custom Designed Ozone Twin Tip this issue in our FREE subscriber prize draw.
32 men and 11 women registered yesterday (Tuesday) for the final event of the GKA Freestyle season, the Superkite Cumbuco. Although the men's title race has come down to a duel between just two riders – last year's vice world champion Adeuri Corniel from the Dominican Republic, and 17-year-old Columbian Valentin Rodriguez, who is only making his full tour debut this year – there are still a lot of riders who are hungry to win this closing event in the home of new school freestyle.
Should Valentin or Adeuri slip up early, not only would they destroy their chances at the championship, but they could also open up the second and third podium positions. After an excellent start to the season, Maxime Chabloz wants to make amends for two disappointing events in Mauritius and Morocco to finish on a high, while Liam Whaley has found a renewed motivation at the cutting edge of this fleet.
Mikaili Sol has already sewn up her third world title in the women's. Fresh from her maiden victory at the strapless freestyle GKA Kite-Surf World Cup at Prea last week, she'll be super keen to earn back-to-back victories on home soil.
You can catch up on the runners, riders and their mathematical routes to the championship podiums here on the website.
Top tour regulars, Pitot, Chabloz, Rodriguez, Coccoluto and Whaley all came through in style by winning their heats, propelling themselves directly to round three. Second and third-place finishers have more work to do in round two today, while the fourth-placed riders in each round one heat have been ejected from the competition.
Valentin Rodriguez already looks to be in fine fettle, earning the highest trick score of the day (8.77 for his KGB7) and the highest heat score of 33.07.
However, Cumbuco beach and Cauipe Lagoon are notorious for the incredible high skills of the local riders, and a hungry pack of them have entered this competition.
Heat one saw 11-year-old Davi Ribeiro progress to round two, slotting some nice tricks, including a backside 313, raley-to-wrapped and heart attack frontside 3 (though from what we've seen from him on social media – his best is yet to come!).
Impressing elsewhere was Manoel Soares who won heat three against more experienced competitors, Alex Neto and Juan Rodriguez.
Runner-up against Valentin Rodriguez in heat four was Erisverton Ribeiro who, for this reporter, was the most stylish new rider on display yesterday. Look out for him popping up again in round two – typically for a Brazilian up and comer he's riding a mash of gear that he's managed to collect, including an RRD kite rigged up on an Airush bar and shredding on another brand's board. Considering the lighter conditions, he was still going impressively large, especially for his KGB on trick five.
Erick Anderson is a more established World Cup rider and won the Best Trick competition in Morocco this year. He finished less than a point behind Coccoluto in heat five yesterday and will be one rider that the championship contenders will be keeping a close eye on.
Finally, in heat six the winds became marginal and, while Liam Whaley showed his experience and ability to force out better tricks whatever the conditions, Gabriel Galindo came through strongly in second having had his nose in front halfway through the heat.
The competition will begin today by re-starting with:
Round one, heat seven:
Matteo Dorotini (ITA) / Mateus Mendez (BRA) / Robby James (THA) / Arron Rosslee (RSA)
And then the last heat of round one sees the tour leader finally get involved:
Heat eight:
Guilherme Costa (BRA) / Rafael Monteiro (BRA) / Cohan van Dijk (NED) / Adeuri Corniel (DR)
So that brings you up to speed. The livestream action is set for a first possible start at 9 am local time today (GMT-3).
Wednesday 20th November 2019
Location: Cumbuco, Brazil
Words: Jim Gaunt
Photos: Svetlana Romantsova
Video: Laci Kobulsky
Featured in this Post
Comments