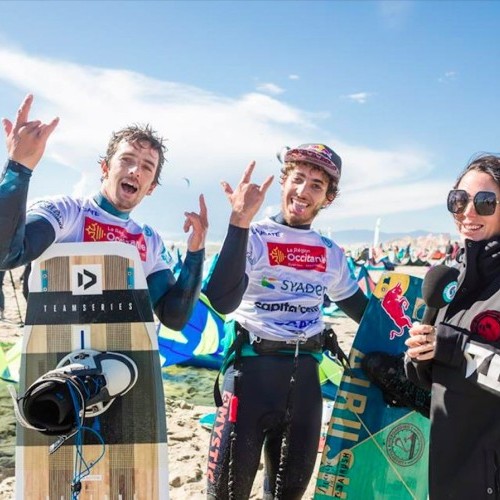 GKA Freestyle World Cup Leucate 2019 – Day 5
Wed 24th Apr, 2019 @ 11:29 pm
Eleven hours later – we're set to see the men's semifinals and women's finals in GKA Freestyle World Cup Leucate explode on the last event day on Thursday 25th April!
Men's Semi Final 1
Maxime Chabloz (SWI)
Alex Pastor (SPN)
Valentin Rodriguez (COL)
Anthar Racca (MEX)
Men's Semi Final 2
Set Teixeira (BRA)
Gianmaria Coccoluto (ITA)
Liam Whaley (SPN)
Carlos Mario (BRA)
Womens Final
Mikaili Sol (BRA)
Claudia Leon (SPN)
Pippa van Iersel (NED)
Francesca Bagnoli (ITA)
After an epic 11 hours of competition on Wednesday, all streamed live and available to playback, the GKA Freestyle World Cup's new format of riders having just one minute to perform each of their six trick attempts, helped the contest fly by.
The format works with each rider in the heat taking turns to do their tricks one at a time, and a big screen on the beach lets them know their score and what they need on their next attempt to move ahead of other riders.
It's an exciting format that focusses on highlighting rider skill with little room for error. A timer on the big screen on the beach also shows the minute countdown that each rider has for their tricks.
How did we end the men's last quarterfinal heat of the day? Speechless, that's how. Bebe got another score close to a ten! 9.73 for a heart attack 7 that would have exploded everyone else's knees.
"You just can't be that good!" screamed Lewis Crathern down the live stream! It seems he can!
In truth Carlos Mario hadn't had the best day, starting his first heat with close to, if not his lowest ever heat score. He also hadn't started his quarterfinal well at all. But the four-time World Champion suddenly clicked into gear at this first event of the season and notched two incredible high nine point scores, for the heart attack 7 and 9.6 for backside 317.
Past champions Liam Whaley and Alex Pastor are both through. Alex was particularly stoked to make the semis after a very slow start. Liam ended up cruising through his quarter-final, looking very good with a massive heat score of 28.23. Maxime Chabloz joined him in second in that heat with 26.6. Two huge 317s from both riders were their biggest scores: 8.13 for Chabloz and 8.63 for Liam. Bosh.
Anthar Racca finished with a really impressive quarterfinal tally of 26.86. The heat before fellow teen sensation, Valentin Rodriguez, got just a little more, with 26.87! Tight from the young guns and they are both looking capable to push for the win on Thursday.
Carlos Mario eventually blew all away in terms of heat scores with his 32.43 quarterfinal score. Freak show in France! But it should be noted, that by that time, Carlos had switched to a 12-metre kite and was perfectly powered. The wind had been gusting over 30 knots before that.
Valentin Rodriguez is a name to remember – the 16-year-old Colombian rode to such a consistently high standard all day, and landed the only 319. A trick you can usually only expect to see in perfectly flat water!
Women
The women's final is going to be tight based on what we saw on Wednesday. Firstly, Mikaili Sol faultered for the first time we've seen in her competition career and scraped through her semi-final. She needed to land her last trick to qualify for the final after a tumultuous heat that for most of it she spent trading bottom position with Bruna Kajiya, who was ejected from the competition in that heat when Bagnoli and Sol went through! Unheard of.
Pippa van Iersal and Francesca Bagnoli were the peak female performers of the day, both reaching over 20 points with seeming ease and dealing with some hard landings in some super challenging conditions. The wind often seemed to pick up and go beyond 30 knots whenever the women's heats took to the water! These two stepped up beyond any other female rider.
There were so many good performances packed into the day, and you can find the story of EVERY heat broken down here on the website.
See you for the finals!
Words: Jim Gaunt
Featured in this Post
Comments