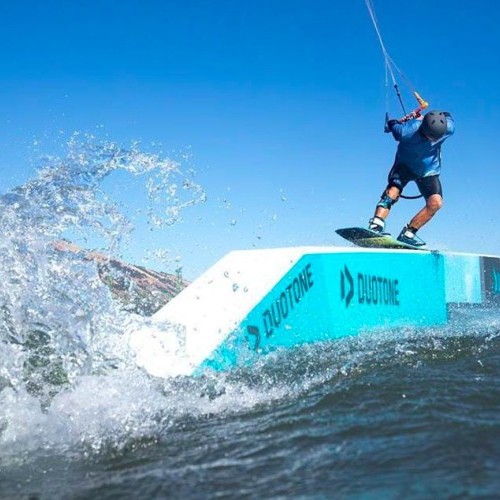 Patagonia Hood Jam – Day Five
Fri 27th Jul, 2018 @ 10:00 am
Day five provided amazing Hood River conditions, once again for kites sized 12-15m.
The wind held up all day, more than long enough to finish the men and women's finals and long enough for most to get a session in afterward. The Men ran through the entire slider park, whilst the Women only had to complete the inclined pipe and the Cabrinha funbox to corrugated pipe to add to the other feature scores from days previous.
The level in both men and women's fields was intense, very often with less than a point separating the top 4 riders on a feature in a round.
Some big tricks went down, Christophe Tack throwing one of the nicest Pete Rose 540s we've seen amongst Backmobe 540 (Brandon Sheid) Seatbelt Peterose (Ewan Jaspen) and a host of grabbed backside and frontside 720s. Contrary to previous opinion and past experiences, the rails were where this event was won and lost.
Everyone (women and men) were consistent across typically every feature bar one, it was the difference between those faults which was the deciding factor. Stay tuned for the results and check the live stream replays on the KPL Facebook account!
With Day five over and the main KPL discipline completed, tomorrow will be used for testing new formats and features, stay tuned for the media on the KPL Facebook account.
Don't miss anything!
Click here to Follow along with us all week on our Facebook page and following our Instagram channel @KiteParkLeague
Featured in this Post
Comments