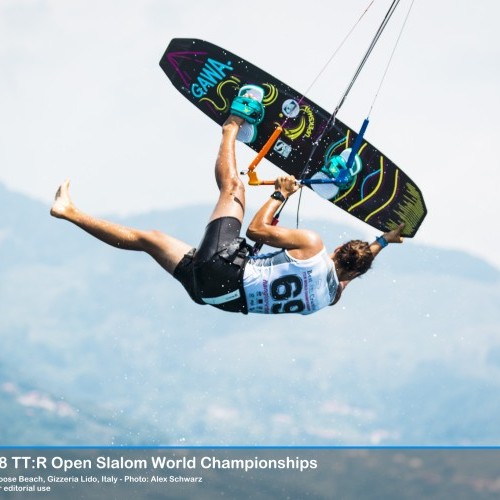 Racing Gets Tighter as Top Racers Find Their Groove at TT:R Worlds in Italy
Fri 27th Jul, 2018 @ 11:45 am
The gap between the leading kiteboard racers narrowed after an intense day at the thrilling TwinTip: Racing (TT: R) World Championships being fought out on southern Italy's warm Mediterranean waters.
The reigning world champions who had suffered mixed fortunes in the opening exchanges found better speed and consistency to propel them up the rankings on the second of the five scheduled days of racing off Gizzeria's Hang Loose Beach.
Germany's Florian Gruber, the defending two-times world champion, pushed passed the overnight leader, Frenchman Titouan Galea, with a measured performance and a confident victory in his day's sole elimination round decider.
In the women's TT: R Worlds division France's Poema Newland cemented her overnight lead with a solid outing in the light breezes that varied between 10kts and 14kts, despite rain and unseasonal thunderstorms that circled in the Calabrian hills overlooking the track. But reigning TT: R Youth World Champion, Nina Font Castells of Spain, bolstered her campaign when she climbed to the second spot in the standings with a victory in her day's only elimination round decider.
Font Castells' improved showing was partly the result of a mistake by the Dominican Republic's Lou Marin, who crossed the line first, but finished joint second after she incurred a penalty during the race.
Her fellow countryman, Adeuri Corniel, had no such problems in the TT: R Pump Kite Trophy being run in tandem with the "open" world championships to offer young athletes a chance for further practice before October's Youth Olympic Games (YOG) in Buenos Aires.
Corniel, the current TT: R Youth World title holder after his victory in China in early May, has been virtually untouchable, easily winning every one of his races on the opening two days of the regatta.
France's Benoit Gomez, also a YOG qualifier, again finds himself in second place in the standings, unable to match the pace of the talented Corniel, an accomplished and rising star in kiteboarding's freestyle discipline. "I was second yesterday, and I'm second again," said Gomez. "Corniel is just faster. Partly, I'm just a lot heavier at 95kgs, which is a bit of a problem in these lighter winds. Also, I've got a new Upeksha Gawa board that I've only used five times. It's faster but more complicated and I need to get it dialed in."
Like many others in the Pump Kite division, he is focused on honing his skills for YOG, where the riders will be restricted to four "tube" kites and a twin-tip board identical to those they are using in Italy.
In the women's division, the girls born between 2000 and 2003 who have qualified for YOG, chose to go for TT: R World title glory, but are also able to use it as practice as most racers are using "tube" kites.
"All the 'Olympic' girls decided, in the end, to enter the 'open' division to train for Buenos Aires," said Font Castells. "I can definitely feel everyone's getting better. It really keeps you motivated to improve. So it's great I'm up to second. On the first day, I was a bit underpowered for the conditions."
Men's TT: R Worlds leader Gruber, too, found himself a little short of power in the lighter conditions of the first day and was pleased to get his hopes at a hat-trick of titles back on track with a win on day two.
"I'm pleased to win the elimination round decider to go top," said Gruber. "But in the process, I broke my favorite 15m [foil] kite in a bit of a tangle on the beach. So I'll have to change it. Let's see what happens."
Top three men TT: R Worlds after two elimination rounds
Florian Gruber 4pts
Titouan Galea 4pts
Victor Bachichet 6pts
Top three women TT: R Worlds after two elimination rounds
Poema Newland 3.5pts
Nina Font Castells 7pts
Irene Tari 7pts
Top three men Pump Kite Trophy after two elimination rounds
Adeuri Corniel 2pts
Benoit Gomez 7pts
Lorenzo Calcano 7pts
Top three women Pump Kite Trophy after five races (two discards)
Anna Fedorova 3pts
Oliwia Hlobuczek 4pts
Maria Beatriz Dos Santos Silva 9pts
Featured in this Post
Comments