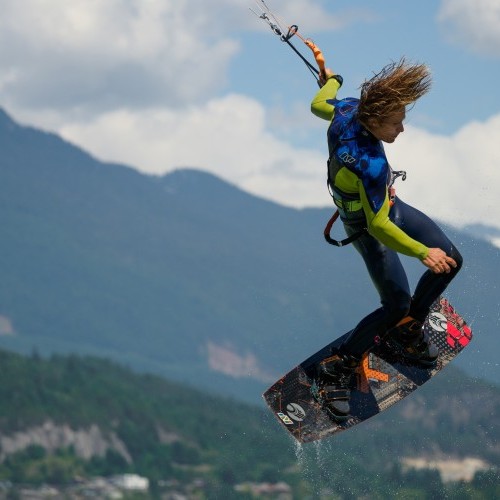 Squamish KiteClash Day Two Results
Sun 2nd Jul, 2017 @ 9:00 am
The second day at the 2017 KiteClash welcomed the international contingent of competitors to the water. The International Open freestyle competition displayed impressive riding from some of the world's top freestyle riders. In the end, Lucas Arsenault won for the men and Annelous Lammerts came out on top for the ladies. KiteClash provides a play-by-play recount of the day, below.
Day 2 of KiteClash saw winds of 30 knots greet the kiters who took to the water in the International Open Men's and Women's Freestyle. The action at the Squamish Spit, in B.C. Canada, was heated as some of the best kiteboarders in North America and Europe battled it out.
The women's final saw U.S.'s Colleen Carroll, Australia's Katie Potter, Dutch pro Annelous Lammerts and Canada's Lauren Holman go head-to-head. The competition was tight. Lammerts had a strong, consistent heat, landing the majority of her tricks.
"Annelous was able to land a wide variety of tricks in very challenging conditions," judge Geoffery Waterson said.
Carroll dropped her kite for a good chunk of the competition. But she came back strong, proving to the crowd how she became known around the world. She was able to make up some ground, landing her a silver medal. Potter ended up with a few more technical tricks in her bag than Holman, earning her third place on the podium.
The Men's final had a strong showing of Canadians, with Lucas Arsenault, Daniel Koenig and Jack Rieder vying for gold. Australian No. 1 ranked kiteboarder Ewan Jaspan filled out the heat. In the end, Arsenault managed to squeak ahead of the competition. Jaspan a fraction away from the top spot, Waterson noted. It came down to the number of tricks landed.
"Lucas rode a very consistent heat. He continuously landed tricks and the gusty wind and choppy waters," he said. Koenig snagged the final spot on the podium, with a solid session.
KiteClash organizer Steve Tulk said the day couldn't have gone better. While there was mega action on the water, British pro rider Lewis Crathern kept the crowds pumped explaining the events and later giving an on-water demonstration. "The day rocked. The championships showcased some of the best kiteboarding has to offer."
Featured in this Post
Comments