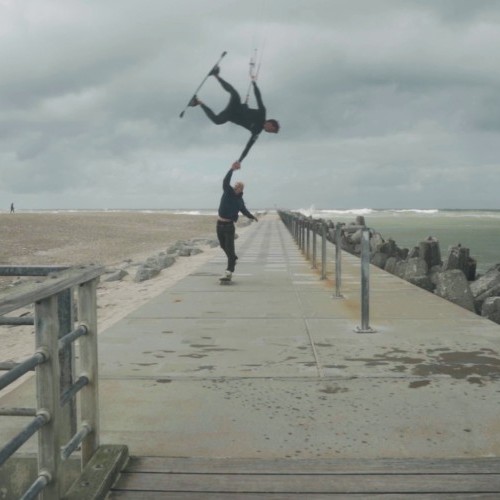 Cold Hawaii Big Air – Launches in 30 – 40 Knots
Sat 12th Sep, 2020 @ 11:30 pm
Nick Jacobsen welcomes the worlds best kitesurfers to Denmark and the first Big Air-event ever in the country of fairytales.
The wind is blowing heavily across Vorupør – a small fishing village in Cold Hawaii. On the beach, there are traditional fishing boats which are pulled in the North Sea every morning. This Sunday, the ocean will be packed with kites in all colours at the Cold Hawaii Big Air. The conditions will be a heavy south-west wind with a wind speed between 25-35 knots and even higher gusts, and this much more than Nick Jacobsen dreamt of when he heard about the plans for several months ago.
Today, we tested the conditions. They seem to be pretty good. Tomorrow, we can expect better conditions and massive jumps. I've been surfing this spot many times, and it can be tricky. The difficult part is the wind which is inconsistent and can be pretty gusty. Usually, I would drive five hours across the country, kite for one hour and drive to back to ride in conditions like this, Nick Jacobsen says.
Eighteen riders are battling to be qualified to the King of the Air final in South Africa next year- including the five top favourites, Tom Bridges, Steven Akkersdijk, Kevin Langeree, Lasse Walker and the homeboy Nick Jacobsen.
The first possible start is 08.30 am, and the organisers are aiming for a final between 2 and 4 pm.
Stay tuned. Click here.
Featured in this Post
Comments