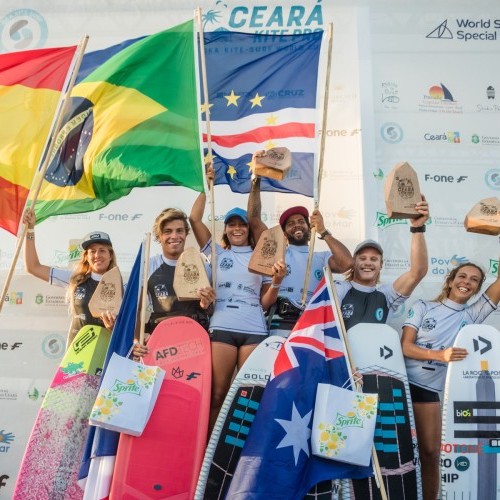 GKA Prea 2019 – Kite-Surf – Double Elimination Result
Fri 15th Nov, 2019 @ 11:45 pm
Airton Cozzolino and Mikaili Sol have brought home the advantage of their single-elimination wins earlier this week to take the Ceara Kite Pro event crown, winning today's double-elimination!
13-year-old Capuccine Delannoy was the fight-back star of the women's double elimination, coming through four back-to-back heats before being beaten by the already-World Champion Carla Herrera-Oria in the quarter final.
Carla managed to despatch the young French rider before moving on to beat Brazilian beach favourite Marcela Witt and then got her much anticipated re-match against Mikaili Sol – the current Freestyle World Champion who only started training strapless freestyle two weeks ago.
Mikaili won the single-elimination yesterday, so had to be beaten twice. The final was a good fight, but Mikaili just proved what a fantastic kite athlete she is and once again moved beyond 30 points and astoundingly almost landed a front roll shuvit right at the end, which is just incredible
The final score was 33.1 to 27.57 (Read the heat notes here.)
On stage, Carla thanked Mikaili for deciding to compete and help the girls push their level. "I hope to see you at more events!" she said, reflecting the unity on tour right now.
Mikaili: "I have no words, I was training so hard the last two weeks, but I really can't believe I've won. I'm so thankful."
Next week Mikaili will compete in Cumbuco at the final event of the GKA Freestyle season (her specialist area) where she will also be crowned World Champion for the third time.
Check out the livestream below!
Win a Custom Designed Ozone Twin Tip this issue in our FREE subscriber prize draw.
Livestream times to scroll to:
Women's final starts at 02.30.57
Men's final begins at 02.51.30
Men
What an exciting day that climaxed in a repeat of last year, with Airton Cozzolino and local boy Camille Delannoy going head to head twice in a super final!
Pedro Matos was the early star of the show, forcing his way through four back to back double-elimination heats. He eventually lost to Mitu Monteiro who was then defeated by Camille in a titanic battle between the F-ONE teammates.
Australian James Carew didn't click it all together in his usual stratospheric way in the semi-final, while Camille slammed home another massive heat win to go on to meet single elimination winner Airton, who was already waiting in the final.
In the first final Camille just took it 38.9 to 38.12 after Airton staged a thrilling last two-minute fight back. That forced a super final, and a different Airton came out for that one. You've got to be an alien to beat the alien twice on the same day, but Camille has now beaten Airton twice in a year, and is one of just two riders ever to have beaten him in strapless freestyle (the other being Matchu Lopes), so that makes him just a bit special, too!
The final super final score was 40.57 to 39! (Read the heat notes here)
Airton: "Feels great to win one more time. Brazil is one of my favourite places in the world for strapless. I kited every day for the last ten days and planned to take a rest, but no chance because it's windy every day! Thanks, everyone and I'm just super stoked to win again."
Prea has proved itself once again as a phenomenal spot for world-class strapless freestyle and this year staged the final round of the GKA Kite World Tour's Kite-Surf discipline.
Click here to visit the event live page for heat ladders, live ticker heat notes and more!
Featured in this Post
Comments