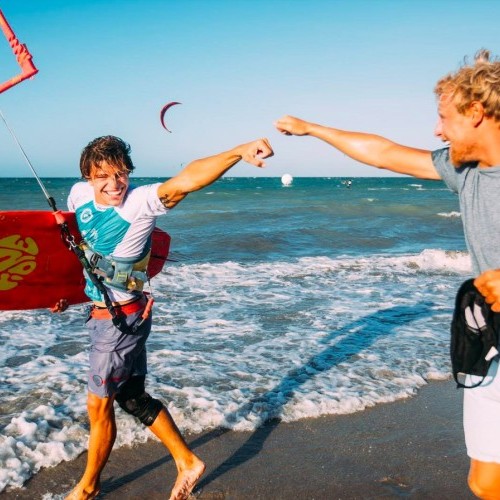 GKA Brazil: Camille Silences Cozzolino and Jalou's back on top!
Fri 23rd Nov, 2018 @ 1:00 pm
First up yesterday was the women's single elimination. Eight women competed over three rounds for the fourth time this season before 2x World Champion Jalou Langeree found herself back on top of the podium, this time at The Ceara Kite Pro in Prea.
Among the eight women, we saw two newcomers impress the beach and no doubt all live stream viewers with their confident approach and steady trick accumulation.
Sabine Beukeleers has 15 years kiteboarding experience and many trips to Brazil under her belt but is new to competition.
Bringing some innovative new spins and board-offs with a fluid style, she cruised her way through to meet Jalou in Wednesday's women's single elimination final. Jalou managed to hold firm but any slip up on her part would have left the door open. Tense times for Jalou but with a front roll, no grab backroll, toe-side air reverse, air reverse one footer and a big tweaked air, she got the business done in her quest to regain top spot on the tour. Prior to that current leader Carla Herrera-Oria was ejected in round one by Sabine!
Another emphatic debut came from Marcela Witt, already a star herself here in Brazil with her own kitesurfing lifestyle and surfing TV show on the biggest sports network, Canal-Off. Cousin of men's competitor Pedro Matos and a third generation kiter in her family had followed on from her grandfather and father, she switched her focus from wave to strapless freestyle just a month ago and spent the last weeks here in Prea training hard, which paid off. She showed some of the most fluid front and back rolls in the women's event alongside as a varied mix of air reverses. Look out for her again in the doubles which should also resume today.
Women's Single Elimination Results:
1 Jalou Langeree (NED)
2 Sabine Beukeleers (BEL)
3 Marcela Witt (BRA)
4 Charlotte Carpentier (FRA)
Win a Commander Twin Tip by Eleveight, CORE's all-new Link harness, or an ultra-light board bag from Prolimit this issue in our FREE subscriber prize draw.
Men's Single Elimination Finals
The men hit the water right after the women's finals and we dropped right back into peak performance with the mini-final between Mitu Monteiro and Australian James Carew. Pound for pound this was a big heat, pitching the brutal kite loop power of James against the mechanical combination accuracy of Mitu.
In the end, James continued his run of podium positions claiming the third spot and pushing Mitu into fourth. Once again the young Australian nailed an impressive example of his monster big backroll with a shovit (board spin with his feet) at the apex of his trick, before dropping into a rodeo on the way down and nailing a solid landing. Adding to his score was a fast front roll shuvit.
Mitu rode well but perhaps lacked the overall height and amplitude of James who is on an almost unstoppable competition high at the moment.
Win a Commander Twin Tip by Eleveight, CORE's all-new Link harness, or an ultra-light board bag from Prolimit this issue in our FREE subscriber prize draw.
The final between Camille and Airton was the one we'd all been waiting for. French 19-year-old Camille Delannoy has lived right here in Prea with his family for the last seven years, and boy does it show. He hadn't put a foot wrong in each of his four single elimination heats and managed to hit the water with his fuse still lit from Wednesday's heats.
Airton started the final with two big crashes, (later revealing that he had to make a kite switch mid-heat because of a deflating centre strut). Totally out of character he looked shaken and immediately craned his neck round to see Camille landing the first of his huge double front roll combinations. Once again Camille blended height and amplitude with immense power and yet his landings were somehow rarely in doubt.
It was a slight change in format to help aid the order of flow for the live stream that may have hindered Airton. For the last three years, we've marvelled at how Airton is able to stack tricks across six different scoring categories within the same tack, back to back. He can move beyond catching distance inside a minute.
Did he feel restrained by the fact that there was a gentleman's agreement that riders would do just one trick per tack in the quest towards quality over quantity overall? Maybe, but whenever he looked around at Camille the young French powerhouse was stomping huge manoeuvres with a clinical rhythm, followed immediately by a roar of approval from his family and friends on the beach.
Airton's not used to being beaten, it's only happened three times in a pure freestyle heat in three years, but it sets up the prospect of the reigning champion entering the late stages of today's double elimination with revenge on his mind.
Busy at work on Fridays? Probably best to just take the afternoon off and watch the live stream. It's gonna go off!
Men's Single Elimination Results:
1 Camille Delannoy (FRA)
2 Airton Cozzolino (ITA)
3 James Carew (AUS)
4 Mitu Monteiro (CV)
We closed Thursday out on heat 41b after 17 heats of the double elimination in the afternoon. The pick of the Brazilian wildcards who's still in the competition is Leonardo Da Souza thanks to a very natural surfstyle. Canadian Reece Myerscough continues to pull out heat winning front roll shovits. Wherever his journey may end at this event, Brazil will be a season's best for him. Of course, lying in wait is a steady stream of big guns in this one heat wonder knockout phase.
Friday's skippers' meeting is at 10:00 AM (GMT-3) and a first possible start at 10:30 (GMT-3).
If you're a fan of big winds and big airs tune in for the LIVE STREAM!
Report: Jim Gaunt

Photos: Ydwer van der Heide
Videos: Mintautas Grigas
Featured in this Post
Comments