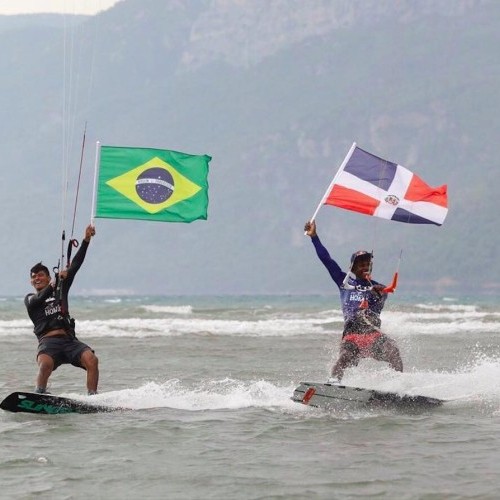 World Kiteboarding Championships, Akyaka – Day Four
Sat 8th Sep, 2018 @ 5:30 pm
The competition commenced at 2 pm in Akyaka, Turkey today, with the Small Final, the Women's Final and the Men's Final all completed in perfect wind conditions.
Men's Small final was first in sequence, and Youri Zoon, former World Champion from the Netherlands was on fine form from the first moment. He pulled out some solid tricks including a good BS317 and KGB5 and finished with an amazing Slim 7 which scored him 9 points. The Dutch rider was happy with his performance, which placed him in 5th place for this first event of the year.
Set Teixeira from Brazil was close behind him landing some great tricks including a nice KGB5 scoring 7.83. He fought hard but finished just behind Zoon in 6th place.
Stefan Spiessberger from Austria takes 7th place, landing several good, technical tricks, and Alex Pastor from Spain takes the 8th position, riding well but crashing three of his trick attempts. The level of the riding was high throughout this heat, and all athletes performed with power and skill.
The Women's final was next in sequence, and the young Mikaili Sol wasted no time at all, opening with a Heart Attack that scored her 8.7 points, followed by a Slim5 scoring an astounding 9.5 points. But she didn't stop there, throwing out a KGB that gave her 9.83, there was no doubt that this young superstar was worthy of the win, claiming the 1st position here in Akyaka.
Paula Novotna from the Czech Republic is a powerful and strong athlete with more competition experience than her opponents. She clearly had her eye on a podium spot from the start, and she launched into each trick with speed and determination, finishing her heat with a 9.07 score for her Heart Attack, launching her into 2nd place.
Francesca Bagnoli from Italy came so close and locked down the last podium spot after stomping many impressive tricks including a good Hinterberger Mobe. She finishes this event in 3rd place.
Newcomer Claudia Leon held her ground extremely well during the final, despite crashing two trick attempts. She landed an impressive Slim chance and S-Bend to Blind, riding with great style. She finished the event in 4th place, a great result for her first WKC Elite Championship.
You can view all of the women's scores and heats here.
The competition in Akyaka concluded with the Men's finals, which saw all 4 finalists aged under 20 years old, put on an outstanding level of riding. The fans on the beach and watching the LIVE stream could hardly believe the progression that freestyle kiteboarding has seen since last year.
Carlos Mario, just 20 years of age and already 3x World Champion, went all in, scoring a perfect 10 for his first trick attempt, a Heart Attack 7. He followed it up with an outstanding KGB7, and a Double Hinterberger Mobe 7. It was an incredible performance from start to finish, despite suffering from some pain in his arm from a previous injury, and he once again claimed the freestyle throne here in Akyaka.
Adeuri Corniel from the Dominican Republic is just 18 years old and put on a big show as usual. His amazing Slim 9 on his 3rd trick attempt scored him 9.6 points. He followed up with a 319 and KGB7, each trick performed with immense power and speed. He takes second place for this event.
Maxime Chabloz is a new face in the finals, just 17 years of age from Switzerland. During this event, he has pushed himself harder and harder in each heat, and the final was certainly no exception. He pulled out an amazing BS317 and then sent the beach into a frenzy with his Back Mobe 7, that scored him 9.53 points. Chabloz was extremely happy to claim the 3d place on the podium for this event.
The youngest rider in the final was Valentin Rodriguez, just 16 years old, from Colombia. He remained calm and collected all through the heat, ready to give it his best, and performed an incredible Heart Attack 7 scoring 9.93 points. He has shown everyone that he is certainly a future contender from a podium spot. He finishes this event in 4th place.
All the athletes during today's finals have shown the incredible level of freestyle riding that keeps evolving each year. We look forward to seeing how all of these riders perform at our next event in Dakhla, Morocco.
All of today's action from the LIVE stream can be re-watched here.
Thanks to everyone for tuning in, and to the organizers and athletes for this incredible first stop of the WKC. View all results and ladders for the competition here.
Featured in this Post
Comments