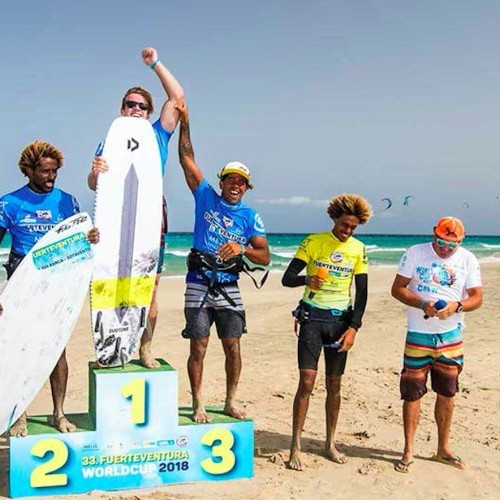 Here's What Nearly 20 Seconds of Hang-time Looks Like – GKA Fuerteventura
Wed 25th Jul, 2018 @ 5:30 pm
The Big Air competition is supposed to be the secondary discipline for the GKA Kite-Surf World Tour if there's time to run a show once the main event has been completed. Yesterday at Sotavento was anything but secondary to anything. The action was mental!
The competition turned into a game of catch the sky hook with some very unusual upper-level winds that saw Airton and Mitu not just getting an extra lift once or twice… Airton, in fact, registered one incredible slice of hang-time at almost 20 seconds by repeatedly heli-looping his kite overhead! He just kept going… and going!
When he eventually landed out of the competition zone all the riders, crew and crowd were on their feet, head in hands, speechless at what they'd just seen in this quarter-final.
Airton pulled himself up, looked back the beach (which was now a long way upwind of him) and we could see him waving back at the crowd wondering himself quite what had just happened?
His head was surely still spinning because that was the second crazy air he'd caught that hour. In his previous heat in the third round against Arsenio Dias, he'd had another similar experience, boosting high and then flying, up, up up and just hovering. Perhaps he was trying to find a way back to his home planet? He landed that jump at the end of an almost 15-second flight. The beach erupted; it was goosebumps all around.
Up in the tower, we were quickly refreshing our memories and Macs with the details of Jesse Richman's hangtime record of 22 seconds that he set way back in 2007, also with a freak gust that he managed to tap into and somehow harness control of in Germany.
But I've never seen anything like it. So that's two riders in 20 years of the sport, over a decade apart, who have experienced in the region of 20 seconds of hang-time… and Airton did it without straps. It was just silly.
Anyway, Airton didn't actually make the final!
Although he was landing sick tricks like his now signature huge back roll double tick-tack, Mitu Monteiro himself managed to hook into a wild series of lifts out back and navigated a long and undulating helicopter ride, knocking Airton out at his own game!
Of course, you might be able to hook one, but can you keep the fish on the line? And then land it? Any good fisherman will tell you the thrill is in the chase and playing the fish till it tires. Mitu rode that gust till it had nothing more to give, covered a huge distance, and landed in the final. He met Australian James Carew to fight for the win after 16 riders had competed in a dingle elimination format.
The heats were judged slightly higher on height today in the windier conditions, up from 60 to 70% from yesterday, with another 30% of points available for technical difficulty. In other words, it's what you do while you're up there. Judges weren't just looking for straight airs, but the motivation is primarily to go as big as possible.
One trick would take it and with no overall impression, the aim was to just send it!
It's amazing what these riders can achieve in big wind conditions. Looking back over three years of strapless freestyle competition, many of these riders have done every event and their progression has been such that they've taken what was a show discipline and created a fully legit sector of a combination wave and strapless freestyle world tour. Reverting back to the show element like this Big Air comp, the riders were in their element, holding down up to 1om kites in 30+ knots on a surfboard.
Being strapless, the whole journey and technique of big air is so different. From the very first moment you take off, it's technical. The obvious thrill for any spectator, kiter or not, is that moment when they're careering back towards the water as the kite climbs back up through the window from a kite loop and everyone on the beach wills them to be able to somehow get their board underfoot for a fast but stable landing.
Mitu caught another big air out back in the final, but perhaps thankfully, James Carew took his first event win with a damn fine high back roll, with a shuvit 360 at the apex, catching the board, placing it into the infamous 'rodeo' position between his legs, sending a kite loop and then piloting his way back down to a stomped planing landing. A move that he only cracked yesterday (but managed it several times). When asked why he didn't take the board in hand and flip it for a tick tack like everyone else, he said, "Nah, I'm rubbish with my hands, so I flipped it with my feet!"
Fair enough!  Congrats to him and to all riders for reminding us how much fun and laughter a kiting competition can bring when the contenders are all mates, stood on the shoreline and hollering each other to 'kite loooop'!
Big Air results
James Carew (AUS)
Mitu Monteiro (CV)
Airton Cozzolino (CV / ITA)
Matchu Lopes (SPN)
Keahi de Aboitiz (AUD)
Paulino Pereira (POR)
Gustavo Arrojo (SPN)
Simon Joosten (BAR)
Camille Delannoy (FRA)
Ralph Boelen (FRA)
Jakub Juras (POL)
Arsenio Dias (CV)
Francesco Capuzzo (ITA)
Reece Myerscough (CAN)
Laurens Meyer Kittel (GER)
Thorben Jasper (GER)
More more details on the GKA, please click here.
Featured in this Post
Comments