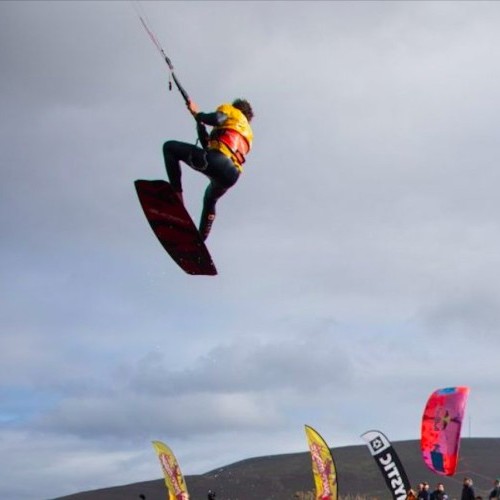 Battle For The Lake 2019 – 27th to 29th of September, Achill Island
Tue 17th Sep, 2019 @ 9:00 pm
"It was a little more than 10 years ago; myself and a couple of friends drove over to Achill to kite for a few days," Francois Colussi stands across from us outside of Pure Magic's Dublin kite centre, wearing flip flops despite the questionable Irish weather, "And we said it — even then — we had to make a kite event there. It's just too perfect.".
A decade later, Francois and his Pure Magic partner, Catherine Etienne, are celebrating the 10th anniversary of what has come to be known as one of the wildest, most unique watersports festivals on Europe's Atlantic coast.
Battle for the Lake Festival
Battle for the Lake, which this year will be held between the 27th and the 29th of September, is a festival-shaped mishmash of surf culture and bangin' tunes. Throughout a 3-day weekend, attendees will be treated to extreme sports open competitions, demos, pro-level kiteboarding shows, live music, and fire performances on the shores of Achill Island's iconic lake.
The festival is a multi-sport event featuring windsurfing, surfing, SUPing, and kiteboarding — the latter of which is going to draw more than a dozen professional kiteboarders from Europe and beyond to participate in 'The Wow Show', an extreme kiteboarding competition. On the roster for this year's show are legendary pro riders Kevin Langeree, Lasse Walker, Steven Akkersdijk, Ruben Lenten, Angely Buillot, and Nick Jacobsen to name a few (you may know Nick for his insane stunts like jumping off the Burj al-Arab in Dubai with his kite — at some 321 metres high, it's one of the tallest hotels in the world).
Instead of sticking to the criteria of established freestyle competitions, this show is all about doing things differently — as different as possible. Over the course of 10 heats, riders will be challenged to pull all kinds of ludicrous stunts (think freestyle riding with a full pint in hand, a 'who can do the most outrageous beach start' battle, and one heat mysteriously called 'The Sheep Attack' — you'll have to follow along with the event to find out what that one is).
The natural shape of the lake will act as an amphitheatre for riders to show off their craziest and most creative moves in an effort to wow the crowd (if any of you have come across any Battle for the Lake media from previous years, it was probably this viral selfie of pro rider Kevin Langeree boosting high over the spectators).
In terms of ethos, The Wow Show is a good representation of what the wider Battle for the Lake event is all about — rule-breaking. The Pure Magic team deliberately shy away from the well-trodden trail of other kiteboarding events, because to them, standing out from the crowd is the only way of capturing the authenticity, excitement, and incomparable craic of what it means to be a part of the Irish kiteboarding community.
It may not be the tropical kite beaches of Thailand or the wave-battered shores of Mauritius, but kiting in Ireland holds its special appeal; a long Atlantic-facing coast, frequent ocean squalls, strong wind, and world-class waves come as standard. And thanks to Achill Island's fortuitous location, the above conditions are the bread and butter of the local watersports tribe.
But it's not just wind-seekers and adrenaline junkies who are drawn to Achill. Since it sits along the renowned Wild Atlantic Way — a sightseeing route that stretches from Donegal in the north to the most southerly tip of County Kerry and Cork — plenty of tourists make an effort to include the island in their Ireland itinerary. It went on to gain even more international recognition this past year when it was included in Big Seven Travel's list of the 50 best beaches in the world.
The music lineup for this year's event consists of iconic Irish singer-songwriter Mundy alongside homegrown and up-and-coming musicians like Daithí, Attention Bébé, Junior Brother, Lypton Village, Tommy McGovern, Graham Sweeny, Swiftie, Faraway Martin, and many more still to be announced.
Tickets for this year's event are on sale now with a full weekend pass setting you back just €45. Camping is available onsite, as are local BnBs if you fancy cushier lodgings. Check out the 2018 Battle for the Lake event video for more.
Win a Custom Designed Ozone Twin Tip this issue in our FREE subscriber prize draw.
Words: Grace Austin
Featured in this Post
Comments